The Independent's journalism is supported by our readers. When you purchase through links on our site, we may earn commission.
Louis CK tells 'rape whistle' joke in first stand-up set since sexual misconduct admission
'It felt like there were a lot of aggressive men in the audience and very quiet women,' two audience members say of set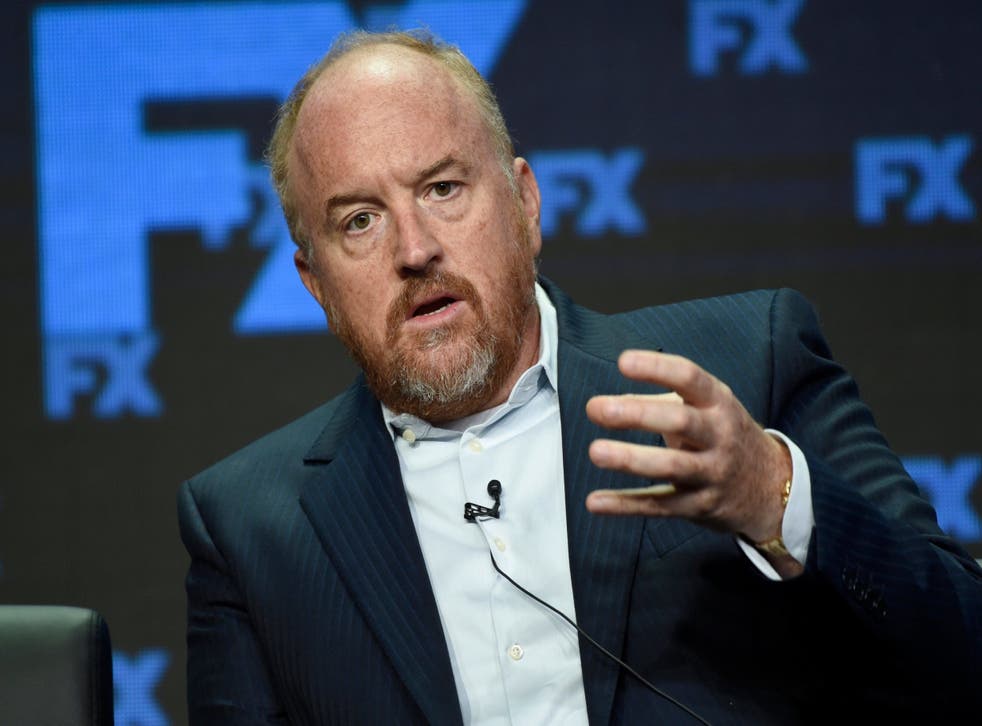 Louis CK reportedly told a "rape whistle" joke during his first stand-up set since his admission of sexual misconduct almost 10 months ago.
The Vulture spoke to two women who were at the Comedy Cellar when the comedian was introduced to the stage as a surprise guest.
They described the venue's small audience as showing overwhelming support, but added that a joke about rape whistles was "uncomfortable", and that there appeared to be a divide between how men and women reacted to the comic.
The women, who asked to remain anonymous, added that they were there to see another comedian, who had previously been announced, but that CK took to the stage after a brief introduction from the night's compère.
"It felt like he was being thrust upon the audience without telling them," one woman said
Both women said the audience gave CK a huge round of applause when he was first announced, but noted that they saw at least "four to five" women who were "deadpan, straight, not having it".
"If someone had heckled him, I think they would've been heckled out," one of the women said. "It felt like there were a lot of aggressive men in the audience and very quiet women. It's the kind of vibe that doesn't allow for a dissenting voice. You're just expected to be a good audience member. You're considered a bad sport if you speak out."
The women described his set as similar to his past material, but added that he included a bit about the phrase "clean as a whistle", which ended with a joke about how rape whistles are not clean.
"When he said 'rape whistle' people were laughing, and I was just sitting there like 'oh my f*ck'. This is so uncomfortable and so disgusting. Everyone around me was laughing. That was just depressing," one of the women added.
World news in pictures

Show all 50

When asked how he felt about CK's unexpected appearance, club owner Noah Dworman said: "This has been very hard for us. We know that it is not right that he shouldn't be able to perform again, but there is no clear time to decide how long is appropriate. He showed up and now we're thrown into it and we hope it turns out OK."
The claims were first made against CK by five women in November 2017 who accused the comedian of masturbating in front of them. CK issued a statement admitting to the allegations, writing: "I have to reconcile it with who I am. Which is nothing compared to the task I left them with."
Following his admission, CK lost his production deal with FX, Netflix and HBO. Distributor The Orchard cancelled the release of his film I Love You, Daddy which he wrote, directed and starred in opposite Chloe Grace Moretz, Charlie Day and Edie Falco.
Aziz Ansari also returned to the limelight over the weekend following an article in which an unnamed woman alleged he attempted to initiate sex despite her apparent unwillingness.
The Master of None star – who later said he believed he encounter was "completely consensual" - performed a stand-up set in Milwaukee in which he reportedly joked heavily about dating, but avoided mention of the article.
Follow Independent Culture on Facebook for all the latest on Film, TV, Music, and more.
Join our new commenting forum
Join thought-provoking conversations, follow other Independent readers and see their replies