Monty Python reunion: Dead parrot lives – but artificial hips put paid to silly walks
Ageing comics promise new material for O2 show - and did not rule out the possibility of future performances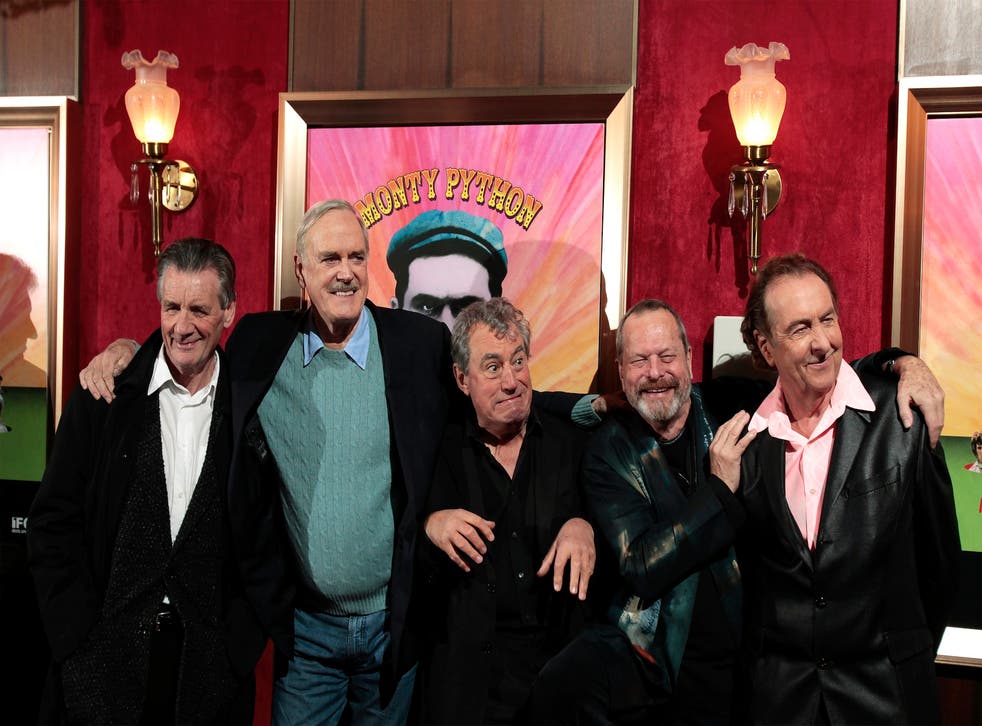 It started well, the press conference to announce the Monty Python reunion show, not least because the first question was from an excited woman journalist from Spain, who wanted to know: "Why? And why now? And please don't tell me it's for the money."
"Nobody expected the Spanish inquisition," retorted Michael Palin on cue. Sadly, he wasn't actually wearing the robes of the 16th-century Cardinal Ximenez he plays in that vintage sketch, one the O2 audience will surely see when the team appear together for the first time on a London stage for, wait for it, 40 years.
"I think the clever thing is that we waited until the demand died down," said Eric Idle, after explaining: "We're all trying to pay for Terry Jones's mortgage."
For all the gags, there was something almost tentative about their (30 minutes late) appearance at the Playhouse Theatre. It was a curious mix of the mildly surreal (the five titans who transformed British comedy began by talking unintelligibly all at once, like something out of a Beckett play) and the more conventionally showbiz.
The actor Warwick Davis was compère, introducing the "five legends"; an orderly, even counter-anarchic queue of reporters outside the theatre waited to have their names checked off before being allowed into the stalls; and there was the reassuring soundtrack of "Always Look on the Bright Side of Life", the epochal song Idle wrote to accompany the crucifixion scene at the end of the 1979 Life of Brian, a film so controversial because of its tilt at religion that it was effectively banned by 39 local councils.
So what would be the "modern, topical Pythonesque twists" that the press release assured us would be added to the "greatest hits" the comedy supergroup would revisit for an audience paying between £27.50 and £95 a seat ("£300 cheaper than for the Rolling Stones") on 1 July?
"It's a very difficult decision to take," explained John Cleese, "because I remember going to the Royal Albert Hall to see Neil Diamond when he got booed in the second half for singing new numbers. People really want to see old hits but we don't want to do them in a predictable way, so that it's going to be a mix-up."
They would include "some version" of the legendary Dead Parrot sketch ("It is no more, has ceased to be, bereft of life, it rests in peace," says the parrot's disgruntled purchaser) which Margaret Thatcher used in an attack on the then Liberal Party's avian logo having reputedly asked her speechwriter if "this Monty Python" was "one of us".
You have to hope, too that they will do the Bafta sketch in which Idle plays the lachrymose host "Dickie" Attenborough announcing: "David Niven cannot be with us tonight, but he has sent his fridge." (Enter the fridge, wearing a black tie and pushed on stage by men in brown coats).
But there will be no "Ministry of Silly Walks", said Cleese. "That's impossible now because I have an artificial knee and an artificial hip."
There would be "quite a lot" of material the team had "never done live on stage before", said Idle, adding: "We hope people will have forgotten so they'll appear new." This was unlikely given the loyalty of Python's multigenerational (and multinational) fan base, suggested Cleese. The main danger was that the audience "know the scripts better than we do", Cleese added.
In what passes for the elegiac in Pythonese, the show's publicity tagline is "one down, five to go" in memory of the death at 48 of the sixth team member Graham Chapman ("Biggus Dickus" in Life of Brian among much else).
Chapman would be "on screen" during the show, said Idle, adding: "We've told him we're going on and if there is a God he'll be turning up." In deference to the five surviving members' aggregate age of 357, Palin announced they had a back-up slogan of "two down, four to go".
The O2 show, said Idle, would feature "a little comedy, some pathos, some music and a tiny bit of ancient sex" (tickets go on sale on Monday at www.montypythonlive.com).
Whether Idle, Jones, Cleese, Palin and Terry Gilliam can reinvent the revolutionary iconclasm they first brought to television entertainment almost 45 years ago, with a cultural influence way beyond the generations of comedians they inspired at home and abroad, remains to be seen. But retro or not, this will be a major event. Idle said the gig would be filmed and "we'll try and flog it later". They're unlikely to have much trouble doing so.
Register for free to continue reading
Registration is a free and easy way to support our truly independent journalism
By registering, you will also enjoy limited access to Premium articles, exclusive newsletters, commenting, and virtual events with our leading journalists
Already have an account? sign in
Register for free to continue reading
Registration is a free and easy way to support our truly independent journalism
By registering, you will also enjoy limited access to Premium articles, exclusive newsletters, commenting, and virtual events with our leading journalists
Already have an account? sign in
Join our new commenting forum
Join thought-provoking conversations, follow other Independent readers and see their replies