Russell Brand joins thousands to protest for Anonymous Million Mask March
But the comedian was not so keen to keep his presence anonymous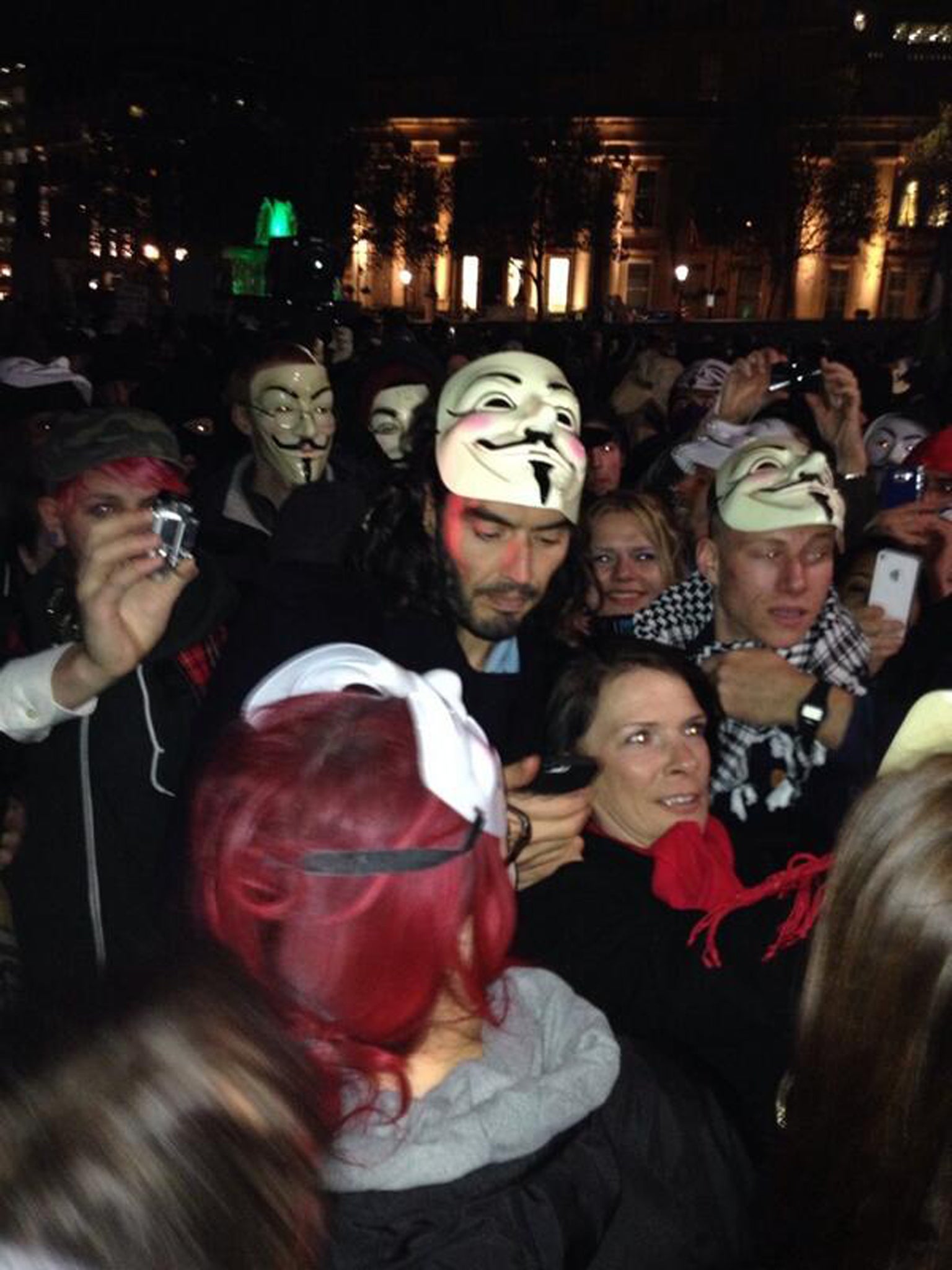 Russell Brand joined protesters last night in a 'Million Mask March' against cuts, corruption and an increase in state surveillance.
The comedian, 38, was one of thousands to protest wearing a Guy Fawkes mask, designed to "unite activists".
Hacktivist group Anonymous claimed the march in Whitehall and Trafalgar Square aimed to "spark the movement back into action against the persecution of internet freedom".
Brand, who was spotted among protesters, tweeted: "Whatever party they claim to represent in the day, at night they show their true colours and all go to the same party #MillionMaskMarch."
In an editorial for the Guardian written hours before the march, he defended his comments about not voting after Robert Webb and others criticised the comedian for promoting political apathy.
He said: "The only reason to vote is if the vote represents power or change. I don't think it does. I fervently believe that we deserve more from our democratic system than the few derisory tit-bits tossed from the carousel of the mighty, when they hop a few inches left or right."
He added that the distinction between the political parties is "insignificant".
"The reason these coalitions are so easily achieved is that the distinctions between the parties are insignificant," he said.
"My friend went to a posh 'do' in the country where David Cameron, a man whose face resembles a little painted egg, was in attendance. Also present were members of the opposition and former prime minister Tony Blair. Whatever party they claim to represent in the day, at night they show their true colours and all go to the same party."
But Brand, who appeared to remove his mask for part of the protest last night, has been criticised by some for doing so.
Journalist Hugo Rifkind tweeted: "He went to an anonymous protest BUT TOOK OFF HIS MASK SO THAT PEOPLE WOULD KNOW WHO HE WAS."
While another Twitter user said: "'Russell Brand becomes face of Anonymous protest': YOU'RE DOING IT RONG [sic]."
The march, which was mainly peaceful, was mirrored by similar protests in more than 400 cities worldwide including Dublin, Washington and Melbourne.
Sporadic outbreaks of violence were reported when police tried to remove protesters, and a firework was reportedly fired at Buckingham Palace.
Brand's decision to protest follows his New Statesman editorial and Newsnight appearance a fortnight ago, in which he called for a "revolution", claiming the current political system was broken.
In the Newsnight interview, which has had over 9 million views on YouTube, the comedian said: "I don't get my authority from this pre-existing paradigm which is quite narrow and only serves a few people. I look elsewhere for alternatives that might be of service to humanity. Alternate means, alternate political systems."
His views sparked an editorial from Robert Webb in the New Statesman last week, criticising Brand for advocating political apathy.
In an open letter to Brand, Webb wrote: "I don't think it's your job to tell young people that they should engage with the political process. But I do think that when you end a piece about politics with the injunction 'I will never vote and I don't think you should either', then you're actively telling a lot of people that engagement with our democracy is a bad idea."
Join our commenting forum
Join thought-provoking conversations, follow other Independent readers and see their replies