Comedy review: David Brent with Foregone Conclusion induces full-body cringe
It's good, if uncomfortable, to have him back
Alice Jones
Tuesday 15 October 2013 17:40 Comments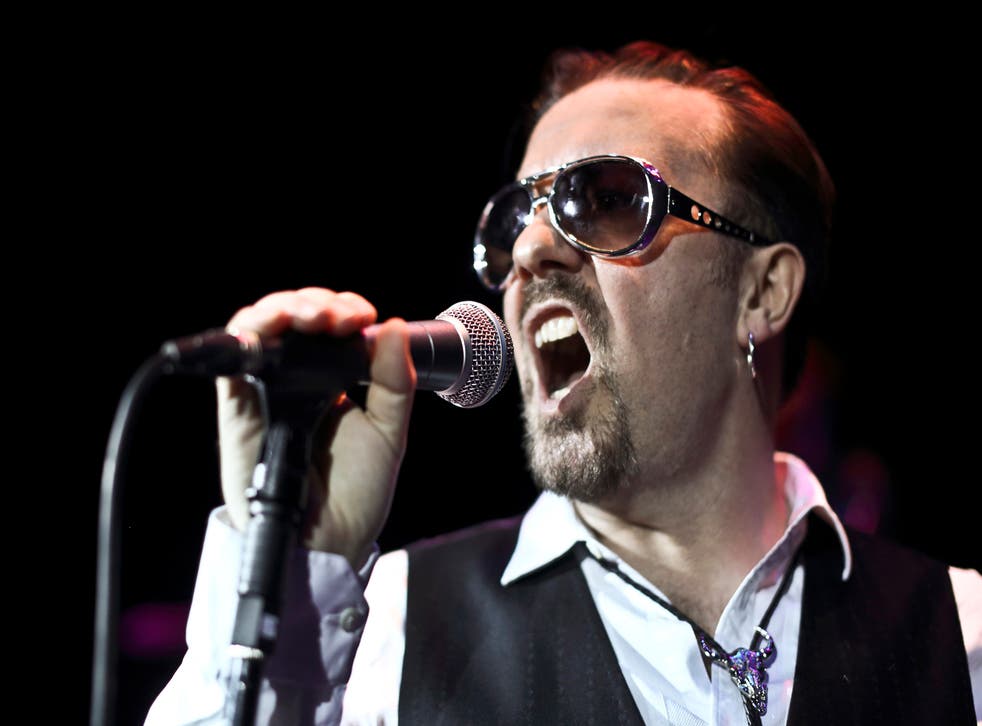 You can't keep a good character down and so, hot on the heels of Alan Partridge's all-guns-blazing rebirth on the big screen comes David Brent, the live rock experience. The former Office manager and monstrous comic creation of Ricky Gervais re-emerged earlier this year with "Equality Street", a hilariously inept "racial" reggae tune for Comic Relief. It was followed by a YouTube series, "Learn Guitar with David Brent", which racked up 21 million views.
With numbers like that, a live tour was inevitable and this, the first of two work-in-progress gigs for Brent and his band, the aptly named Foregone Conclusion, sold out in under a minute, with touts offering tickets for £1000. It's fair to say that Slough's answer to a Jon Bon Jovi tribute act still has his fans. Indeed, there were few in the audience who didn't join in on the gloriously banal chorus of "Free Love" – "Free love on the free love freeway/ The love is free and the freeway's long" - come encore time.
This was a rock gig, albeit in the Yates Wine Lodge open mic Mondays mould. After support from his Derek co-star Doc Brown, whose deft flow punctures the macho world of rap, and a brief turn from Keith from The Office (plus scotch egg) as the unlikeliest hype man in rock, Brent emerged in shiny waistcoat, earring and pouchy Levis. Backed by a tight four-piece band, overseen by musical director Andy Burrows, better known as Razorlight's drummer, he whizzed through 10 short songs and the odd one-liner in 40 minutes. That his timing, earnest air guitar and rock gurning are spot-on came as no surprise. But Gervais, one half of the flop New Wave duo Seona Dancing in the Eighties before it all went right, is not a bad singer either.
He is an even better pop parodist. On "Thank F@#k it's Friday" he's a preening Jagger, "Slough" ("Everything in this song is factually accurate. So you'll learn summat.") captures the dying cadences of Bowie while "Ain't No Trouble" bubbles along like a forgotten UB40 B-side. Elsewhere there are odd, classic Brentian lyrics, rhyming Gloucester with Costa Coffee or recalling lovemaking in the fields of Didcot. He needs more daftness like this. The biggest laughs of the night came with the politically incorrect "Lady Gypsy", the only song with a real, written-through joke and the ragga duet "Equality Street", with its fist-in-mouth " biddly biddly bong" chorus.
This was a work-in-progress and as such there was a lack of patter between songs to make the show succeed as a David Brent project, not merely a vanity project. What makes Brent's musical pretensions so hilarious is the awkward intimacy of one man and a guitar singing in a workplace seminar or to a webcam and believing that he could be at Wembley. If you put him on a stage with dry ice, lights and a real rock band, somewhere like Wembley, part of the joke dies. Still, there is no-one who can bring on a full-body cringe like Brent. It's good, if uncomfortable, to have him back.
23 October, Bloomsbury Theatre, London ( www.rickygervais.com)
Set list
Ooh la la
Life on the Road
Slough
Thank f@#k it's Friday
Spaceman Came Down
Lady Gypsy
Equality Street
Lonely Cowboy
Ain't no trouble
Free Love
Register for free to continue reading
Registration is a free and easy way to support our truly independent journalism
By registering, you will also enjoy limited access to Premium articles, exclusive newsletters, commenting, and virtual events with our leading journalists
Already have an account? sign in
Join our new commenting forum
Join thought-provoking conversations, follow other Independent readers and see their replies