Doctor Brown: Befrdfgth, Soho Theatre, London
The good Doctor defies mime and reason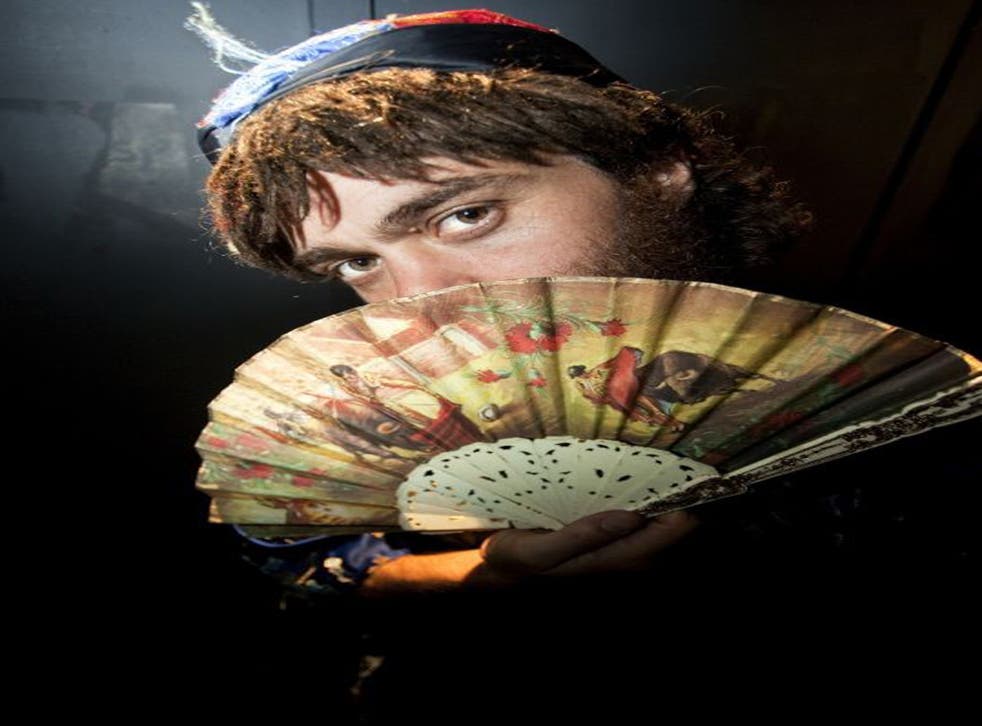 You may surmise that an artist who gives his show an unpronounceable title is annoyingly wacky, and there are some who think that of Doctor Brown, aka Philip Burgers. The American comic studied at Philippe Gaulier's clowning school in Paris (which Sacha Baron Cohen attended) and he also performs children's shows – although Befrdfgth, for which he unexpectedly won the Edinburgh Comedy Award at this year's Fringe, is definitely for adults.
As the show starts, the comic, dressed in a flowing wizard's robe, plays hide and seek with the audience, peeking through the stage curtain, and gradually drawing us into his world. His invitation to play involves him dashing out into the auditorium and purloining people's belongings – hold on to your handbags, ladies – beckoning their owners to fetch them from him on stage.
A series of apparently unconnected mimes unfolds: a swimmer being chased by a shark, a master whipping a servant, a shadow-boxing match, an anthropomorphic mini-drama involving a bull impregnating a coquettish cow who bears his "baby", both of whom he then deserts. Burgers then "volunteers" an audience member to act out the next – very suggestive – stage in the family drama, when the baby is now a young child. While Burgers doesn't actively seek to humiliate his volunteer, he certainly gets up-close and personal with him (it's always a man who he drags up on stage).
Befrdfgth, while often sweet and playful – the section where the audience provides sound effects for Burgers' eventful bike ride is a hoot – strikes me as essentially a standard collection of mime exercises, albeit very well performed and with the subversive additions of voyeurism and implied menace.
There are those who might be tempted to load the show with all manner of deep meanings about spirituality, parental responsibility and sexuality, but, as one member of the audience pointed out: "It's just a kids' show turned dirty." I couldn't have put it better myself.
Until Sat; then 25 Mar-20 Apr 2013 (sohotheatre.com; 020-7478 0100)
Register for free to continue reading
Registration is a free and easy way to support our truly independent journalism
By registering, you will also enjoy limited access to Premium articles, exclusive newsletters, commenting, and virtual events with our leading journalists
Already have an account? sign in
Register for free to continue reading
Registration is a free and easy way to support our truly independent journalism
By registering, you will also enjoy limited access to Premium articles, exclusive newsletters, commenting, and virtual events with our leading journalists
Already have an account? sign in
Join our new commenting forum
Join thought-provoking conversations, follow other Independent readers and see their replies