Edinburgh Festival 2013 comedy review: Nick Helm strips down physically and emotionally
Comedian thoroughly earning his award nomination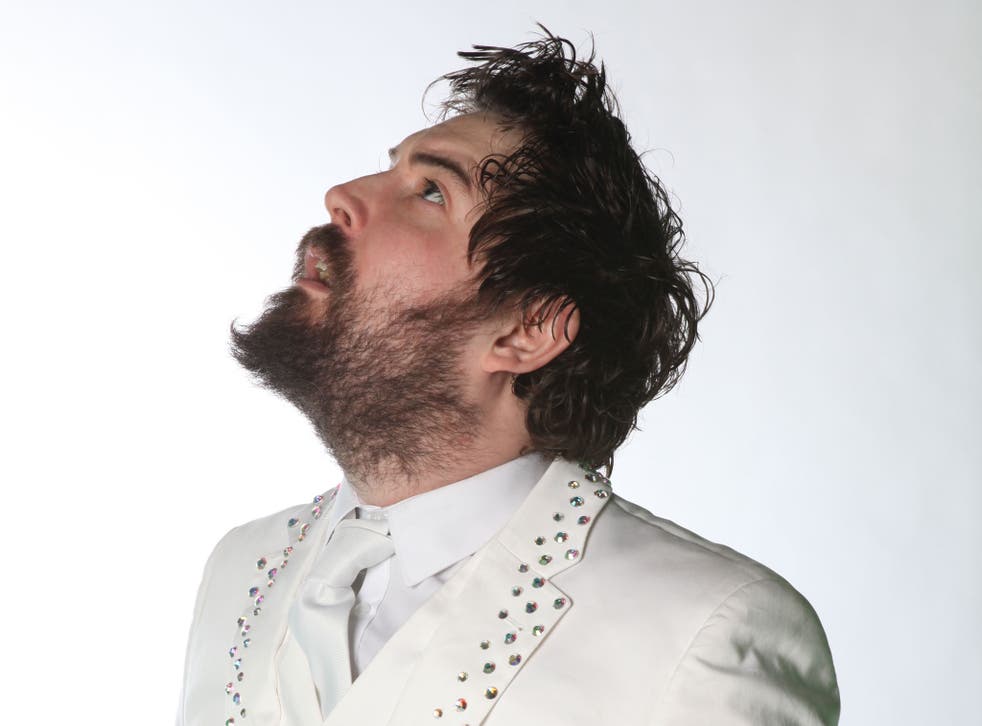 After a video detailing all the awards he has never won, Nick Helm comes on stage dressed as Evel Knievel and delivers a bombastic rock song – "I'm a gift from the gods/ I kick life in the pods" – as the audience sing "Nick Helm is fucking amazing" repeatedly. Don't join in at your peril.
Ostensibly, One Man Mega Myth (until tomorrow) is a tribute to the stunt rider (complete with a gloriously daft toy-scale re-enactment of his Wembley stunt), but in fact it's about Helm's fractious relationship with a comedy industry "that knows fuck all". Some in-jokes go over a few heads, but it's a clever construct in which Helm's stage persona – a sweaty, shouty misfit – is used to great effect.
The first 40 minutes are brilliant, with dreadful puns, one-liners and magnificent setpieces – audience members become his on-stage air band and he strips down to a leotard to recreate Olivia Newton John's Let's Get Physical video.
But then the bombast fades and we see the vulnerable clown underneath as Helm reads some of his execrable poems and talks of his lonely life away from the glitter of showbiz. The pace dips fatally as he recounts – at interminable length – tales of offending a friend's girlfriend and taking in a stray cat. But for what has gone before, Helm deserved his nomination for the Foster's Edinburgh Comedy Awards – even if it does remain on the list of awards he has never won. The honour this year goes to Bridget Christie.
Seann Walsh (also nominated), is an observational comic whose previous shows have been about him being a boozy slacker, and in The Lie-in King (ends Sunday) he recounts how he got a place of his own for the first time (he's 26). He now only has himself to annoy as he slobs around his flat, dressed in jogging bottoms with a hole at the crotch and watches a lot of television – cue some terrific impersonations of other comics, including Michael McIntyre.
Walsh, although too lazy to answer the door to the pizza delivery guy, used to fancy himself as a foot- baller, a revelation that leads to a beautifully choreographed slo-mo skit about throwing the ball back to some players in his local park. But though the extended finale – in which two fellow comics join him to play out a scene in which they go out on the lash – might have seemed like a good way to tie up all the set's strands, it is horribly self-indulgent and increasingly irritating.
Also nominated were Max and Ivan, a talented pair of comic actors (Max Olesker and Ivan Gonzalez) who play several characters in their tightly written and pacily performed The Reunion (ends Sunday).
As former pupils and teachers gather at a school 10 years on, we meet, among others, meek Brian, who has never stopped loving the unattainable Jessica; Alex, who still smarts from being sacked from the school rock band; and Alan, the bloke no one remembers – not even the school bully.
The duo skilfully delineate each character, while the scene between pervy geography teacher Mr Long and former pupil Stacey, in which she turns him on with her well-remembered facts about glacial features and American export quotas, is memorably hilarious.
Register for free to continue reading
Registration is a free and easy way to support our truly independent journalism
By registering, you will also enjoy limited access to Premium articles, exclusive newsletters, commenting, and virtual events with our leading journalists
Already have an account? sign in
Register for free to continue reading
Registration is a free and easy way to support our truly independent journalism
By registering, you will also enjoy limited access to Premium articles, exclusive newsletters, commenting, and virtual events with our leading journalists
Already have an account? sign in
Join our new commenting forum
Join thought-provoking conversations, follow other Independent readers and see their replies