Edinburgh festival 2018: Lyn Gardner reviews shows from Fringe stalwarts, including Mistero Buffo and The Flop
The verdict on the latest output from the Fringe's consistently successful theatre companies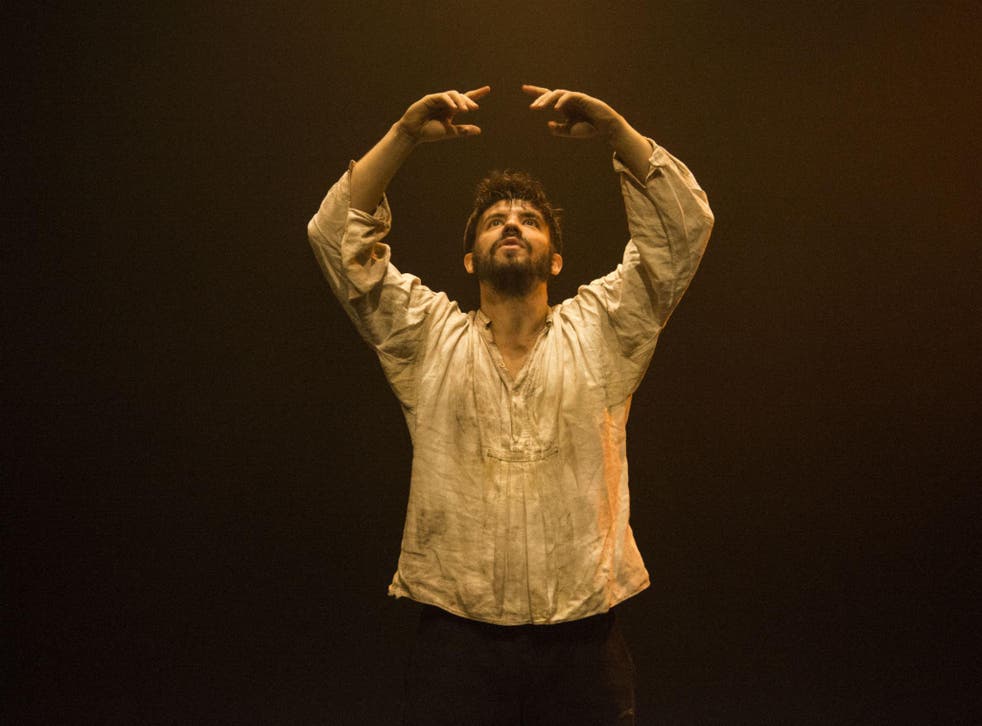 Mistero Buffo ★★★☆☆ / Trojan Horse ★★★★☆ / Status ★★★☆☆ / Fallen Fruit ★★★☆☆ / No Kids ★★★☆☆ / The Flop ★★★ ★☆
The Fringe is no respecter of reputation. One year it can build a company or artist up and the next it will pull them down. You can be toast of the town, and then on your return barely scrape an audience. It's one of the cruellest theatrical arenas around.
But a few companies have a head start because they have had consistent success in Edinburgh in the past. One of those is Rhum and Clay, which is probably better known on the Fringe than it is away from the festival. This year's show is a little bit different: a virtuoso one man performance by Julian Spooner of Dario Fo's 1969 play Mistero Buffo (Underbelly, until 26 August), which was denounced by the Vatican as blasphemous when first shown in Italy.
In fact it's a rather gentle retelling of traditional Bible stories – Herod's massacre of the innocents, the resurrection of Lazarus and the Wedding Feast of Cana – penned by a playwright who believed that it would be the meek, or working people, who would inherit the Earth, and who put his faith in the power of the jongleur to tell us the truths we cannot bear to hear.
Here the jongleur (or storyteller) becomes a Deliveroo rider working in the gig economy who tells these stories as if his life depended on them. Spooner is hugely watchable, particularly when playing a Christ recast as a populist politician, even if the show takes its time to get to the point, being made all over Edinburgh this summer, that the truth is slippery, and that we are easily deceived by miracles and shouldn't readily believe everything we hear.
What we think is true and what really is the truth is explored in Lung theatre company's Trojan Horse (Summerhall, until 26 August) – a boldly physical and passionate piece of documentary theatre which looks behind the headlines to the human stories beneath. The story here was the alleged infiltration of Birmingham schools by Muslim hardliners, which led to a 2014 government inquiry.
It's that inquiry which becomes the focus of Lung's smartly put together show, which draws on more than 200 hours of interviews with parents, students, governors, teachers and those involved in the investigation. Is it the whole story? No, and I am sure that Lung wouldn't claim that it is. But it is a story about systemic racism, Islamophobia and how children and their education are used as pawns in politics. Like Mistero Buffo, it reminds us that stories will also be manipulated to suit those who hold power at the expense of those who do not.
Trojan Horse is performed with a pleasing pared back sparseness, and the same is true of Chris Thorpe's one man guitar storytelling show, Status (Summerhall, until 26 August), which considers the very "British values" that Michael Gove was keen to instil in British schools following the Trojan horse claims. It's the tale of a man who, in the wake of the Brexit vote, wants to shed his British identity. But just how easy is it to slough off the privilege and protection that come with the passport, particularly a passport that has made its weight felt throughout the world over hundreds of years?
It's a low key piece that sometimes suddenly swirls off into surreal magic realist-tinged riffs that might not be to all tastes. But what is great about the piece is the way it uses travel as a metaphor, not just for broadening the mind but also a way of discovering the difference between nationhood and home.
Thorpe's character in Status has, through a bureaucratic quirk, acquired two passports, but those living in Bulgaria before 1989 couldn't leave the country at all. In Germany they have a portmanteau word, ostalgie, to express the nostalgia for a time before the Berlin wall came down – and this ostalgie infects Two Destination Language's Fallen Fruit (Summerhall, until 26 August), a delicate and quietly thoughtful show about change, and how we negotiate it and fold the past into our new lives.
Katherina Radeva, who stands on stage amid tiny cardboard boxes representing both the Berlin Wall but also the walls of the mind, was born and spent her childhood in Bulgaria but now lives in the UK. She takes us back to that childhood, a place where red was the dominant colour, life was unexciting and a gay relationship could get you into trouble with the authorities. Of course, things are way better now. Or are they? Surely freedom means more than being able to buy a Costa coffee? It's not such a dashing and visceral piece as the massive 2014 hit Near Gone but it has a quiet, contained charm.
If Radeva is putting her past onstage, then George Mann and Nir Paldi, the pair behind regular Fringe favourites Ad Infinitum, are putting their future to the test. In No Kids (Pleasance Courtyard, until 27 August) Mann and Paldi use theatre itself to explore whether as a gay couple they should or should not have children together.
It feels like being party to discussions that would normally remain behind closed doors. Despite both of the men's engaging personalities and their penchant for physical theatre, too often the piece feels talky and repetitive. Particularly as the pair project forward to who their child might become: an Oxbridge scholar or a girlfriend abuser. Or maybe both.
But its quirkiness and honesty are appealing, and the piece suggests that in a world of limited resources maybe there are many things we do in life, not just having children, which need greater scrutiny.
One of the issues facing Mann and Paldi is how they would become fathers. It also affects the Marquis De Langey, a 17th century French aristocrat who, after he and his happily married young bride Marie fail to produce any children, is accused of being impotent and forced to publicly prove that he is an upstanding man.
The Flop (Summerhall, until 26 August), produced by Hijinx with Spymonkey, is a hoot – an utterly improbable and saucy farce featuring a brilliant integrated cast of learning disabled and non-learning disabled actors. The Flop may not have quite the weight of Hijinx's 2016 Fringe hit Meet Fred, but it is stupidly enjoyable, revels in its own meta-theatricality, and it gives us permission to laugh even as it questions why, if people are happy together, we insist on tearing them apart if their relationships do not conform to the norm.
Tickets: 0131 226 0000; www.edfringe.com
Register for free to continue reading
Registration is a free and easy way to support our truly independent journalism
By registering, you will also enjoy limited access to Premium articles, exclusive newsletters, commenting, and virtual events with our leading journalists
Already have an account? sign in
Register for free to continue reading
Registration is a free and easy way to support our truly independent journalism
By registering, you will also enjoy limited access to Premium articles, exclusive newsletters, commenting, and virtual events with our leading journalists
Already have an account? sign in
Join our new commenting forum
Join thought-provoking conversations, follow other Independent readers and see their replies