Kim Noble: You're Not Alone, Soho Theatre, review: A show that runs on surprise and shock
 It's not a show you want spoilers on
Alice Jones
Tuesday 10 February 2015 13:51 Comments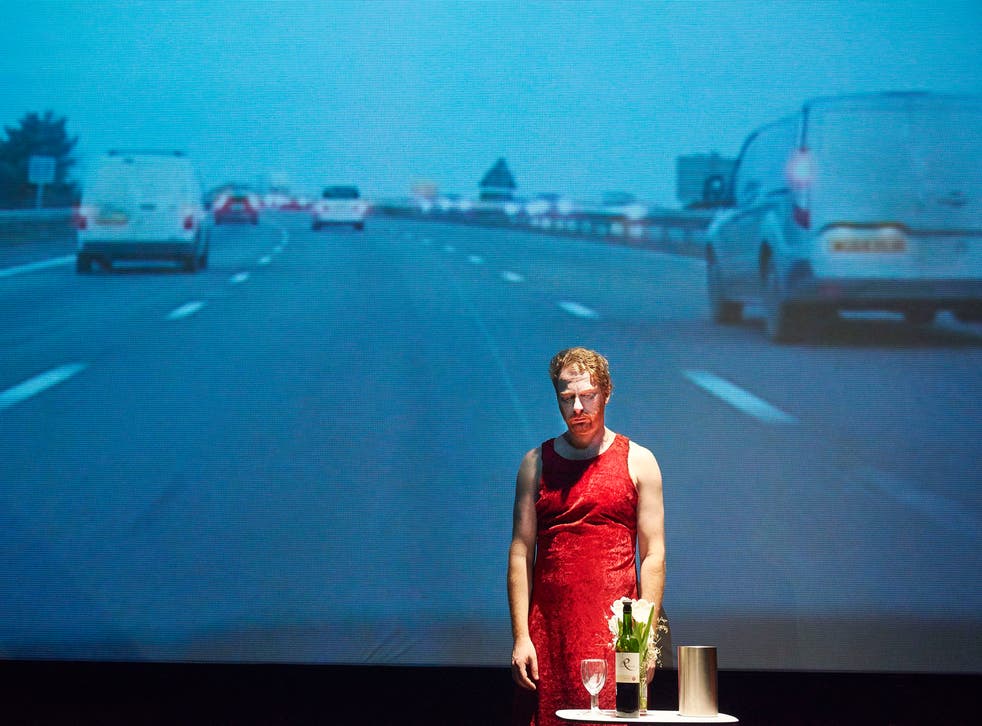 To say that Kim Noble's new show lingers long in the memory is an understatement. By the end of an extraordinary hour, which shades by turns from funny to grotesque to tear-jerking, one has seen several things that prove hard to unsee in the subsequent days. Among them - the entrails of a dead pigeon, a man dressed in gaffer tape, some sex with inanimate objects, a dying man and an act of desecration that in any other show might form a dramatic apex but in a Kim Noble show comes to seem simply par for the course.
If this all sounds a bit weird and impressionistic, then that is because You're Not Alone is a show that runs on surprise, not to mention shock, and oh-no-he-didn't awe. It's not a show you want spoilers on. To put it in context, Noble won the Perrier Award for Best Newcomer in 2000 as one half of Noble and Silver. His last solo show, Kim Noble Must Die, five years ago was an in-yer-face exploration of the artist as suicidal depressive. Noble made the audience text his ex-girlfriend abuse, showed films of his self-harming and handed out cups of his semen, among other outrageous acts.
This new piece sees Noble in more tender, or least slightly more amenable, mode. You're Not Alone is a study of loneliness and one man's quest for connection. For the past few years, Noble has been taking steps to forge bonds with his fellow humans – whether men on the street or strangers on the internet - and has filmed his progress along the way. It's a guerrilla-style, hidden-camera expose, only the subject is Noble's own life.
Unsurprisingly, his approach to making friends is unorthodox, shading into the unethical. To get closer to his next-door neighbours, he records their sex lives; he becomes obsessed with Keith on the checkout at Morrisons; he starts working in a DIY store at weekends, without telling the DIY store in question.
He also turns to technology, of course - to online dating and sexting. Posing as "Sarah", he chats up lorry drivers on text and boys on Facebook and while the audience guffaws or cringes at the horrible awkwardness of it all, Noble quietly sets them up for a conclusion that sets the internet's dirty simulacrum of connection against a true, lifelong love.
In doing all of this, Noble tramples over all known boundaries – mainly his own, though also those of others. He frequently goes too far, but he is a master of tone. Much of the hour, though it provokes the kind of philosophical post-show discussion that would surely thrill Tom Stoppard, is simply extremely funny. Noble's eye for the absurd in the everyday, combined with a cheesy "Late-Night Love-In" soundtrack and a deadpan narration add up to a high hit rate of belly laughs. They die off towards the end, but even then he swerves the mawkish. Warped and explicit, it is very much not for the faint-hearted. It is also one of the oddest, funniest, saddest hours of comedy I've seen.
To 7 March (www.sohotheatre.com)
Register for free to continue reading
Registration is a free and easy way to support our truly independent journalism
By registering, you will also enjoy limited access to Premium articles, exclusive newsletters, commenting, and virtual events with our leading journalists
Already have an account? sign in
Join our new commenting forum
Join thought-provoking conversations, follow other Independent readers and see their replies