Magnus Betner, Assembly Rooms, Edinburgh Des Bishop, Assembly George Square, Edinburgh Max and Ivan, Pleasance Courtyard, Edinburgh Comedian Dies in the Middle of a Joke, Pleasance Dome, Edinburgh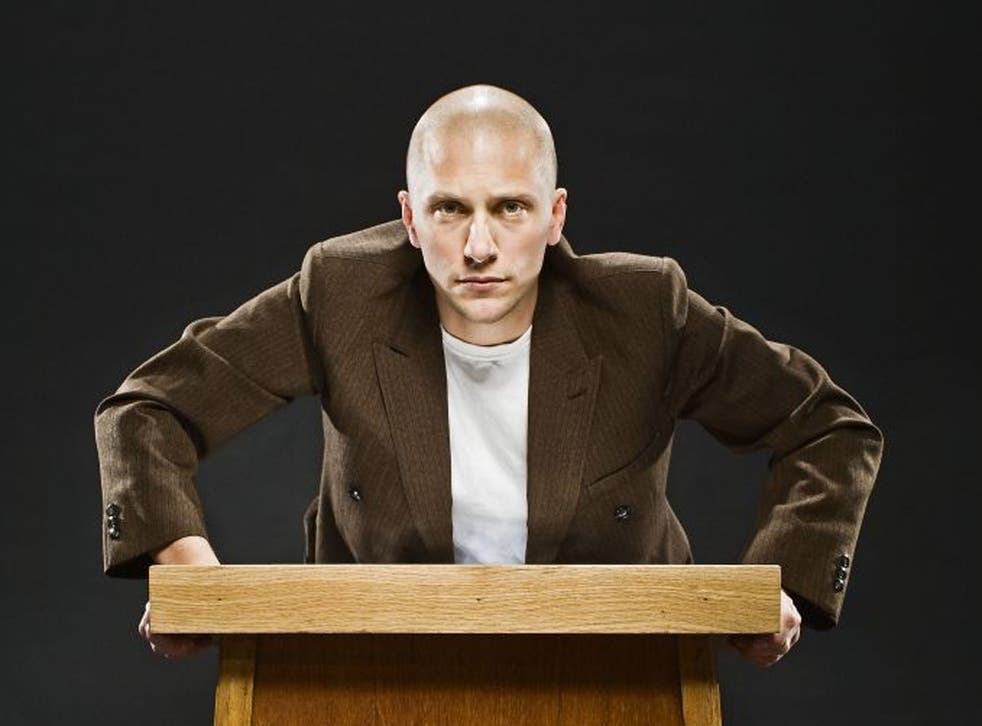 If comedy is the new rock 'n' roll, then Magnus Betner may be its Lou Reed: deadpan, downbeat and determinedly difficult. The Swede tells us he is a "fucking superstar" in his home country, though it's hard to tally that with the jaded figure who explains he couldn't be bothered to give his show a name. "People would go to something because of the title? How stupid is that?" he seethes. Duly, his set is austerely gimmick-free. A vitriolic jeremiad sees him weighing in on numerous "horrible, tragic" news stories – his preferred kind – with provocative one-liners and skewed sermonising. Given the ground covered, it's inevitably a mixed bag – his rundown of the Aids "hierarchy" was as trenchant as his analysis of the Batman shootings was glib. But, in an hour that inspires as many awkward silences as laughs, his uncompromising commitment to serious humour is a perversely admirable thing.
At the opposite end of the tonal spectrum lies Des Bishop Likes to Bang. Two years ago, the Irish-American comic stunned audiences with My Dad Was Nearly James Bond, a tribute to his dying father. But "you can get addicted to poignancy", he notes cautiously – hence this thera-peutically trifling follow-up, a one-man musical variety show in which he parades his skills in drumming and rapping. Rhythm, ironically, is not the forte of this disjointed mix of traditional stand-up and comedy songcraft. Personality is, however, and some potentially pedestrian material (about his greying hair, for example) is lifted by Bishop's boisterous energy and pithy phrasing. And as for those hip-hop flows? He's no Vanilla Ice, but when he cuts loose on Adele's "Someone Like You", you'd have to be as impassive as Posh not to grin.
When it comes to parody, it pays to know what you're parodying – something that sketch duo Max and Ivan would do well to learn. For while the plot of Max and Ivan Are … Con Artists – a criminal crew breaks into a Las Vegas casino – mocks Hollywood conventions, it's filled with characters – a spiv, a randy toff and a Mrs Peel-like sex kitten – borne from our own shores. This spirited but slapdash affair has a few nice lines and some entertaining sleight of hand, while the pair bring buffoonish charisma to the many characters. But from mimed slow-motion sequences to low-fi laser-beam dodges, the spoofery is so obvious as to be obsolete, and their real misfortune is to evoke two far superior acts, The League of Gentlemen and The Pajama Men. Lacking the bizarre edge of the former, and the physical virtuosity of the latter, they're all too am-dram by comparison.
And, finally, a walk on the other side. I didn't expect to be joining the Fringe's performing ranks with a meerkat impression, but such was the opportunity afforded by the fantastic interactive show Comedian Dies in the Middle of a Joke. Getting the audience to re-enact the on-stage murder of a failing club comic, its joy lies in the way it unlocks our collective comic potential: as the scene is repeated six times over, and people swap characters amid the heckling crowd, the cue-card-directed repartee grows both more surreal and more sophisticated. But pity the unlucky soul called on to play the funny-man victim. Suffice to say, performing to a roomful of strangers is a stomach-churning experience. Even if it is only five minutes long and mostly written on an autocue ...
Magnus Betner and Des Bishop end today; Max and Ivan, and 'Comedian Dies in the Middle of a Joke', end tomorrow (0131-226 0000)
Register for free to continue reading
Registration is a free and easy way to support our truly independent journalism
By registering, you will also enjoy limited access to Premium articles, exclusive newsletters, commenting, and virtual events with our leading journalists
Already have an account? sign in
Register for free to continue reading
Registration is a free and easy way to support our truly independent journalism
By registering, you will also enjoy limited access to Premium articles, exclusive newsletters, commenting, and virtual events with our leading journalists
Already have an account? sign in
Join our new commenting forum
Join thought-provoking conversations, follow other Independent readers and see their replies