Monty Python Live review, O2 Arena: A desperately lazy production
Cute, mildly rude, harmless and, of course, also available on DVD
John Walsh
Wednesday 02 July 2014 16:37 Comments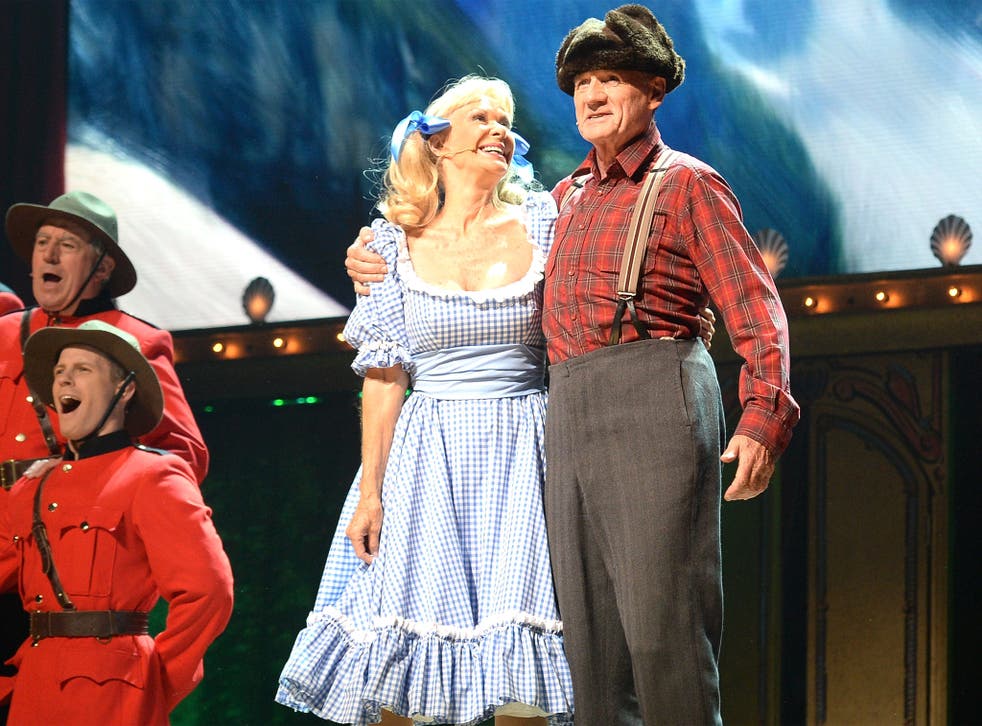 Forty-odd years since Monty Python took the TV world by storm, they've invaded the O2 Arena for 10 nights to bring anarchic and punchline-free hilarity to adoring, if now elderly, fans. Could they get away with it? A quintet of sexagenarians doing The Parrot Sketch and singing "Always Look on the Bright Side of Life"?
Early signs are propitious. The vast auditorium has been transformed into a sumptuous English music hall, all velvet curtains, curly staircases, fat cherubs and a full orchestra oom-pah-pahing Sousa marches. An early animation by Terry Gilliam sends the late Graham Chapman's head cannoning off the planets and a Dr Who police box disgorges the remaining Pythons – who milk the applause for several minutes.
Misgivings set in early, as Eric Idle, dressing-gowned like Noel Coward, sings "Isn't It Awfully Nice to Have a Penis?" A troupe of perky hoofers take over the number and fill the stage with energetic dance routine. The same thing happens with the anti-Papist "Every Sperm Is Sacred" which climaxes with two huge candy-striped willy-cannons ejaculating all over the first 10 rows. In between there's a new sketch in which Michelangelo meets the Pope, which reveals that whoever wrote it doesn't know the difference between apostles and disciples – and the fact that such pedantry occurred to me shows how hilarious I was finding it.
It occurs to you that, while the Pythons would like to claim kin with English music hall tradition, they're much keener to come on like they're the alternative to The Book of Mormon.
In pictures: Monty Python Live (Mostly)

Show all 10
Elderly, much-loved and much-seen sketches are revivified in their mid-70s glory – the rich old clubmen competing to recall wretchedly poor childhoods, the Lumberjack Song – and interspersed with actual footage straight from the show. Oh sweet, the Batley Townswomen's Guild doing the Battle of Pearl Harbor. Some of the old sketches are still very funny. I laughed like a drain at the football match between the Greek and German philosophers. But WT Actual F? Have we been dragged to the O2 at vast expense to watch material you can find on the DVD of And Now For Something Completely Different?
There's a curious auto-destructive quality about the show that's either self-deprecation or mortified truth-telling. When Cleese, Palin, Jones and Idle did the Clubmen Sketch, it began with Cleese saying: "Oo'd have thought, 40 years ago, we'd be sitting 'ere doin' Monty Python?" – a nod to the alimony crisis that apparently triggered this revival. There's a cartoon appearance by God, saying "Sex sex sex, that's all you bloody humans think about – this is supposed to be a funny show!" – and after 20 minutes of willies, vaginas and bottoms we were beginning to tire of it too. The Australian Philosophy Department sketch (with all the Bruces) is halted to introduce a member of the public who bought himself a place in the show for charity, and you wonder if this is the level of Monty Python Live – to be cute, mildly rude but harmless and kindly disposed.
I was a fan of the Monty Ps from the start, and it pains me to criticise them. But this is desperately lazy production, resting on its laurels, uninterested in showcasing new material, relying on TV footage and the whooping adulation of an audience who know all the words. And when the animations and the hoofing girls and boys are on, you wonder: where have the cast gone? Are they having a little lie-down?
Register for free to continue reading
Registration is a free and easy way to support our truly independent journalism
By registering, you will also enjoy limited access to Premium articles, exclusive newsletters, commenting, and virtual events with our leading journalists
Already have an account? sign in
Join our new commenting forum
Join thought-provoking conversations, follow other Independent readers and see their replies