Edinburgh comedy: Got a hedgehog complex? Send for Felicity Ward!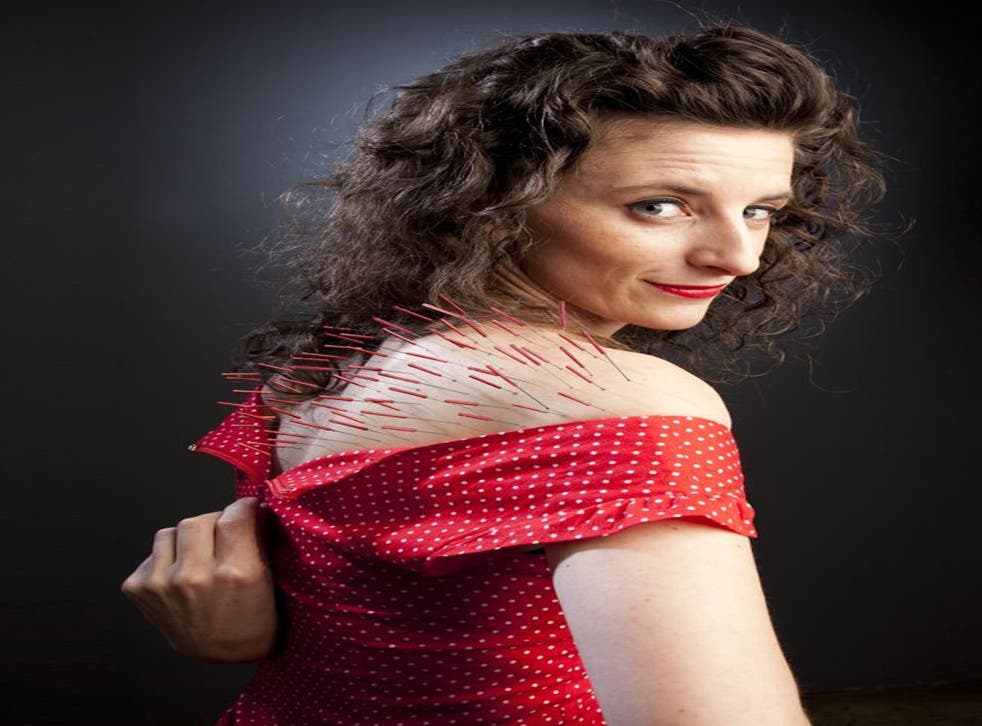 Most comics making their Edinburgh debut would be grateful for a packed house, but not David Trent.
"I'm not asking you to applaud me, I'm telling you," he barks, in one of his more benevolent moments – such is the "treat them mean keep them keen" strategy of this bilious late-bloomer, unleashed from his barely believable day job as a primary school teacher. A multimedia comedian with misanthropy to burn, he indulges in lots of Charlie Brookerish mockery of video ephemera, from surreal public information films to X Factor contestant interviews. But Spontaneous Comedian at the Pleasance is electric character comedy as much anything else, its projected visuals playing second fiddle to the running spectacle of Trent's volatile persona, which swings in an instant from rock-star arrogance to abject self-loathing. The title, incidentally, is wholly ironic – you just hope he will cope with the vicissitudes of the success that will surely come .
For straight-up stand-up, Felicity Ward's The Hedgehog Dilemma at Underbelly will be difficult to beat this year. The Aussie comic (inset) arrives on stage in her unused wedding dress, Miss Havisham style, to relay an emotional war story that begins with her broken engagement and ricochets through alcoholism, nervous breakdown and a series of disastrous romantic encounters. The tone, however, is more farcical than confessional, as exemplified by her decision to deal with her dipsomania through the medium of a show tune. Ward is a consummate performer, from her gawky physicality to her infectiously frisky badinage with the audience, while the supremely fluid narrative also benefits from exquisitely timed mood changes. The dilemma, meanwhile, is a classic psychological analogy about whether it is better to be in a relationship and risk getting spiked or remain unhurt but alone. But Ward's solution? To snuggle up to comedy instead: what a beautiful couple they make.
A nervily mannered comedian serving up a rambling disquisition on the perils of the digital age? Watching Mark Watson's new show, I was immediately struck by its similarity to Dave Gorman's Powerpoint Presentation, which also premiered at the George Square Theatre last year. But where Gorman was forensic, the TV regular is merely flighty. So one minute, he's laying all manner of charges against the internet; the next, insisting it can be our friend. Meanwhile, an interactive gesture in which he invites text messages from audience members only inspires banalities. His strength, as ever, is a Tiggerish energy that keeps the set going through various non-sequiturs, and there are some nice flourishes, notably his deconstruction of the lyrics of narcissistic pop divas. But, for a show that takes to task "pointless exchanges of information", its own pointlessness is a self-reflexive step too far.
If adversity is the wellspring of comedy, then Susan Calman at Underbelly is right to be irritated by her upbringing. "No one does a fringe show about their supportive parents," she says in mock pique about her parents' unfazed reaction to her coming out. Though thankfully for her artistry at least, the Scots comic has encountered enough discrimination to be getting on with. In June, Calman "got civil partnered" and her frustration at having to settle for an act that sounds like something that happens to you on "a Friday night at the taxi rank" prompts a cri de coeur about gay marriage. At once bluff and whimsical, Calman has previously seemed like a personality in search of a subject. Well, here's she found in it in a show that retains the genial, quotidian wittiness of old while benefiting from a new-found righteous anger. There are so-so moments, notably in an overlong list of her nuptially-unsuitable peccadilloes, but these are mostly forgotten come a closing, courageously sentimental, call to action.
David Trent, Felicity Ward, Mark Watson and Susan Calman all to 27 Aug
Register for free to continue reading
Registration is a free and easy way to support our truly independent journalism
By registering, you will also enjoy limited access to Premium articles, exclusive newsletters, commenting, and virtual events with our leading journalists
Already have an account? sign in
Register for free to continue reading
Registration is a free and easy way to support our truly independent journalism
By registering, you will also enjoy limited access to Premium articles, exclusive newsletters, commenting, and virtual events with our leading journalists
Already have an account? sign in
Join our new commenting forum
Join thought-provoking conversations, follow other Independent readers and see their replies