Edinburgh Fringe 2015 week one round-up: From The Missing Hancocks to Going Viral
Taking the mic: Robin Sebastian as Kenneth Williams and Kevin McNally as Tony Hancock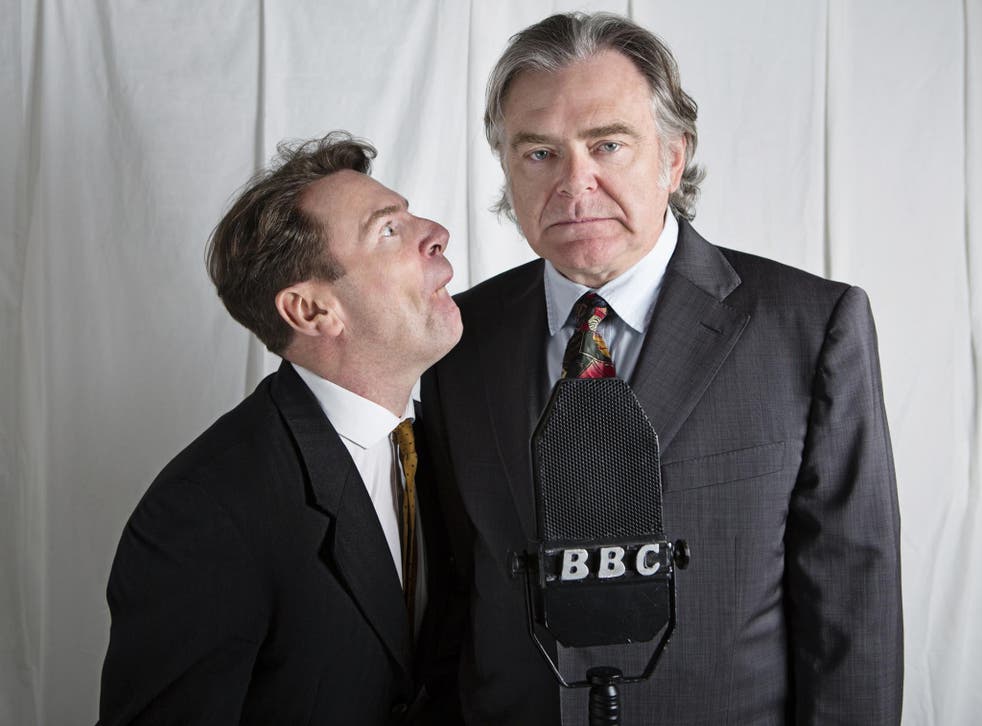 The Missing Hancocks
The Assembly Rooms
Review by Veronica Lee
How fortunate that actor Neil Pearson has a sideline in being an antiquarian books dealer; one of his purchases was a bundle of old scripts from a freelance comedy writer and among them were four from the radio version of Hancock's Half Hour; the programme tapes had been wiped and the scripts (from 1955 and 1956) had been thought long lost.
Now Pearson brings them back to life and directs the superb Kevin McNally (Jack Sparrow's sidekick Gibbs in The Pirates of the Caribbean) as The Lad Himself. Two scripts are presented on alternate days, as if the audience were watching them being recorded in the BBC Radio Theatre in the Fifties. Prime Minister Hancock and The Three Sons form one pairing, while the other is The Winter Holiday and New Year Resolutions.
I saw the former two. In Prime Minister Hancock, he runs for Parliament as a candidate for Conservative, Labour, Liberal and Other Parties – that way their rosettes can cover the moth holes in his suit – and Sid James is his wideboy election agent. When Hancock catches measles from kissing babies, he takes to his bed and has a fevered dream in which he wins Shepherd's Bush Green North by a landslide and eventually becomes PM.
The Three Sons is a comic morality tale in which Hancock plays a dying old man; he sends his even more ancient retainer (Kenneth Williams) to track down his three long-lost sons (all Hancock) who have got into bother of some sort or other – a useless Naval captain, a dodgy doctor and a member of the Chicago Mob – to say goodbye. He accidentally kills them all.
McNally, who sounds uncannily like Hancock, is ably abetted by Simon Greenall as Sid James and Robin Sebastian as Kenneth Williams in all his character guises – nasally doctor one moment, camp old codger the next, while Susy Kane and Alex Lowe complete the line-up. There must be a temptation to do some stage business but the cast play the scripts straight – although Sebastian, as Williams used to do, milks applause for his contributions.
Ray Galton and Alan Simpson's scripts still sparkle and the comedy, much of it surreal and with atrocious puns, mostly stands the test of time – with the exception of the only female on stage always being an object of sexual desire. That said, this is a delight.
To 30 August (0844 693 3008)
****
Felicity Ward
Pleasance Courtyard
Review by Veronica Lee
The Australian comic Felicity Ward begins What If There Is No Toilet? while sitting on a loo on stage. But this doesn't signal an hour of scatalogical humour, rather a thoroughly engaging trot (sorry) through the diagnosis a few years ago of her irritable bowel syndrome, anxiety and depression. Mental frailty is a fruitful area for stand-ups at this year's Fringe, but few will describe it with such poetic turns of phrase as Ward's. Describing her fear of Ferris wheels, she says: "They move at the speed of nightmares."
She recounts with gusto her gradual decline into obsessional behaviour, while lying to loved ones about how unhappy she was, and using "Doctor Google" to make an initial diagnosis of her problem before seeking professional help.
The fast-talking comic covers a lot of territory as she talks about finding love, becoming an aunt and the perils of frequently needing the loo, while segues into less fruitful areas – how German accents sound harsh, adult contemporary rock – can be forgiven in this warm and witty hour.
To 31 August (0131 556 6550)
****
Going Viral
Northern Stage at Summerhall
Review by David Pollock
Throwing the dual and very salient meanings of the word "viral" at this stage of the 21st century together and seeing what comes back might suggest a rather pat concept for a show, but Teesside writer and performer Daniel Bye manages to instead coax them into the same orbit with subtlety and wit.
This solo show is both a captivating and at times illuminating insight into the science behind infection – deconstructing the more hysterical voices of the media when covering, say, the Ebola crisis – and a meditation on how this relates to "going viral" in the contemporary sense; how ideas and emotions are transmitted online.
He tells of and plays a young man returning from the furthest rural reaches of Africa, who leaves behind him a trail of people crying uncontrollably – #weepers, as Twitter names them. Yet he cannot cry, and when his neighbour discovers his role in the outbreak she tweets his picture and he becomes hunted, particularly by a young, female Indian doctor.
Amid this Bye, clear and professorial, explains how disease works using liquorice allsorts and a little clever interactivity, and fosters a sense that nothing spreads quite like paranoia.
To 30 August (0131 580 1581)
****
Register for free to continue reading
Registration is a free and easy way to support our truly independent journalism
By registering, you will also enjoy limited access to Premium articles, exclusive newsletters, commenting, and virtual events with our leading journalists
Already have an account? sign in
Register for free to continue reading
Registration is a free and easy way to support our truly independent journalism
By registering, you will also enjoy limited access to Premium articles, exclusive newsletters, commenting, and virtual events with our leading journalists
Already have an account? sign in
Join our new commenting forum
Join thought-provoking conversations, follow other Independent readers and see their replies