Fake It 'Til You Make It, Edinburgh review: Bryony Kimmings' new show explores her partner's clinical depression
Kimmings is as vivacious and immediate as ever as a performer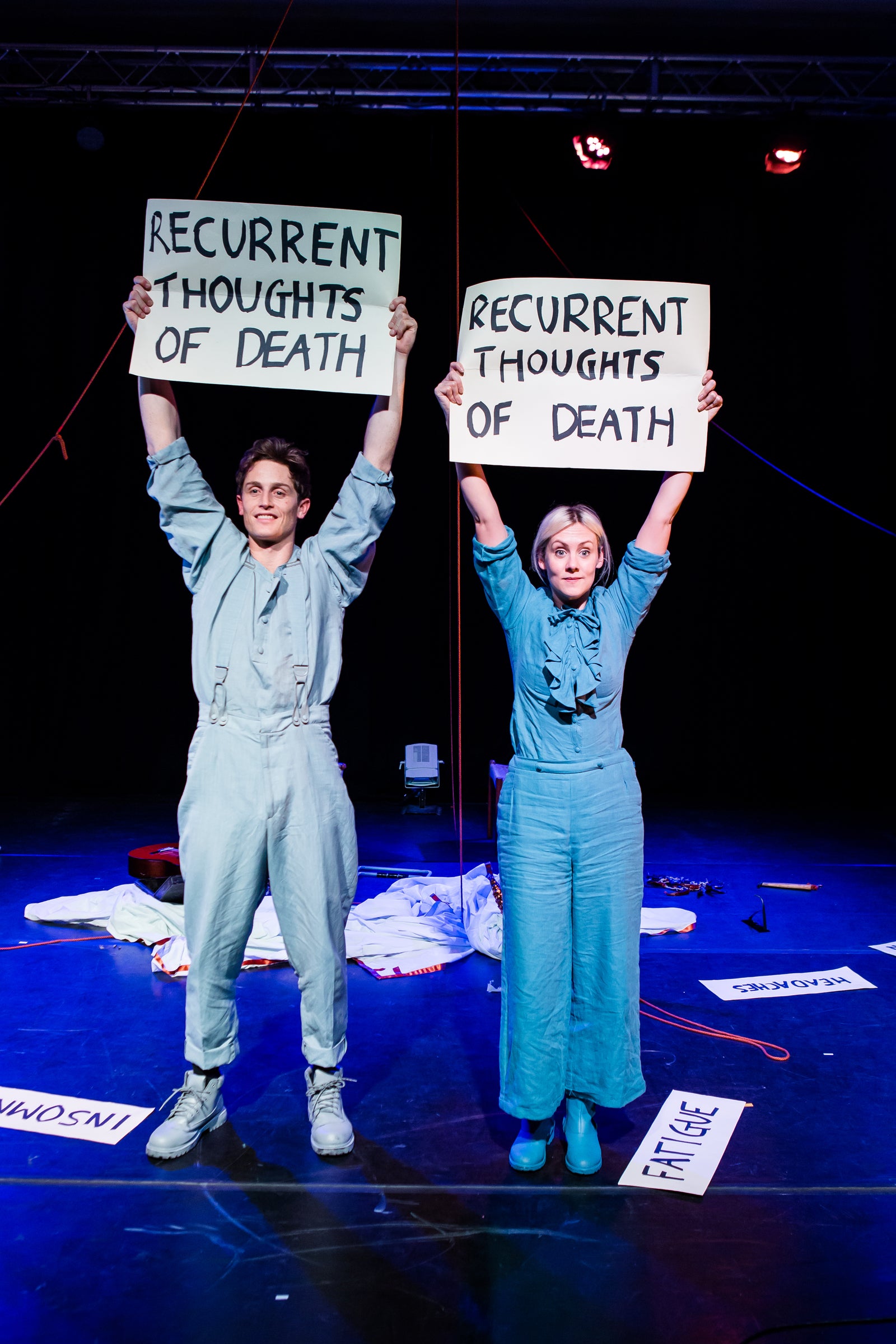 Bryony Kimmings is, in her own words, a loudmouth, slightly pregnant, feminist performance artist whose work usually explores some kind of social stigma.
In Sex Idiot, she laid bare her sexual history and STIs; in Seven Day Drunk, she got drunk for a week to investigate alcohol's effect on art; and for Credible Likeable Superstar Role Model she enlisted the help of her 11-year old niece to talk about girlhood, sexualisation and modern heroines.
For this latest work, she has roped in her fiancé, Tim Grayburn, 31, a former advertising exec who has thrown in his career to perform, in his underwear, this eccentric, harrowing and important theatre piece about male clinical depression.
It was six months into their whirlwind romance when Kimmings found Grayburn's antidepressants hidden in a rucksack. "It was the day the love story changed. It didn't become worse, but it didn't become better." He had never told anyone that he suffered from chronic depression and acute anxiety; the revelation set off a chain of events, and, as Kimmings admits drily, planted the idea for a new show.
Fake It… charts Grayburn's battle with his mental health - from the first morning he woke up depressed, and "tears just fell out of my face", to his weaning off Citalopram. It outlines his breakdowns - sometimes in recorded segments, sometimes through song and dance, and it probes his suicidal thoughts. It is not easy to watch but then it is not easy to live through, or live with either.
Naturally, this being a Kimmings show, there are plenty of distractions amid the darkness: there's a sexy bossa nova outlining mental health statistics, performed in skimpy underwear, and a checklist of the symptoms of depression set to a mambo beat. Mime and dance are also used to convey the storm of a breakdown but these are less powerful than the recorded segments or live talk.
Kimmings is as vivacious and immediate as ever as a performer, and Grayburn, shy and awkward (for the first three quarters of the show, he refuses to look the audience in the eye, hiding behind masks, glasses and headpieces) proves her perfect foil. There are times when the show tiptoes on the verge of voyeurism, but Kimmings is as skilful as she is determined to rip down the shame around male depression. She is an old-school variety entertainer and at its root, this is an old-fashioned love story - an unconventional one, but no less lovely or heart-squeezing for that.
Traverse Theatre, to 30 August (0131 228 1404; www.traverse.co.uk)
Join our commenting forum
Join thought-provoking conversations, follow other Independent readers and see their replies