Eurovision 2015: Could Serbia's entry Bojana Stamenov be this year's Conchita Wurst?
Video: The Serbian entry has become the new underdog in the 2015 contest
Kiran Moodley
Thursday 21 May 2015 09:31 Comments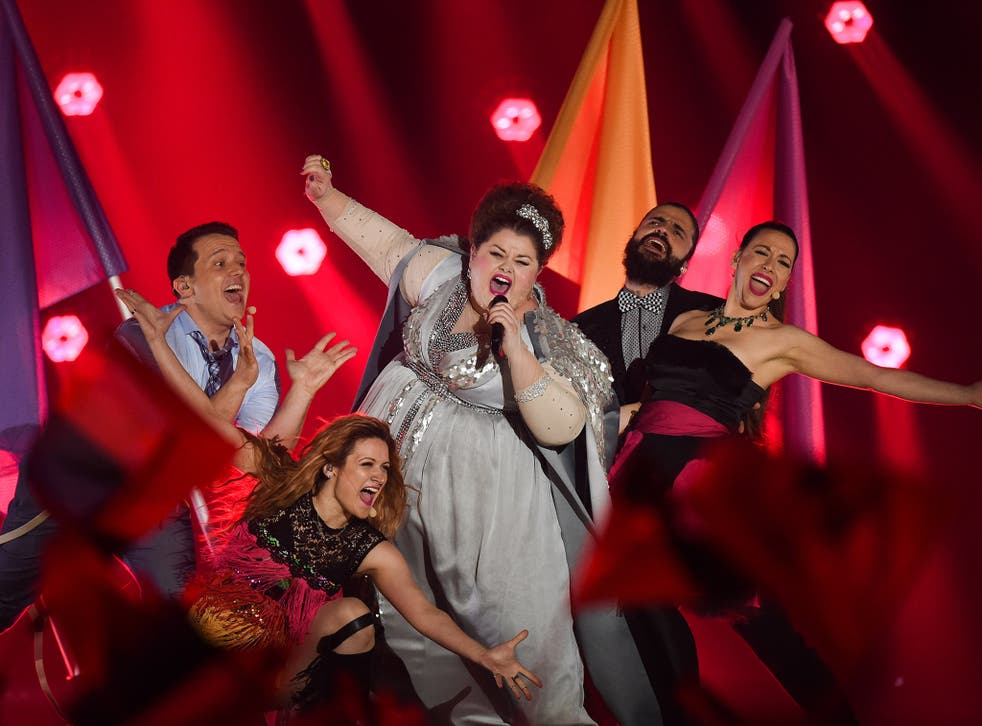 Bojana Stamenov may not be svelte, and she definitely hasn't got a beard, but Serbia's 2015 Eurovision entry could become this year's Conchita Wurst.
Both Stamenov and Wurst have songs written by the same writer, and both enter the final not as the favourite but as an emerging star look set to surprise those already confident of winning the contest.
When 28-year-old Stamenov took to the stage in the first 2015 semi-final, everyone was talking about the dazzling Russian, the cute Estonians or the PVC-clad Moldovans.
As she began singing the line, "In a shadowy world lived a dazzling girl," clad in a Disney princess outfit and sporting an Amy Winehouse beehive, it seemed like the Serbian entry was going for the usual middle of the road ballad.
And then the climax: the dancers threw off their white capes and revealed some sort of Saturday-night-in-Serbia outfit, the perfect garb for a Eurovision dance. Stamenov then roared through the rest of the song, chanting her way through the words, "Finally I can say, yes, I'm different, and it's okay! Here I am! Here I am!" The Viennese crowd threw their flags into the air in delight, and the juries at home phoned in to make sure Serbia had plans for Saturday.
And then, having never even troubled the top ten favourites with the bookies, Serbia shot up to sixth favourite, nipping at the heals of the likes of Estonia, Russia, Australia, Sweden and Italy. Has Stamenov got a chance of glitter glory?
Similarities to Conchita Wurst:
Outside bet
Last year, Austria's Conchita was not the favourite on the day of the final. Before rehearsals for the final, Austria was 40/1 to win and sometimes it can take the semi-finals and the final rehearsals to realise who is going to do well. Thus, with Stamenov steadily rising up the list of favourites, she currently stands at 33/1 to win on Saturday. If she performs well in the final rehearsals, she might have a chance.
Same songwriter
Hardly anyone had noted before the semi-finals that Stamenov's song, "Beauty Never Lies", was the work of Charlie Mason, an American lyricist who has written for Miley Cyrus and who penned "Rise Like A Phoenix", the song made famous by Conchita Wurst last year. Could his penmanship win once more?
LGBT following
Eurovision expert Daniel Gould of sofabet.com notes, "In semi-final press conference, Stamenov paid homage to last year's winner, and called Conchita remarkable, with fan clutched in hand. Her song, 'Beauty Never Lies', starts quietly with a worthy message about loving oneself no matter how different you are, before a disco beat kicks in halfway through. Unsurprisingly perhaps, it has become a firm favourite among Eurovision's many LGBT followers."
Stamenov is fast becoming a LGBT favourite, just as with Conchita, who since her win as headlined dozens of Pride events across the globe.
Message of tolerance
The message of acceptance and tolerance, themes for both Stamenov and Conchita, is a winner for Serbia historically. Gould writes that, "It's not the first time that progressive views have been advanced by Serbia's Eurovision act. Their 2007 winner Marija Serifovic, who won with 'Molitva' (which means 'prayer'), used her victory to promote greater tolerance in the country."
Uplifting song
Stamenov had lights, an uplifting sentiment and a crescendo: talk about ticking Eurovision boxes. Conchita's performance was simple, just herself, some powerful camera movements and soaring music. While Stamenov has dancers and a lot more going on stage, her voice and her presence are what stays in the viewer's mind. Both Conchita and Stamenov put their soaring vocals at the centre of their performance.
On the Eurovision website, Stamenov writes, "I know how to knit and cook... But, watch out, my voice will blow up your mind".
Bring on Saturday.
Register for free to continue reading
Registration is a free and easy way to support our truly independent journalism
By registering, you will also enjoy limited access to Premium articles, exclusive newsletters, commenting, and virtual events with our leading journalists
Already have an account? sign in
Join our new commenting forum
Join thought-provoking conversations, follow other Independent readers and see their replies