Disney princesses used in shocking posters for sexual abuse campaign
Ariel, Jasmine and Sleeping Beauty are showed being kissed by their fathers in 'the Princest Diaries'
Lizzie Dearden
Friday 27 June 2014 12:33 Comments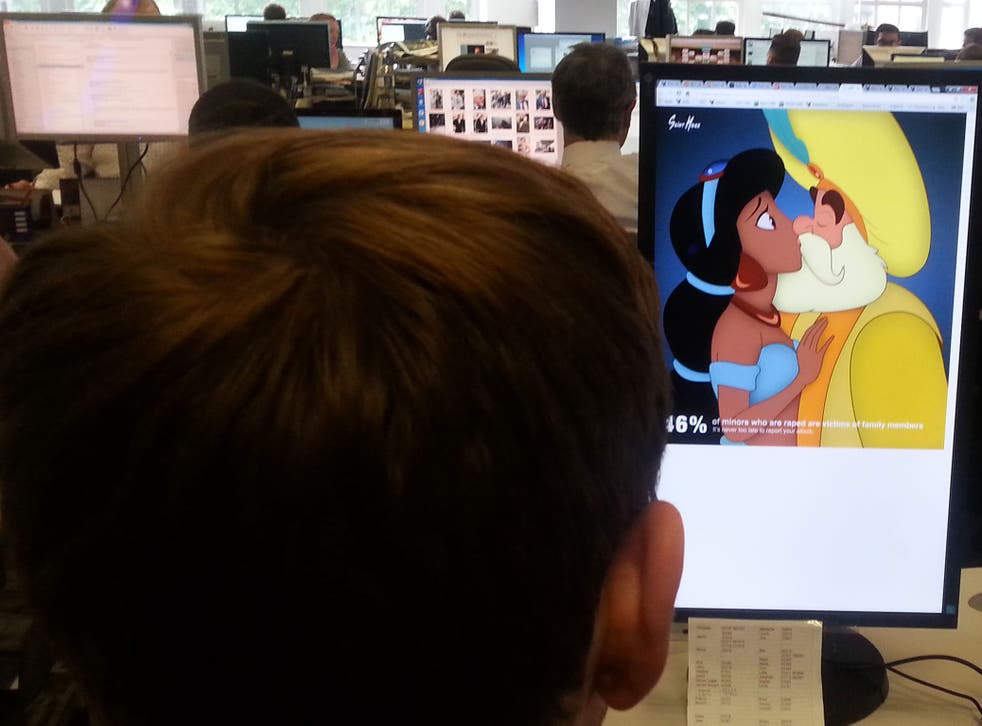 Shocking images of Disney princesses being kissed by their fathers are being used by an artist in a campaign to raise awareness of sexual abuse.
One poster features Sleeping Beauty pushing against King Stefan's chest as he embraces her and the scene is repeated for Ariel from The Little Mermaid and Jasmine from Aladdin with their respective fathers.
The posters carry the statistic: "46 per cent of minors who are raped are the victims of family members. It's never too late to report your attack."
Saint Hoax, an anonymous artist based in the Middle East, said he drew the images to reach girls who may have been incest victims.
He told The Independent he was inspired to start the project when one of his closest friends told him she was molested by her father at just seven years old.
"It took her 14 years to be able to share that traumatising experience," he added.
"That story shock me to my core."
He hopes his drawings of Disney princesses will attract an audience that would not be reached by other awareness campaigns.
Saint Hoax, who famously created pictures of world leaders in drag for a campaign called "War Drags You Out", said he did not think the posters clashed with Disney's values of giving children hope.
On Friday, one day after the "Princest Diaries" were published on his website, he was emailed by a girl saying she decided to report her father for assaulting her after seeing the images.
"I actually cried," Saint Hoax said. "If the posters could change one person's life, then it's worth it."
According to the Office for National Statistics, 90 per cent of victims of the most serious sexual were attacked by a relative, partner, friend or someone they know.
Register for free to continue reading
Registration is a free and easy way to support our truly independent journalism
By registering, you will also enjoy limited access to Premium articles, exclusive newsletters, commenting, and virtual events with our leading journalists
Already have an account? sign in
Join our new commenting forum
Join thought-provoking conversations, follow other Independent readers and see their replies