Field Day 2015 review: Caribou, FKA twigs, Run the Jewels and Patti Smith play London festival
Fied Day has a friendly community vibe and feels like its own little island
Roisin O'Connor
Monday 08 June 2015 10:17 Comments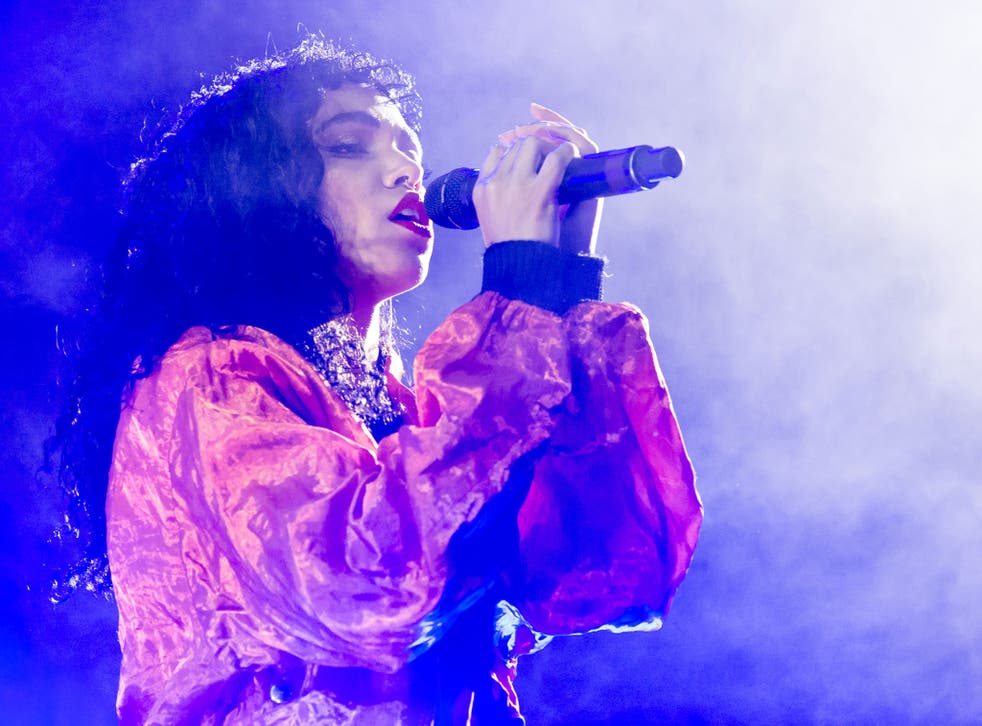 Is there anything better than beautiful weather emerging from a grey week, just in time for a music festival?
Field Day has a unique atmosphere thanks to a friendly, community vibe which contrasts with the fact that the grounds it is set in feels like its own little island.
Revellers race from one stage to the next, dealing the best they can with a few irritating clashes (FKA twigs, Caribou, Sylvan Esso and Hudson Mohawk all overlap). A game of tug-of-war takes place in a makeshift arena before "Uptown Funk" blares through the speakers and the space is flooded with dancers.
It's been said many times that Field Day is strongest at throwing a diverse mix of new talent in with some strong headliners. So Hooton Tennis Club perform on the same stage as twigs, Jack Garratt appears before Rae Morris, and the father-son act of Toumani and Sidiki Diabaté perform on the kora – the 21-stringed West African harp – with formidable skill and a profound artistry on the Eat Your Own Ears stage.
Chet Faker melds dance with mellow hip hop influences for his set in the Crack Magazine tent. His cover of Blackstreet's "No Diggity" is the ultimate crowd pleaser, which must grate a little, but he follows this up with his own slick electronica.
Run the Jewels are one of the most anticipated acts, but something doesn't quite translate across from their incendiary LP Run the Jewels 2. "Close Your Eyes (And Count to F**k)", however, is as provocative as it is on the record, and the anger in the duo's lyrics sends chills down the spine.
Electro folk band Sylvan Esso are essentially closers for the Saturday night, but their audience is smaller than previous acts that appear in the Shacklewell Arms tent – most people are pressed up to the Eat Your Own Ears stage for Caribou.
But this performance is one of the highlights of the first day. Mountain Man's Amelia Meath moves catlike onstage, visibly only as a silhouette through a thick haze of blue smoke. Her vocals clear and strong, almost flawless in her delivery, and her high, frenetic energy remains at a constant throughout.
The band may only have one album, but they know how to work it for a live performance. Nick Sanborn's drop on the beat for "Hey Mami" drives the crowd wild, quashing fears that their self-titled debut would struggle to make the transition to the stage.
As their last song ends and the duo make their exit, the audience bay for more. After five minutes, Sanborn appears again on the edge of the stage and shrugs, helpless, waves and disappears again. The crowd howl for another five minutes before the crew arrive to clear the set and they drift away, grumbling but seemingly content.
On day two, the mood is contemplative, and perhaps a little delicate given how raucous things got the night before. Mac DeMarco's set is sun-soaked and relaxed – audience members scrawl on the grass as he gives a sly grin for every line on "Salad Days" - while Gaz Coombes stalks a darker stage with material from his latest LP Matador.
Read a review of Patti Smith, so good she made people cry, here.
Register for free to continue reading
Registration is a free and easy way to support our truly independent journalism
By registering, you will also enjoy limited access to Premium articles, exclusive newsletters, commenting, and virtual events with our leading journalists
Already have an account? sign in
Join our new commenting forum
Join thought-provoking conversations, follow other Independent readers and see their replies