'All Schools should be arts schools!' : The new movie Art Party and the fightback against the government's attack on the creative arts
As the Government sacrifices our kids' creative talents to exam success, it's time to act, says Bob and Roberta Smith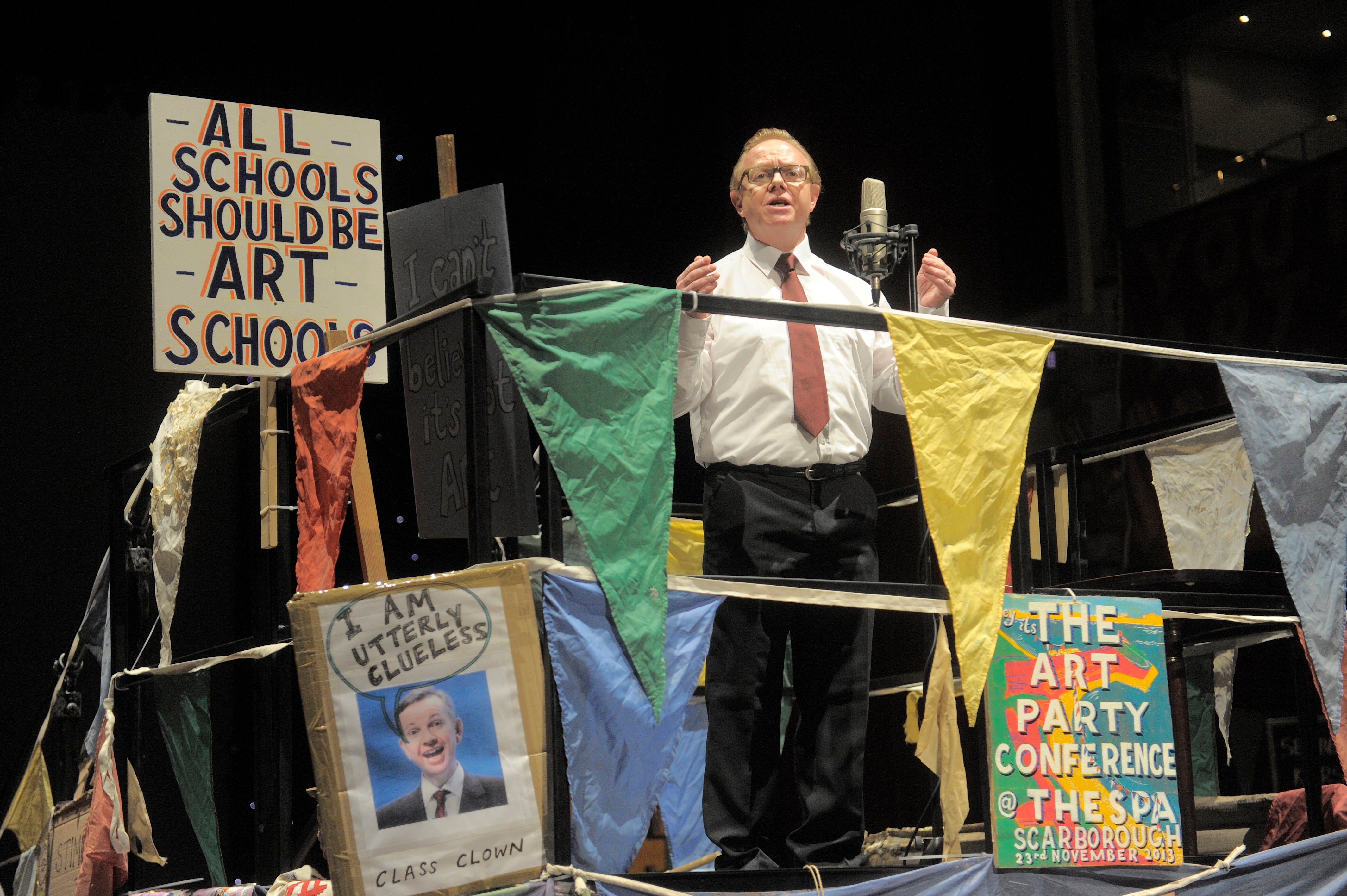 Calling all parents and 14 to 16 year olds: all schools should be art schools! Shout it loud and proud! On Thursday, the GCSE results are released, and this, by no coincidence, is the same day that my new film will screen in cinemas and galleries across the country.
Art Party, which I have made with the film-maker Tim Newton, is a call-to-arms to protect the future of the creative arts in this country; a future which is being jeopardised by the current government, as it does its best to minimise arts subjects (art, music, drama, dance and design) in the school curriculum.
The title of the film refers to the non-political party that I set up last year with other artists to protest against the Tories' philistinism. Part documentary, part road movie and part political fantasy, it combines footage of our first Art Party conference, which saw Britain's leading artists and educators gather in Scarborough last November, with a fictional plot involving a villainous conference attendee called Michael Grove. Not to give too much away, but he might just be based on a certain former government minister.
We hope Art Party will inspire a generation of kids to choose arts subjects at GCSE, and aspire to explore their inventive, inquisitive nature and be all they can be! In keeping with that, this Thursday's film screenings will be "art parties" in the fullest sense, with post-screening events and the audience dressing as great artists of the past (or even the dastardly Grove).
When the Coalition Agreement was signed, Michael Gove saw an opportunity to rip up election manifesto commitments; he then embarked on a series of untested education reforms that have fractured provision in schools and straitjacketed kids into an unending examination process that has stifled creativity and downgraded innovation.
Gove's mistake was to confuse standards with subjects: he assumed some subjects have innately high standards while others are substandard. This has translated into a complex Chinese puzzle of curriculum reforms that are an institutional justification of his prejudicial view. Arts subjects do not figure within the "core" GCSE subjects rated by the now discredited, though still employed, English Baccalaureate (EBacc) school performance measure, for example, and are diminished in the overall league tables by the "discount codes" system which means that certain arts subjects are considered so similar that only one of them can count towards a school's position. The more kids that take multiple arts subjects, the more a school risks slipping down the league.
The result? Inevitably, schools have slanted their curriculum towards Gove's favoured Stem subjects – that's Science, Technology, Engineering and Maths, for the uninitiated. Fourteen per cent fewer children chose arts subjects at GCSE level in 2013 than did in 2010. Meanwhile, in 2012, 15 per cent of schools said they had decided to get rid of an arts subject because of the EBacc.
What will the take-up of arts subjects be like in the future if Gove's reforms are not reversed? The Government sees art in schools as a "nice to have", or as an entertainment on wet Wednesday afternoons, not as an essential core activity which injects future-gazing and hope into our schools.
The good thing to have happened since filming, of course, is that Gove is no longer the Education Secretary. More than that, actions such as our film and all the demonstrations by teachers and those concerned with progressive education have ensured that Gove can never now aspire to be prime minister. His successor, Nicky Morgan, will be honoured, though, at the Art Party gathering at London's Institute of Contemporary Arts, which is offering a free Nicky Morgan Cocktail in the ICA Bar to the first 20 portrait artists who turn up with a portrait of Gove's successor.
Access unlimited streaming of movies and TV shows with Amazon Prime Video
Sign up now for a 30-day free trial
Sign up
Access unlimited streaming of movies and TV shows with Amazon Prime Video
Sign up now for a 30-day free trial
Sign up
What is a Nicky Morgan cocktail? Well you can make it out of anything, but it has unequal amounts of alcohol and fruit juice because Morgan is not really into equality, as shown when she voted against same-sex marriage in 2013.
This is no time to stop protesting; the need to better advocate the arts to government remains. In truth, we need to put pressure on all politicians to take the arts more seriously. Labour makes warmer noises but an eagle eye needs to be kept on them. Weren't they the government that commissioned the Browne Review which effectively privatised arts and humanities degree courses? The increase in student fees as a result of the Browne Review has meant that the traditional route into the professional visual arts, namely a postgraduate degree, is unthinkable for many Fine Art graduates saddled with so much debt from their first degree.
So, what is the next move for the Art Party in the build-up to the 2015 election? Here is what we are calling for in eight easy demands:
1 No school should be allowed to offer a curriculum without art, music, drama, dance and design at GCSE and A-level.
2 Ofsted must once again include arts subjects as part of its assessment of schools. No school can possibly be considered "outstanding" unless it offers art, music, drama, dance and design.
3 All children must study at least one arts subject at GCSE. In this era of enforced austerity, kids are more than ever asked to think about the vocational merit of the subjects they choose, and not whether they might have some interest in or aptitude for the subject. God forbid someone asks them what they enjoy doing. It denies the arts to all children, but puts further pressure on working-class kids not to study the arts.
4 Postgraduate training for art teachers should be enriched not eroded. Specialist art teaching is under threat; the PGCert qualification is being undermined by a reliance on teach-on-the-job training which cannot replace specialist subject knowledge taught by researchers and practitioners at university level.
5 All primary-level teachers must be trained in art, craft and music.
6 More should be done to encourage "artist educators" – that is, professional artists who teach while also developing their own art practice. State educated children deserve to be taught by terrific artists. By the same token, we need to encourage our great art teachers to participate in the ongoing debate that is contemporary art.
7 Steam not Stem! We have to insist that if Stem subjects (science, technology, engineering and maths) are to be prioritised, they include a big A for the arts – and that's music, drama and dance as well as art and design!
8 An end to the aforementioned "discount codes" – a government invention which discourages kids from choosing more than one arts subject.
And what can you do to help the cause?
1 If you are a parent, say to your kids every day: "Someone is going to be the next great artist, writer, singer, performer or scientist, and it might as well be you!" And then make it happen.
2 Quiz MPs about what they are doing for the arts: why not visit your local museum or library and ask them if they will host "a cultural question time" in the run-up to the next election? Then write to your local MP and demand that they turn up.
3 Join us on Thursday at one of the nationwide art parties, see the movie, and encourage kids to study and participate in the arts.
'Art Party' (12A) is released in cinemas on Thursday. Art parties will also be hosted on this date. See cornerhouse.org/artist-film/artist-films/artparty for details of existing parties or how to host your own
Join our commenting forum
Join thought-provoking conversations, follow other Independent readers and see their replies