Amber Heard interview: The Danish Girl star on sexism, transgenderism and marriage to Johnny Depp
'This largely marginalised or forgotten or suppressed community is finally coming to light. We're ready to shine a light on this'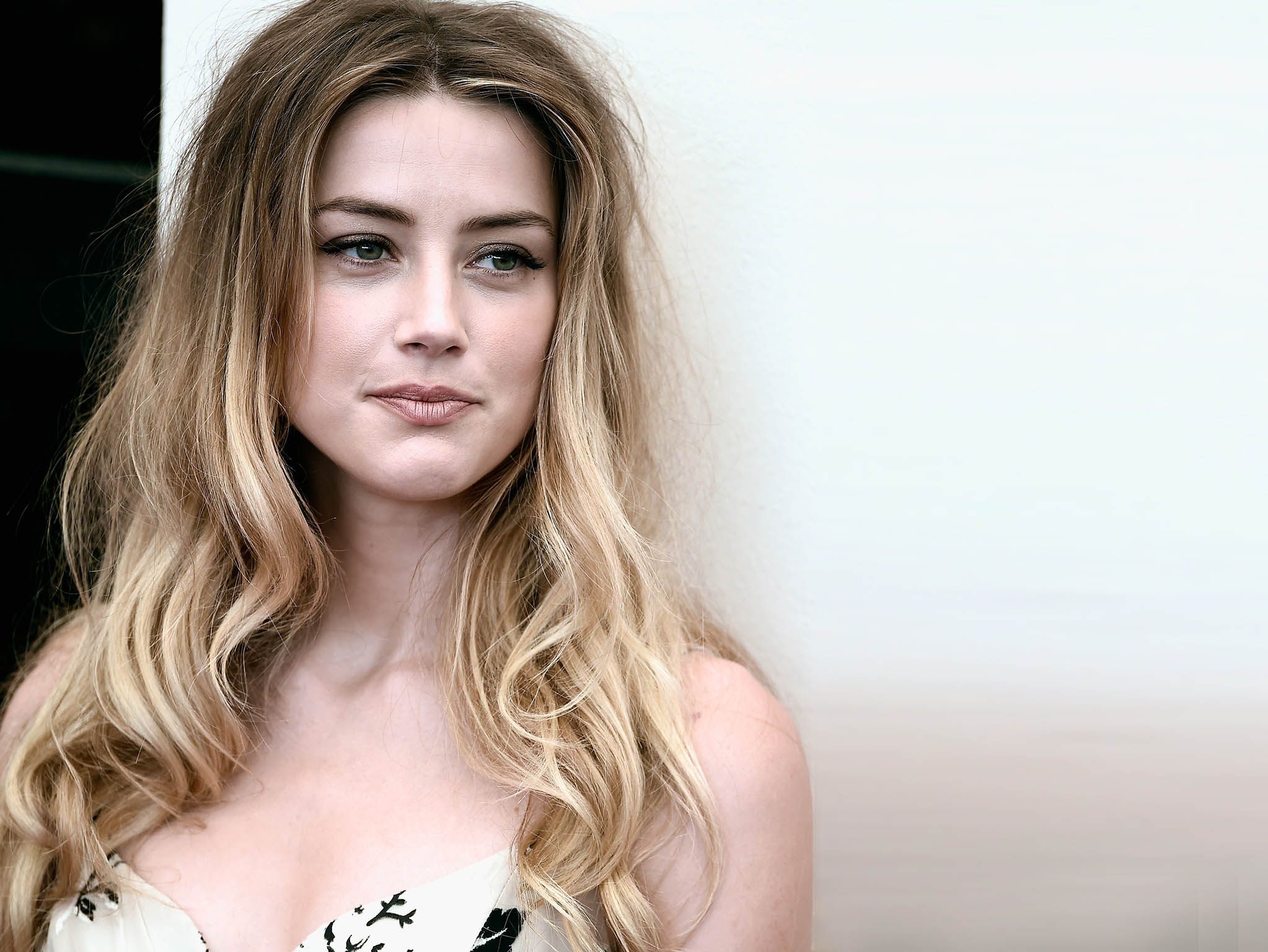 A cocktail of charm and defiance, Amber Heard arrives for our interview like a ball of energy. She's wearing chunky-heeled boots and a cream dress, her arms jangling with bangles and her fingers weighed down by gold rings.
The 29-year-old, lips coated scarlet and eyes feline-green, is an arresting sight. Little wonder she captivated Johnny Depp, her co-star on 2011's Hunter S Thompson adaptation The Rum Diary.
She and Depp have been together since June 2012, just as he split from his ex-wife Vanessa Paradis. They wed last year, though any thought that Heard is riding on his coattails is dismissed when you meet her.
The Texas native has been acting for more than a decade but 2015 was a watershed year, professionally. After a starring role in Magic Mike XXL, as the photographer who charms Channing Tatum's stripper-boy, she's now lining up in Tom Hooper's The Danish Girl.
The film, which has seen stars Eddie Redmayne and Alicia Vikander nominated for Golden Globes, tells the true story of Lili Elbe (Redmayne), who lived the early part of her life as a man – 1920s Copenhagen artist Einar Wegener – and became the first person to receive gender re-assignment surgery. "You just knew by page four – probably before – that it was special," says Heard, who jumped at the chance of working with Hooper, the British director of The King's Speech.
Heard plays Oola Paulson, an artist friend to Einar and his wife Gerde (Vikander). "Oola is all freedom," says Heard. "She's all spirit. What she cares about is the human, not the superficial. She's a progressive person, ahead of her time. We take for granted now how interesting that friendship must've been and how special the human being she must've been to be able to do that. And I liked that she was part of the new bohemia, that movement, the genesis of that movement."
While the film has been criticised for its overly tasteful approach, it taps into the zeitgeist. Television shows (Transparent, Orange Is the New Black), movies (Tangerine) and Caitlyn Jenner have raised awareness of transgender issues.
"[It's] proof of our culture being ready for this conversation and us as a society being interested in these stories," says Heard. "I think it's about time. It's not an accident that most people have never heard of this extraordinary pioneer. There's a reason for that, and this largely marginalised or forgotten or suppressed community is finally coming to light. We're ready to shine a light on this."
Heard has experienced prejudices regarding sexuality rather than gender. She came out as bisexual in 2010, after a relationship with the artist Tasya van Ree. "I don't want to have to deny my sexuality in order to be," she later explained. "But I don't want to have to be defined by it.
Access unlimited streaming of movies and TV shows with Amazon Prime Video
Sign up now for a 30-day free trial
Sign up
Access unlimited streaming of movies and TV shows with Amazon Prime Video
Sign up now for a 30-day free trial
Sign up
"The one way we will achieve change in a positive direction towards accepting people for who they are and looking beyond superficial means to judge people instead of falling prey to our prejudices and our tribal instincts towards fear... the only way we're going to get over that is by being familiarised with it, by being exposed to it," she tells me. "I've said this before but education is the antidote to prejudice."
Raised in Austin, Heard has been hard-wired towards independence since her early days. The daughter of an internet researcher and a commercial contractor, she was brought up Catholic but declared herself an atheist after her best friend died in a car crash when she was 16. She calls the conservative Texas she lived in "a very monotone presentation of society" – and still remembers when she first saw a Muslim woman wearing a hijab in the street. "I was electrified."
When she was 16, she sent head-shots to modelling agents and travelled to New York to meet them. After living in Texas, New York thrilled her. "I thought I had died and gone to heaven," she says. "From that moment on I was different." Modelling, however, held no interest for her, even from the beginning: "I hated it."
Within two years she was acting in American football drama Friday Night Lights. She played the younger version of Charlize Theron's character in sexual discrimination drama North Country and took the lead in 2006's thriller All the Boys Love Mandy Lane. She's since tried her hand at comedy (Pineapple Express), horror-comedy (Zombieland) and action-comedy (Drive Angry) without ever blowing the doors off.
Put this down, she says, to the lack of decent roles for women in Hollywood. "I'm a woman... I get to giggle sometimes," she shrugs. "In case you haven't noticed, go see a movie right now and tell me what the majority of compelling speaking roles are." Alicia Vikander has noted that in her last three films, she's had not one scene with a woman. "That would make sense," Heard nods. "I've had a similar experience."
Even for an actress in her age bracket, options are narrow – often just "pedantic and over-played stereotypes", as she puts it. "Because there are few parts, there's fierce competition and anything that's led by a woman is not finance-able.
So those movies are typically under-financed and under-budgeted and under-made. Film-makers are 90 per cent male, so we don't have a more balanced perspective from our storytellers. We're way behind in this possibly progressive medium."
Heard calls the system "so broken" in regards to sexism. "It takes not just actors and actresses noticing it. It takes audiences saying, 'I will show up to see a movie led by a female cast or one focused on the female life or elements of female perspective.'
It takes the studio system to be tired of this old, formulaic approach to making movies. They've got to be interested in changing – the system of financing movies has to change."
One role that had potential fell foul of other problems. London Fields, the adaptation of Martin Amis's pre-millennial noir, was shot in 2013.
But its premiere at the Toronto Film Festival was cancelled after the director Matthew Cullen set about suing the producers for planning to debut a re-cut version of the film he had nothing to do with, featuring footage of the World Trade Centre attacks mixed with shots of pornography. The stars, including Heard and Depp, wrote to the producers to complain.
Cast as the femme fatale Nicola Six, Heard looks awkward when I raise the topic. "It lived up to its expectation with regards to how difficult it was," she says. "It was one of the most difficult movies to film and it has proven to continue to be difficult." I suggest that Nicola, at least, is a delicious role. "It was really difficult," she says, again. "I can't say I did her justice. I tried!"
The world's highest-paid actors 2015
Show all 10
It represents an unfortunate blip after a year that has also seen rumours of her marriage to Depp being on the rocks. "I try not to react to the horrible misrepresentation of our lives," she stated recently, "but it is strange and hard."
While she has become a stepmother to Depp and Paradis' two children – "The greatest, most surprising gift" of her life, she has said – it's clear she sees a kindred spirit in her non-conformist husband. In the meantime, she's enjoying what The Danish Girl is bringing her.
"I've had nothing but positive reactions," she says, referring to online praise. "It's getting harder and harder to hate [on the web] and get away with it. You always want to be on the right side of history."
'The Danish Girl' is on general release
Join our commenting forum
Join thought-provoking conversations, follow other Independent readers and see their replies