9 of the best films we saw at BFI Flare
One again the LGBT film festival didn't disappoint with a stunning array of movies, short films and documentaries.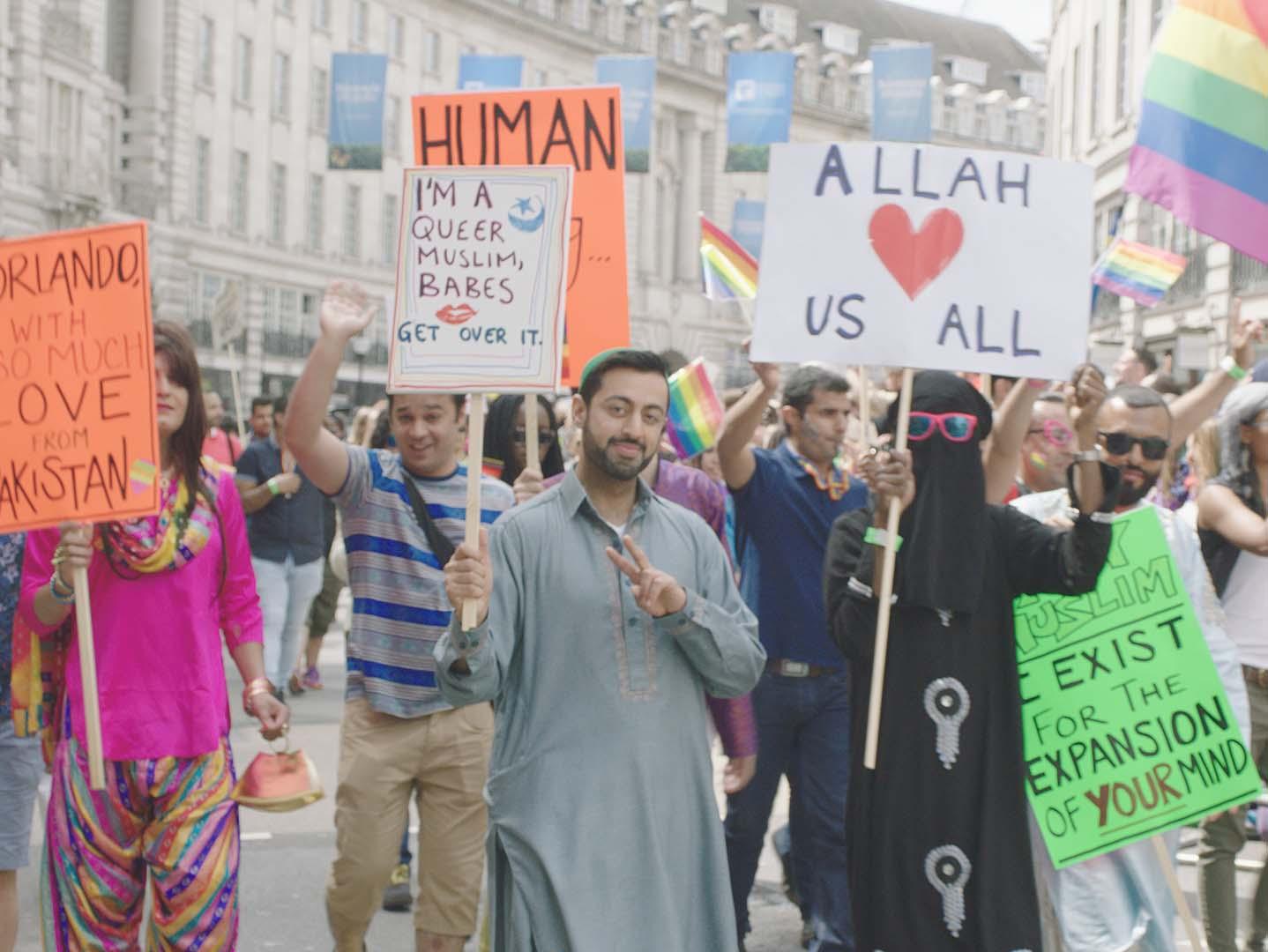 As one of the world's greatest LGBT film festivals wraps up for another year, here are just a few of the amazing movies and documentaries they showcased. Some will be going on general release in a cinema near you, others are available to download and stream anytime, while others still need your support to get out there.
Here are my top picks from BFI Flare 2017:
Pushing dead
Pushing Dead is a comedy about AIDS. Yes. Seriously. And it's utterly hilarious. From the excellent Tom E. Brown, this utterly delightful and brilliantly funny comedy will have you laughing from the get-go, while simultaneously telling the story of living and finding love with HIV.
Failing writer Dan (James Roday) struggles to stay on top of his insurance bills to pay for the drugs that have helped manage his HIV for the past 20 years. His flatmate/live in masseuse Paula (Robin Weigert) and boss/father figure Bob (Danny Glover) are his small, equally flawed, but loving support circle while he copes with a dead on arrival love life and failing career trajectory. None of that screams comedy gold, but I kid you not, it works and it works beautifully. In the first five minutes alone, as Paula rushes Dan to the hospital writhing in pain in the back of her car, Pushing Dead breezes by the 'three laugh test' easily. Throw in a creepy monkey, an unblinking little girl who mystically appears quoting Franklin D. Roosevelt and a mugging and you have one of the most charming comedies I've seen in years.
The characters are believable, lovable and unforgettable, while the universe Brown has created (filled with equally funny TV shows and adverts) only endear this wonderful movie even more. If you get any opportunity to catch it, do so without delay.
Find out more here.
Jesús
This film utterly blew me away - it's one of the most emotionally hard-hitting movies of the festival and the tension during the majority of its scenes pins you to your seat in the most uncomfortable but addictive way.
Jesús is the story of a young man of college age in Santiago, Chile - he's doing what every young man tends to do; skip classes, drink, take drugs and have sex with anything that moves - male or female. But, when he and his friends come across a young gay man in a local park and attack him, the movie quickly descends into a tense thriller centred around the most upsetting of moral crises.
After the movie's opening (a fun filled K-Pop dance competition) the sudden hairpin bend into fearful situations packed with dark repercussions mean that it will not be forgotten in a hurry. This movie is a deeply uncomfortable watch at times, but if something is easy is it really worth doing?
I both simultaneously can't wait to see it again and dread sitting down to revisit Jesús' story. I cannot recommend this film from Fernando Guzzoni enough, and it was far and away my highlight of the entire festival.
Different for girls
This, it's fairly safe to say, is a new chapter in LGBT television. Different for Girls is a 12-part webseries based on Jacquie Lawrence's novel of the same name. Set in West London, this lesbian drama centres on a character having to reveal to her girlfriend that she is pregnant and a marriage on the rocks because of a younger woman.
Access unlimited streaming of movies and TV shows with Amazon Prime Video
Sign up now for a 30-day free trial
Sign up
Access unlimited streaming of movies and TV shows with Amazon Prime Video
Sign up now for a 30-day free trial
Sign up
Lawrence explained during the Q and A that she was approached by Channel 4 to create a lesbian version a Queer as Folk but... Then The L Word came along... So she went away for almost 15 years and returned with the same characters she'd nurtured, had given them kids and matured their situations.
Shown as a short film (thanks to a series of episodes stitched together) DFG is a webseries at its heart. It's raw and unpolished emotion is front and centre and the cast's genuinely believable reactions to the hell life throws at them on a day-to-day basis is to be applauded.
The other thing that makes it unique is the fact that no one has really approached this chapter in homosexual life. The one after the coming out, the courting and the life success. The chapter in life where there are kids, school runs and a sense of time ticking away. Russell T. Davies' Cucumber took the first few steps towards the gay man's story, but now we've got Different For Girls flying the flag for Lesbians everywhere.
Find out more here.
Taekwondo
This movie from Marco Berger was one of the most genuine and charming of the festival.
It's also about 106 minutes of pure filth - seriously, don't take your parents to see this one, unless you're very comfortable with male nudity.
The thrust of the plot (sorry) is a group of friends on a lads-only holiday in a picturesque country house in Buenos Aires. The boys are free from the constraints of girlfriends and can kick back with booze, food and football - all three usually practiced naked or semi-naked.
Much like Schrodinger's cat, I'll wager it's impossible to know whether this idea of how 'straight boys' behave while alone is a genuine representation - I'd certainly like to hear a report from any straight men who've watched this movie.
Taekwondo is a love story, of a sort - as newcomer Germán joins the group and his relationship with another guy becomes closer, but in that respect the movie is a tease in an unapologetic sense from start to finish. An enormously enjoyable and sweet tease nonetheless.
Free CeCe!
Laverne Cox presents a documentary of one of the most controversial imprisonments of a trans woman in America in recent memory - CeCe McDonald. One night while she was out with friends heading to the shops, CeCe was attacked by a group shouting racist and homophobic slurs. During the fight that followed, a man was stabbed and CeCe was charged. The arrest and later imprisonment of CeCe, a trans woman of colour, sparked nationwide and even international outrage. Free CeCe protests, meetings and marches took place while she was forced to serve her time in a men's only prison.
This is an important film - not just because CeCe's story needs to be told to a wider audience who may have missed it in between 2012 and 2014, but also for the other topics it perfectly covers. The astronomically and unacceptably high rate of trans murders in the United States (specifically trans women of colour, whose average life expectancy is 35), the state of the US penal system and the incarceration of trans women in male only prisons (and vice versa). The treatment of this documentary is well done and respectful. Laverne Cox is a powerful and influential figure and is certain to get audiences through the doors, but she never takes over from CeCe's overall story or steals the focus in anyway.
Find out more here.
Memories of a Penitent Heart
Emotionally draining but perfect all the same - Memories of a Penitent Heart from director Cecilia Aldarondo tells the story of a family secret hidden for almost a generation. Aldarondo's uncle - a gay man - was effectively excommunicated by his mother because of his sexuality. His partner, a man of the cloth, was cut out his boyfriend's life while he sadly died from AIDS… Or, according to the family, from cancer.
The way this documentary has been put together is incredible - the graphics showing the family tree, the way the evidence is laid out, the archive footage and phone calls are used perfectly and simply add to the overall perfection. I loved this documentary, it's rawness, it's clarity and also it's honesty. Aldarondo was exposing a family matter - not an issue in an alien country or in a stranger's house - this was something close to her. It took incredible bravery to challenge her family's secrets, let alone make a documentary about it and show it to the world. As well as being a documentary about her family and the emotional anguish that her uncle was placed under, it is also a fascinating glimpse into the AIDS epidemic in America in the 1980s.
Find out more here.
Pride?
This documentary of talking heads and graphical factoids will no doubt be one of the most important LGBT factual films of 2017. This documentary addresses everything; from the history of Pride and its roots, the commercialisation of current day prides, to the deep and shameful racism and segregation that plagues our community.
Because of this gargantuan topic list, Pride? Can admittedly feel sometimes feel like it is biting off more than it can chew. Using Orlando as a framing device, the movie begins by looking at Pride in London, its sponsor Barclays Bank and the controversy surrounding BAE systems being allowed to march. Then it pivots to the superb UK Black Pride and the Pride Picnic and what they both provide our community that the main march might not.
With contributions from Peter Tatchell and the incredible Lady Phyll, this movie will give LGBT audiences the opportunity to take a long hard look at who we are and where we're going. While for straight audiences, it will open people's eyes and show them that below the rainbow, not everything is perfect (a fact that eludes many people). It's worth noting that the version screened at BFI Flare this year was a work in progress and not the finished article. That will be premiered during the BFI's LGBT50 this summer.
Find out more and support the crowdfunded production here.
The Pearl of Africa
This documentary is equal parts upsetting, equal parts uplifting. It tells the story of Cleopatra Kambugu, the first out transgender woman in Uganda. After the notorious anti-LGBT publication 'Red Pepper' featured her on their front cover, Cleopatra and her partner Nelson were forced to flee the country and travel to Thailand to undergo her gender reassignment surgery.
The documentary is as much a story about Cleo's transition as it is about her relationship with Nelson. Even the most cold-hearted among the audience will emerge believing in love and happiness after seeing how the pair support and protect each other. For those not familiar with the process of gender reassignment, the trip to Thailand will also be an enlightening one, as the dangers of achieving the body of the gender you identify with are spelled out as clearly and concisely.
The situation in Uganda, and the dangers the LGBT community faces there does fall into the background a little too quickly, it would have been very interesting to learn more about that. However, this is Cleopatra's story - and the beautifully shot narrative of her journey is stupendous.
Find out more here.
Two Soft Things Two Hard Things
This is perhaps one of the most informative and enlightening documentaries that Flare had on offer this year. From Mark Kenneth Woods and Michael Yerxa, this documentary catalogues the turbulent life of the Inuit people, after they were forced to give up their nomadic ways by the Canadian government in the 50's and populate the northwest of Canada. The repercussions of the government and of the church's meddling in the Inuit people's lives resulted in the slow but steady erasure of the Inuit people's beliefs, traditions and acceptance of sexualities and relationships.
Shot over an exceedingly short period of time (due to the fact that travelling and living that far north is mind-blowingly expensive) the documentary explores the history of the Inuit people and the acceptance of LGBT people. From the shockingly high suicide rate of LGBT Inuits, to some of the most genuine and charming interviews from queer residents of Iqaluit (the Nunavut capital) - the topics this movie touches upon are like nothing you've ever seen before.
It also features one of the world's remotest Pride celebrations, a difficult task when the Inuit language doesn't actually have a word for Pride. It feels like this movie of only 71 mins barely scratches the surface of the stories it attempts to tell, but that's because there is just so much information, history and personal tales on offer. I'm just grateful that I got to see this little window into a world that I had absolutely no knowledge on.
Find out more here.
Although only 9 movies are listed here, BFI Flare showcased a number of films, short films, documentaries, talks and events aimed solely at starting conversations and showcasing LGBT talent. It's an institution like no other and if you missed it this year you can show support at Flare 2018.
2017 also bears witness to the 50 years since the partial decriminalisation of homosexuality in England and Wales - The BFI will be marking this chapter with, LGBT50 - a summer season of more incredible LGBT films. Find out more at bfi.org.uk/flare and bfi.org.uk/lgbt50
Join our commenting forum
Join thought-provoking conversations, follow other Independent readers and see their replies