Bone Tomahawk, film review: Cowboys, cannibals and torture porn
(18) S. Craig Zahler, 132 mins. Starring: Kurt Russell, Richard Jenkins, Patrick Wilson, Sean Young, Matthew Fox
Geoffrey Macnab
Thursday 18 February 2016 23:05 Comments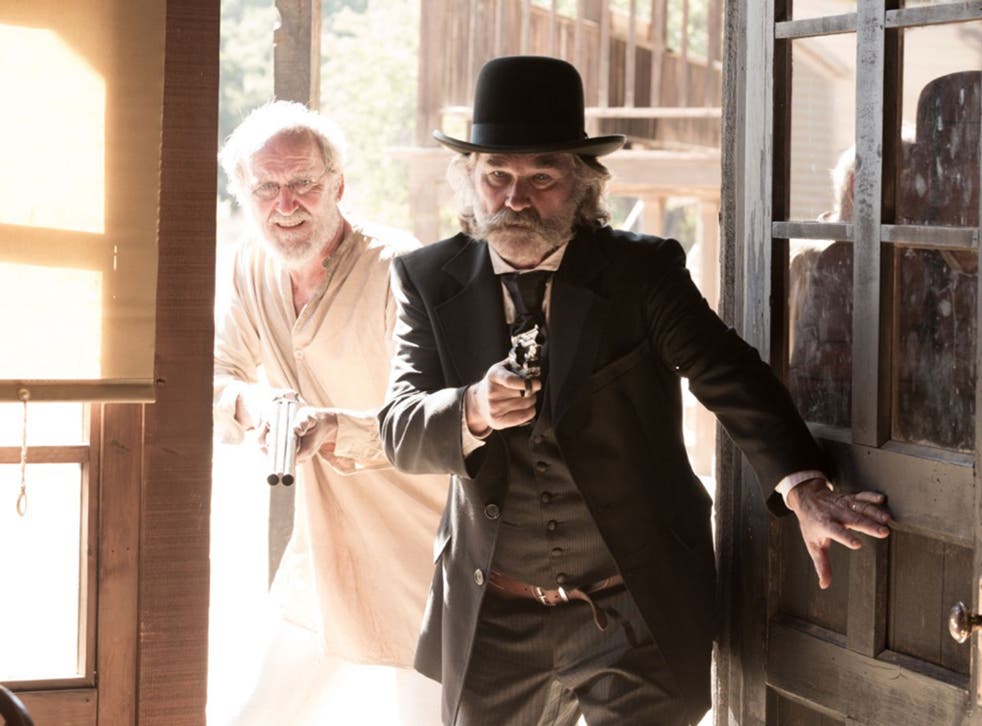 Bone Tomahawk is an unholy cross between a western and a horror movie. In parts, it is very striking indeed, both in its blood-letting and in its macabre lyricism. The film reveals its intentions early on, with a gruesome scene of somebody's throat being slit. The amplified sound editing makes sure that we hear a very loud gristling noise as the blade cuts through skin and veins.
Kurt Russell, still sporting the same whiskers he wore in Quentin Tarantino's The Hateful Eight, plays Hunt, the upstanding sheriff of Bright Hope, a small town with a population of 268. Richard Jenkins is his ornery old deputy, Chicory. Matthew Fox is the town's most flamboyant swell and most lethal gunfighter. Everybody respects the law – or, at least they do until the arrival of a stranger who has been trespassing on sacred burial grounds of a cannibal tribe.
The film carries obvious echoes of The Searchers. A posse rides off in pursuit of the vengeful, flesh eating Native American "troglodytes" who've kidnapped several of the townsfolk. This entails an epic journey on horseback and foot to the remote cave where they dwell. One of the posse, Arthur (Patrick Wilson), the husband of abducted doctor Samantha (Lili Simmons), is on crutches, with a broken tibia. He is so desperate to rescue his wife he comes along for the ride
Movies with injured heroes can be very frustrating to watch. At times, as Arthur hobbles and crawls across the desert, the tempo here flags. We are given no real sense of how much time is passing. A film which begins like a conventional if very bloody western veers off into Eli Roth-style torture porn territory in its final reel, when the cowboys finally catch up with the cannibals. Writer-director S Craig Zahler shows considerable flair. There is dry, absurdist gallows humour here, alongside some very evocatively shot footage of the rugged west. The action scenes are effective too, with brutal fighting at very close quarters. However, the events in the final reel seem just too gruesome and contrived. In is final spasms, a film that had been intriguing and even subtle in parts resorts to crude B-movie shock tactics.
Register for free to continue reading
Registration is a free and easy way to support our truly independent journalism
By registering, you will also enjoy limited access to Premium articles, exclusive newsletters, commenting, and virtual events with our leading journalists
Already have an account? sign in
Join our new commenting forum
Join thought-provoking conversations, follow other Independent readers and see their replies