'Boyhood': The boy that grows up before our very eyes
Sophie Ivan pays tribute to Richard Linklater, the great US filmmaker who, with 'Boyhood', has reached a new pinnacle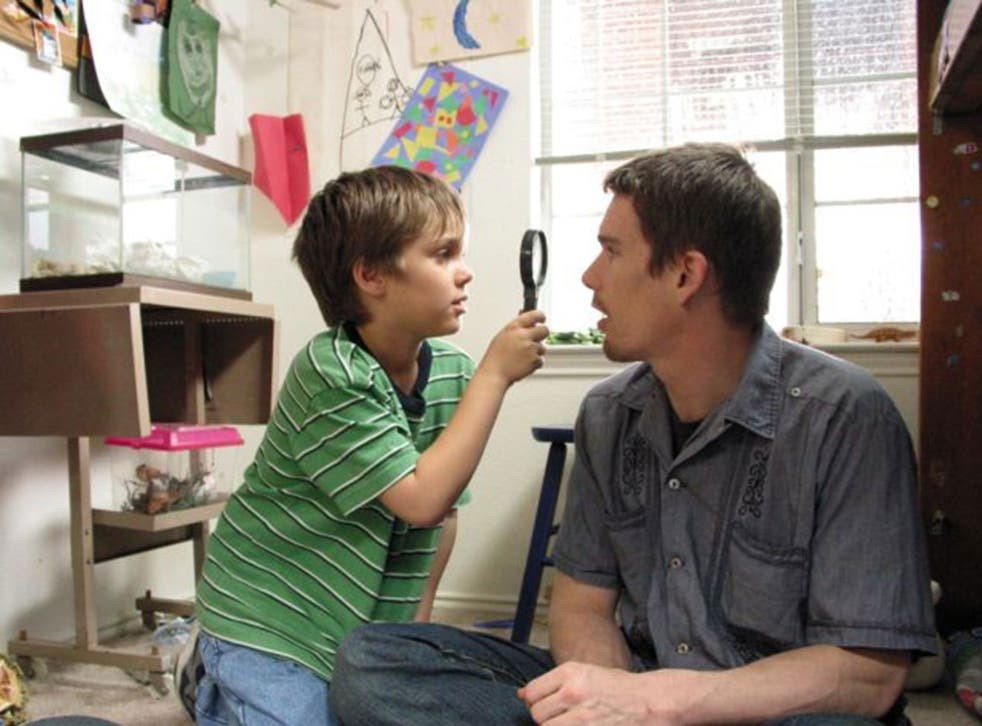 Richard Linklater is not a name you often hear bandied about in discussions about major film awards contenders. Though the Texan-born filmmaker has been nominated for two Oscars for screenwriting (shared with his co-writer, Kim Krizan, and stars, Julie Delpy and Ethan Hawke for Before Sunset in 2004, and again with Delpy and Hawke for last year's Before Midnight), he has never been a real front-runner, or ever received a Best Director nomination; nor have his films scooped any top prizes at major international festivals. And while he's had some popular successes in his 29-year career – including 2003 box-office smash School of Rock and cult classic Dazed and Confused – he's not exactly what you'd call a household name.
Perhaps this is in part because his films usually lack an obvious wow factor – whether that's epic, tear-jerking storylines that attract Oscar-voters, or "challenging" subject matter to inflame the art-house circuit. Instead, Linklater makes quietly distinctive, smart but mostly accessible films that don't usually yield their ripest fruit on first viewing. While this slow-burn quality is perhaps Linklater's greatest strength and distinguishing feature, it also accounts, in part, for his being largely overlooked as one of the most significant American film-makers of the past 30 years. His latest film Boyhood, however, will be a tough one for the Academy to ignore.
Many of Linklater's films take a universal experience – falling in love, finishing school, settling down – and present it with a loose, freewheeling naturalism. It's often as though he's taken Hitchcock's famous dictum, "drama is life with the dull bits cut out", and turned it squarely on its head, revelling in the "dull" bits, and, more often than not, surgically removing anything we'd consider "drama" in its purest sense, i.e. action. Yet the films themselves are far from dull; rather, they possess an extraordinary sense of familiarity.
And none more so than Boyhood: a technical and narrative marathon, shot over 12 years between 2002 and 2013 at more or less yearly intervals, it traces the evolution of an American everyboy, Mason (Ellar Coltrane), from the age of six to 18, alongside that of his family, including estranged parents Patricia Arquette and Ethan Hawke. To call Boyhood a risky proposition would be an understatement. Linklater took an inevitable gamble on the future acting abilities of Coltrane as his growing child lead, and none of the cast, including Arquette and Linklater regular Hawke, were bound by contracts, only a good-faith understanding that they would continue year after year on a film that not even Linklater was convinced would ever see the light of day. Even more remarkably, he managed to secure the long-term backing of US distributor IFC Films for a project that – in its best-case scenario – wouldn't provide a return on its investment for more than a decade.
Well, the gamble has paid off in spades: Boyhood is a glorious culmination of Linklater's past work, an epic of the everyday, which encompasses and concentrates some of his previous films' most distinctive qualities. As with the Before ... films, which revisit protagonists Jesse (Ethan Hawke) and Céline (Julie Delpy) at nine-year intervals in their relationship, there's nothing particularly remarkable about Mason's story or his upbringing – and this is exactly Linklater's point.
Indeed, he skips over the births, marriages and deaths and concentrates on the moments in between: the sibling squabbles in the back of the car, snatched school-morning breakfasts, parental arguments eavesdropped through cracks in doorways; in other words, the real stuff of childhood and adolescence. The situations created by Linklater (left) are deliberately generic, even nondescript, in order that they might hold up a mirror to our own lives. Paradoxically, their very non-descriptness is what makes them seem so personal. As an ex-colleague who I bumped into after a screening said of the film: "It's like watching my own home movies." You and me both, I thought.
Linklater isn't unique in revisiting his subjects at intervals of years, of course – it's an approach famously pioneered by Michael Apted's Up documentary series, alongside Truffaut, whose fictional alter-ego, Antoine Doinel, is played by Jean-Pierre Léaud in five films shot between 1959 and 1979, and used more recently in Michael Winterbottom's Everyday, which was filmed over five-years. Yet none of them manage to compress such a vast time-span into one feature-length film, nor achieve the same poignancy or melancholic resonance as Boyhood.
This is in part because Linklater has made a life's work of his preoccupation with time and its passing. His very first feature, 1988's It's Impossible to Learn to Plow by Reading Books, is a Super 8 exercise in letting time do its thing, which shows its protagonist simply going about his business: catching a train, reading the paper, doing his laundry. It's easy to see how this led to his next film, Slacker, another near real-time ramble through the day of a bunch of aimless, jobless stoners and conspiracy theorists. Of his subsequent works, Dazed and Confused, Before Sunrise, SubUrbia and Before Midnight all observe a strict classical unity, taking place in a 24-hour period, while Tape and Before Sunset play out in actual real-time.
A new documentary, Venice prizewinner Double Play, explores the friendship between Linklater and conceptual US film-maker James Benning. It's directed by film-maker and critic Gabe Klinger, who says his intention is to highlight how "a lot of what Linklater is doing is actually very experimental", despite, as he says, "our tendency to compartmentalise the avant-garde and the mainstream". After all, not only do Linklater's films consistently work against Hollywood's prevailing three-act structure, but his characteristically long, sprawling takes, often featuring characters conversing at a pace, add to a sense of unfettered immediacy, not least in the Before trilogy.
Access unlimited streaming of movies and TV shows with Amazon Prime Video Sign up now for a 30-day free trial
Sign up
Linklater's particular brilliance lies in the way he manages to be immediate and reflective all at once. Like their creator, his characters are consistently concerned with the passage of time and ageing, and so, duly, are we, his audience. Indeed, no other films seem as geared to provoke different responses at different stages of our lives. Klinger remembers first discovering Dazed and Confused's heady portrait of American youth in his early teens: "We put it on at parties and it would be playing in the background …. It's like the people in the movie were our friends"; whereas he says it now "surprises me how it's a movie about nothing, and that's a very daring thing for a Hollywood movie to be doing".
Meanwhile, those who have aged in line with Delpy and Hawke's Before trilogy couple, Jesse and Céline, might well recognise themselves in the pair's latest incarnation in Before Midnight, in which youthful idealism and spontaneity have given way to humdrum domesticity and middle-aged predictability; they equally might find themselves reaching for the first two films as time-travelling comfort blankets.
The beauty of Boyhood, though, and what makes it a career pinnacle for Linklater, is not (despite its title) that it encapsulates one particular phase of life but that it captures how they all bleed into one another, as imperceptibly and organically as in reality. "Time-lapse photography of a human being," is how its star Hawke has described it, and in many ways it's more like a nature documentary than any work of cinematic fiction. And as with an Attenborough adventure, you should prepare to be awestruck.]
'Boyhood' is out on 11 July; 'Double Play' is available on iTunes, and will be screened in cinemas in July
Register for free to continue reading
Registration is a free and easy way to support our truly independent journalism
By registering, you will also enjoy limited access to Premium articles, exclusive newsletters, commenting, and virtual events with our leading journalists
Already have an account? sign in
Register for free to continue reading
Registration is a free and easy way to support our truly independent journalism
By registering, you will also enjoy limited access to Premium articles, exclusive newsletters, commenting, and virtual events with our leading journalists
Already have an account? sign in
Join our new commenting forum
Join thought-provoking conversations, follow other Independent readers and see their replies