The Independent's journalism is supported by our readers. When you purchase through links on our site, we may earn commission.
Casey Affleck: 'Manchester by the Sea' star faces fresh scrutiny over historical sexual harassment cases
Mr Affleck was accused of groping women and fostering a culture of sexist abuse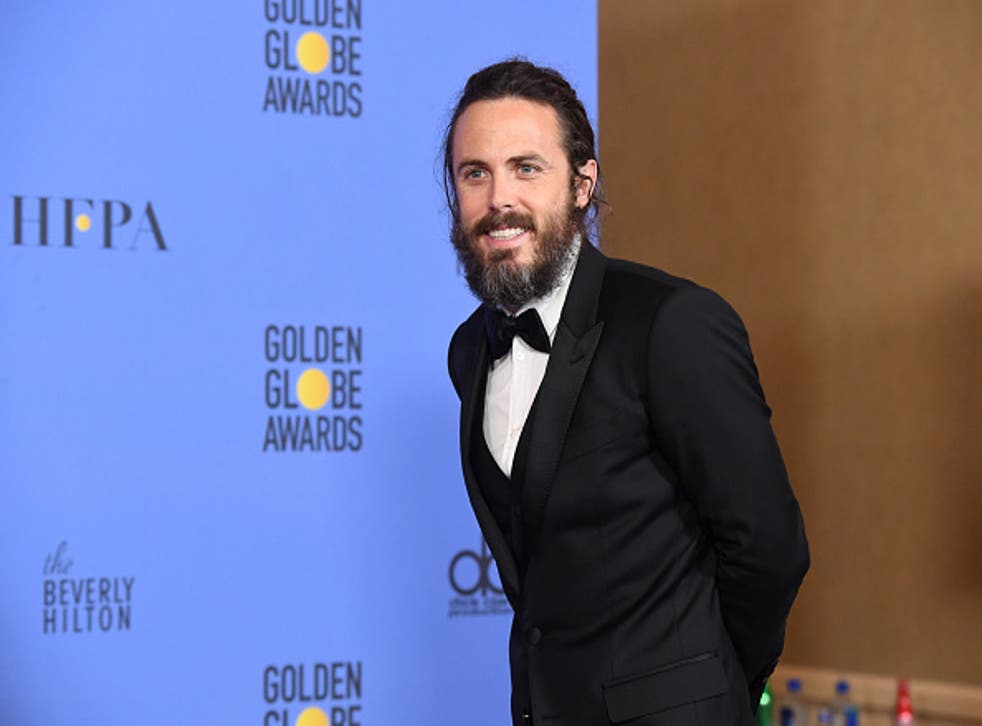 Casey Affleck, the "Manchester by the Sea" star who is a nominee and favourite for the Best Actor Oscar, is facing fresh scrutiny over historical sexual harassment allegations.
And he appeared to address the controversy in his acceptance speech at Sunday's Golden Globes, saying: "It's my kids who give me permission to do this because they have the character to keep at bay all the noise that sometimes surrounds people who live publicly."
The brother of Hollywood megastar Ben faced two sexual harassment suits in 2010. Producer Amanda White and cinematographer Magdalena Gorka sued for $2m and $2.25m respectively. over alleged offences during the filming of the faux-documentary I'm Still Here, starring Joaquin Phoenix
In the original allegations, Ms White alleged that Affleck referred to women as "cows", groped her when she rejected his sexual advances and instructed a camera operator to flash his genitals at her on several occasions. Ms Gorka claimed she was confronted with a "near daily barrage of sexual comments, innuendo and unwelcome advances" from fellow crew members who were encouraged by Affleck.
Casey Affleck: Manchester By The Sea was a big emotional undertaking
The civil suits were settled out of court for undisclosed sums, but are back in the media spotlight thanks to Affleck's rising profile and the controversy around historic rape allegations faced by Nate Parker.
Calling attention to the case, the New York Times asks why Affleck has avoided the scrutiny trained on the African-American director, producer and star of slave revolt epic The Birth Of A Nation.
Affleck has been able to wave away scrutiny of the allegations, telling the New York Times in November: "It was settled to the satisfaction of all. I was hurt and upset — I am sure all were — but I am over it."
On Sunday he picked up the Best Actor gong at the Golden Globes, the award show widely seen as a strong indicator of likely Oscar picks.
Golden Globes fashion 2017 gallery

Show all 32
But Mr Parker's project was absent, as Oscar hopes faded. Feted by critics, it ended up being a relative turkey at the box office as the suicide of Mr Parker's accuser drove the allegations against him back into the public consciousness.
Access unlimited streaming of movies and TV shows with Amazon Prime Video Sign up now for a 30-day free trial
Sign up
He was accused of raping an intoxicated fellow student in 1999, and while he was acquitted a fellow student was found guilty of sexual assault over the same incident.
Those allegations were more serious, concerning as they did a criminal rather than a civil offence, and Mr Parker courted controversy with subsequent media appearances in which he did not appear contrite.
But some media commentators have suggested Affleck is being sheltered from deserved scrutiny by his family name, his influence in Hollywood and his privilege as a rich white man.
Register for free to continue reading
Registration is a free and easy way to support our truly independent journalism
By registering, you will also enjoy limited access to Premium articles, exclusive newsletters, commenting, and virtual events with our leading journalists
Already have an account? sign in
Register for free to continue reading
Registration is a free and easy way to support our truly independent journalism
By registering, you will also enjoy limited access to Premium articles, exclusive newsletters, commenting, and virtual events with our leading journalists
Already have an account? sign in
Join our new commenting forum
Join thought-provoking conversations, follow other Independent readers and see their replies