Céline Sciamma interview: step aside 'Boyhood', it's 'Girlhood' time
A new coming-of-age film from France is a brilliant counterpoint to Richard Linklater's epic.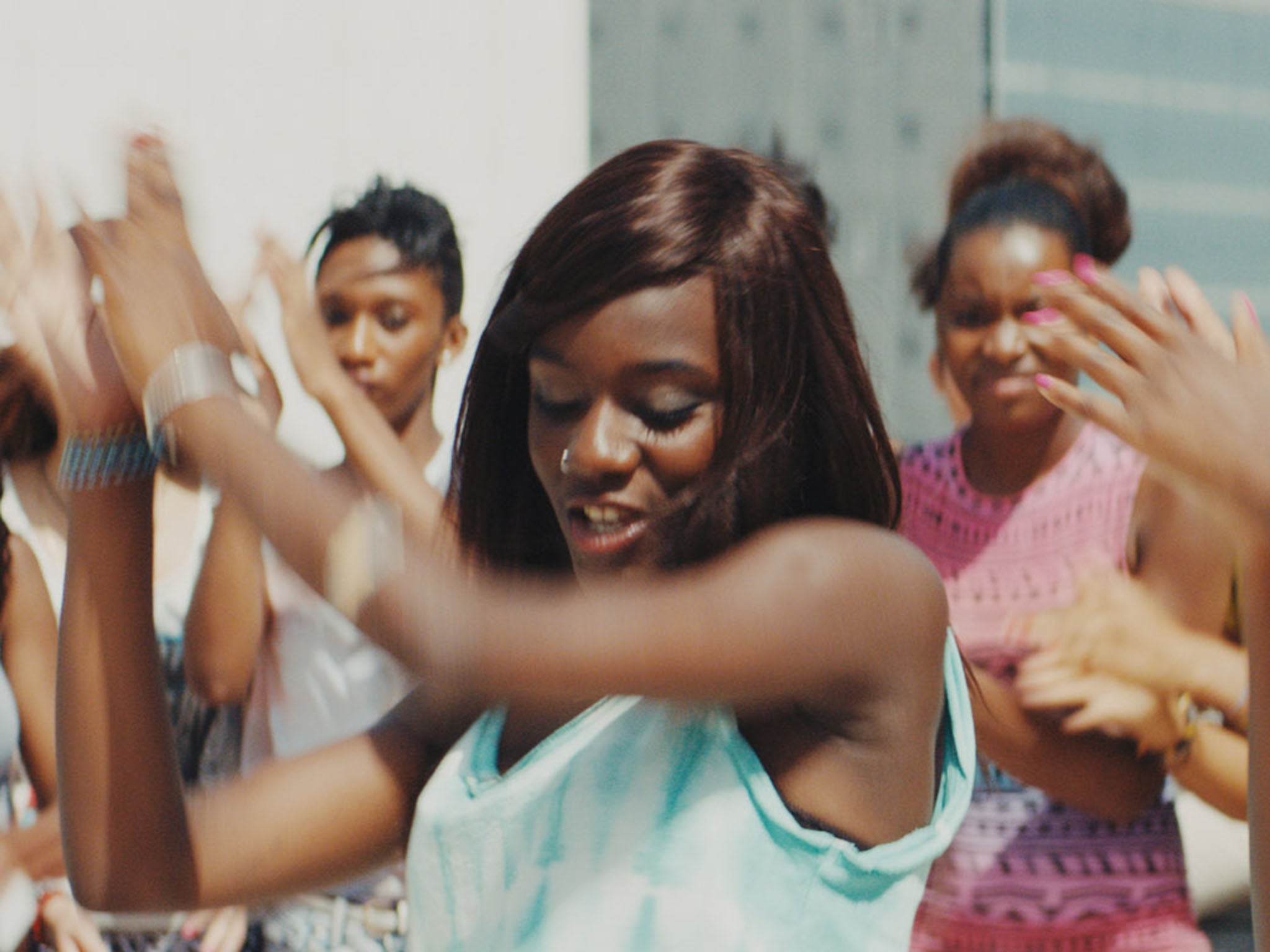 It wasn't shot over 12 years. It doesn't star Ethan Hawke. And it hasn't been snubbed at the Oscars. But Céline Sciamma's Girlhood does feel like a sister movie to a certain other study of adolescence with a very similar title – as its director herself agrees. "It could be the Boyhood of black girls," proclaims Sciamma, without a hint of bandwagon-jumping. Focused on a girl gang in the suburbs or banlieues of north-west Paris, it is a coming-of-age tale every bit as vital as Richard Linklater's epic project.
However, divided into four distinct sections, Girlhood does not take the Linklater path of showing the development of a child across many years. Rather, it focuses on the here and now, as the 16-year-old Marieme (Karidja Touré) finds her place in the world and among her peers. Living with her warring parents and younger sister, this shy, neglected creature emerges from her shell after making friends with a trio of local bad girls.
While the French title Bande de filles deliberately recalls Jean-Luc Godard's classic New Wave tale of outsiders, Bande à part, the English title's connection to Linklater was accidental. "I picked the title Girlhood not knowing Boyhood existed, but I was so glad," claims Sciamma. "I think the movies have a strong dialogue. They were mirroring [each other] and it's really interesting to take a look. They believe very different things in cinema."
Both films attempt to encapsulate a universal experience – but take very different approaches. "What's universal in America about teenagehood is a middle-class white boy with average dreams. We pick a character at the margins and say what's universal is a 16-year-old black girl. And to see the character transform [in Boyhood] – you watch it for 12 years. My character transforms in a very different way, over 40 days. So, they're opposites; they believe a lot in cinema but in totally opposite ways."
With Girlhood, Sciamma's intent was clear: to represent faces rarely seen. "I was shocked by how black people were never on screen [in France]," she says. "Very, very few – even in TV. Particularly that age group and women. There are no black actresses famous in France." While there are some who work regularly – Aïssa Maïga, who starred in Michel Gondry's Mood Indigo springs to mind – it's sadly true that no French black actress can claim to be a household name.
Sciamma, who is white and 36 years old, reports that casting four working-class black girls, all non-professionals plucked from the street, immediately caused a stir in the French media. "It took a lot of space [in the papers]," she explains. "It was the first question that always came up with journalists: you're showing black people! So, it struck people and created those questions." Thankfully, the reception was overwhelmingly positive, with the film nominated for four awards, including Best Director and Most Promising Actress for Touré, at this years Césars, France's equivalent of the Oscars.
Yet Girlhood is not a film about the black experience so much as the trials of youth – a familiar subject to Sciamma after her debut Water Lilies (2007), a summery tale of teenage lesbian desire, and Tomboy (2011), the tender story of a 10-year-old girl who pretends to be male. But, while Girlhood may be her third coming-of-age movie set in the Paris suburbs, Sciamma had no concerns about repetition. "I wanted to make a movie about friendship, about a group, about sorority, about anger … I had all those concepts in mind."
The word "anger" might suggest that Girlhood is bulging with violence, like a gallic take on Kidulthood (2006), the Noel Clarke-scripted hit film about west London teens. However, though there are moments of menace, this is no "Girlz in The Hood". "We don't have a strong culture of gang films [in France] because we don't have a strong culture of gangs," argues Sciamma. One memorable French "gang film" that does come to mind is Mathieu Kassovitz's La Haine ("Hatred"), also set in the Paris banlieues, which was considerably more brutal.
Led by the forceful Lady (Assa Sylla) and rounded out by Adiatou (Lindsay Karamoh) and Fily (Mariétou Touré), the bande in Girlhood may be no angels – shoplifting and fighting are frequent – but they're far removed from the cinematic clichés of troubled-teens. "A gang is organised. They're not," says Sciamma. "A gang has a purpose, a hierarchy. This is more about going shopping and having fun."
Access unlimited streaming of movies and TV shows with Amazon Prime Video
Sign up now for a 30-day free trial
Sign up
Access unlimited streaming of movies and TV shows with Amazon Prime Video
Sign up now for a 30-day free trial
Sign up
Illustrating this, the film's high point comes when the girls check into a hotel after stealing outfits from a shop. As they get drunk, you'd expect the room to be trashed; instead, they put on make-up and dance their socks off to Rihanna's "Diamonds" in a show-stopping sequence, giddy with optimism. "It's 35 minutes in, but it's definitely the heart of the film," says Sciamma. "It's the birth of a friendship between them and it's the birth of the friendship between the audience and them. You keep on loving them after that."
Sciamma shot the scene in the belief that she had the rights to use the track, having already negotiated a fee with the record company. Then, during post-production, she discovered that she still needed to get Rihanna's consent. "We sent the scene to her management. They called and said, 'We saw the scene, we think it's beautiful. We've looked at your previous work – we think it's interesting – so we're going to make an exception for you. Normally, we never give it – or we give it for a tonne of money that you wouldn't imagine.'"
Uncertain whether Rihanna has seen the film – though they share the same US talent agency – Sciamma admits it's "a dream of mine" to meet the singer. It would've been good publicity at any rate: in the US, despite fine reviews, the film never quite crossed over into the urban malls, where surely an appreciative audience awaited. In France, however, it has played "all over the country" in both multiplexes and arthouses. "The cinemas were full of people that actually never meet – the cinephiles, the older ones, and young girls and boys."
One exhibitor told Sciamma that a group of girls emerged from a showing and told him: "We must have the wrong room – there are old people in there!" This unity, found in the cinema stalls, was no accident, she says. "We really worked [hard], marketing wise, to target a lot of people so they would think, 'OK, I'm welcome there'." Subtitles notwithstanding, does she think British teens might flock to see it? "I hope they do."
In the meantime, while Sciamma has just finished penning a script, Quand on a 17 ans ("Being 17"), for veteran director André Téchiné, she can't help but consider her Girlhood cast. "French cinema is a machine for discovering young girls and then quickly forgetting them," she sighs. While Assa Sylla has gone on to find other work, Sciamma is concerned that unless things change in the French film industry, the actresses will be largely defined by their race. "We'll see if people are brave enough not to give them the part of a black girl."
'Girlhood' opens on 8 May
Join our commenting forum
Join thought-provoking conversations, follow other Independent readers and see their replies