Di Caprio, Malkovich and Wu-Tang: Artistic works that you'll never see of hear
John Malkovich's new film will be locked in a vault for 100 years. It's an eccentric approach to promoting an artistic endeavour – but far from unique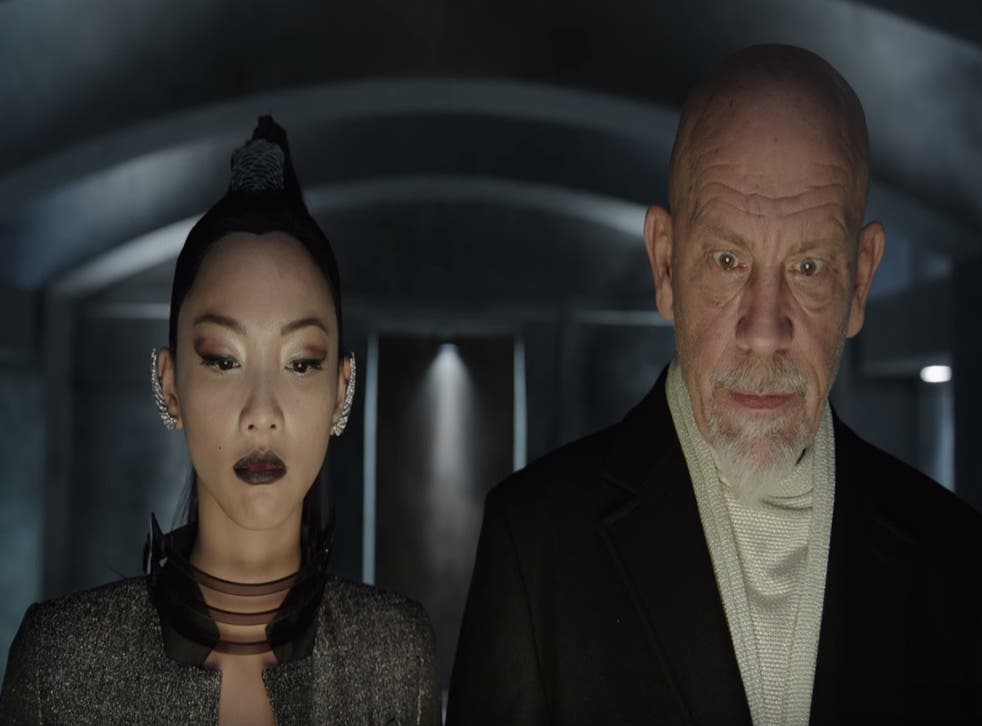 So far, the buzziest film heading to Cannes film festival is one that no one there will see. John Malkovich wrote and stars in the movie, which Robert Rodriguez directed, and it'll make its way to the south of France in a vault, where it will stay – or so the story goes – until the year 2115, when the safe will open and our descendants will get their first look at the thing.
It's called 100 Years: The Movie You Will Never See, which is a fine title now but a bit of a misnomer for whatever future generations get to watch – if, that is, they can figure out how to. In a teaser, we see Malkovich in white gloves, carefully placing a reel in a vault. That format could prove problematic 10 years from now, never mind 100.
Then again, said trailer looks more like an ad for Louis XIII cognac, which is a partner in the movie (it also takes 100 years to age the brandy).
Does the movie even exist? Malkovich started opening up about the "terrific, emotionally charged" film to People magazine in November, so maybe it does. "If you act in a play, you never see it," he said. "I've certainly acted in a lot of movies I've never seen and a number of them I wouldn't particularly be tempted to."
Other creatives may know the feeling, if the works below – more or less shielded from public view – are anything to go by.
Don's Plum
These days we take Leonardo DiCaprio seriously, because he's an Oscar-winning member of the Hollywood elite. Sure, he vapes and dates supermodels, but he's also practically killing himself for his art. That wasn't the case back in the mid-1990s when he was filming Don's Plum, a raunchy, Gen-X response to Diner. Taking place during a single night, DiCaprio and buddies Tobey Maguire, Kevin Connolly and others hang out at an LA dive chatting about masturbation and ridiculing anyone who wanders by.
Most of the improvised dialogue made the guys look like the pervy man-children they were at the time, if the infamous 1998 New York Magazine profile of DiCaprio is to be believed. After the film was completed, Maguire and DiCaprio had second thoughts, so they managed to block the movie's release in the US and Canada. Still, it premiered abroad, so is no doubt findable with some internet sleuthing. And in January, one of the movie's producers, Dale Wheatley, posted the full movie to the website freedonsplum.com – until DiCaprio and Maguire got wind of the development and the movie came down.
The Day the Clown Cried
If you think Don's Plum sounds bad, wait till you hear the premise for the 1972 disaster Jerry Lewis directed and headlined. The comedian played Helmut Doork, a German clown who's overheard by some Nazis denigrating Hitler. His punishment: go to Auschwitz and lighten the mood for the kids, then escort them into the gas chambers.
Comedian Harry Shearer, one of the few people who has seen the drama, told Spy magazine: "The movie is so drastically wrong, its pathos and comedy so wildly misplaced that you could not, in your fantasy, improve on what it really is. 'Oh my God!' – that's all you can say."
Lewis realised his mistake and opted not to release it, though some making-of-the-movie footage ended up online a few years ago. The Day the Clown Cried won't always be un-viewable (even if it might always be unwatchable). The Library of Congress acquired the movie last year but agreed not to show it for at least 10 years.
Once Upon A Time In Shaolin
Rap collective the Wu-Tang Clan spent six years working on their latest album, but made only one copy. In 2015, the group auctioned it off to the highest bidder and made the buyer promise not to profit from it until 2103 – though the person could let people hear it for free if he chose to.
The winning $2m (£1.4m) bid came from pharmaceutical executive Martin Shkreli, better known for jacking up the price of a drug for Aids-related infections. During an interview with Bloomberg in December, Shkreli indicated that he bought the album so that he could get a chance to meet and hang out with famous people. He said he hadn't yet listened to the album, though he could be convinced to if "Taylor Swift wants to hear it or something like that". Of course, since then, Shkreli has had more pressing things to worry about, such as charges of securities fraud.
Basically, the good news is it might be possible to hear the music. The bad news is you'd have to hang out with Shkreli.
Autobiography of Mark Twain
Anyone can read the writer's three-part memoir now, but the books were only authorised for release 100 years after Twain's death in 1910. Of course, the great self-promoter couldn't bear to keep it entirely under wraps, so some of the stories were published in North American Review even before Twain's death.
When the first volume was finally released, in 2010, not everyone thought it was worth the wait. Garrison Keillor wrote in the New York Times that the book was "a ragbag of scraps, some of interest, most of them not".
With the publication of the third volume last year, we at least got some indication why Twain wanted to wait so long: He spent time trashing Teddy Roosevelt and Andrew Carnegie. Even so, the book was "of a piece with the other two", Dennis Drabelle wrote for The Washington Post, "rambling; charming; vitriolic; confessional ('I am fond of pomp and display'); shot through with wit, lyricism and regret".
Margaret Atwood (and others)
Atwood is also waiting a century to release a novel, and she's not alone. In 2114, the Future Library will be open for business, revealing never-before-read manuscripts from 100 writers. Each year between now and then, another author will contribute work. Atwood's agreement to be the inaugural donor must have given an eccentric idea some credibility, as Cloud Atlas author David Mitchell signed on to be the second annual contributor.
A really, really, really long piece of music
You can listen to Jem Finer's appropriately titled Longplayer now at a few listening posts around the globe, but you won't be able to hear all of it. That's because the piece is 1,000 years long, so it won't be available to download until the year 3000. The composition, performed using Tibetan singing bowls and gongs, started on 1 January 2000, and uses an algorithm to find new variations on a 20-minute theme. If that sounds intriguing, well, you've got plenty of timeMargaret Tawin to seek it out.
© The Washington Post
Join our new commenting forum
Join thought-provoking conversations, follow other Independent readers and see their replies