Dogman review: A brilliant, beguiling comic drama that takes on a tragic hue
Matteo Garrone's modern day fable is one of the best Italian films of recent times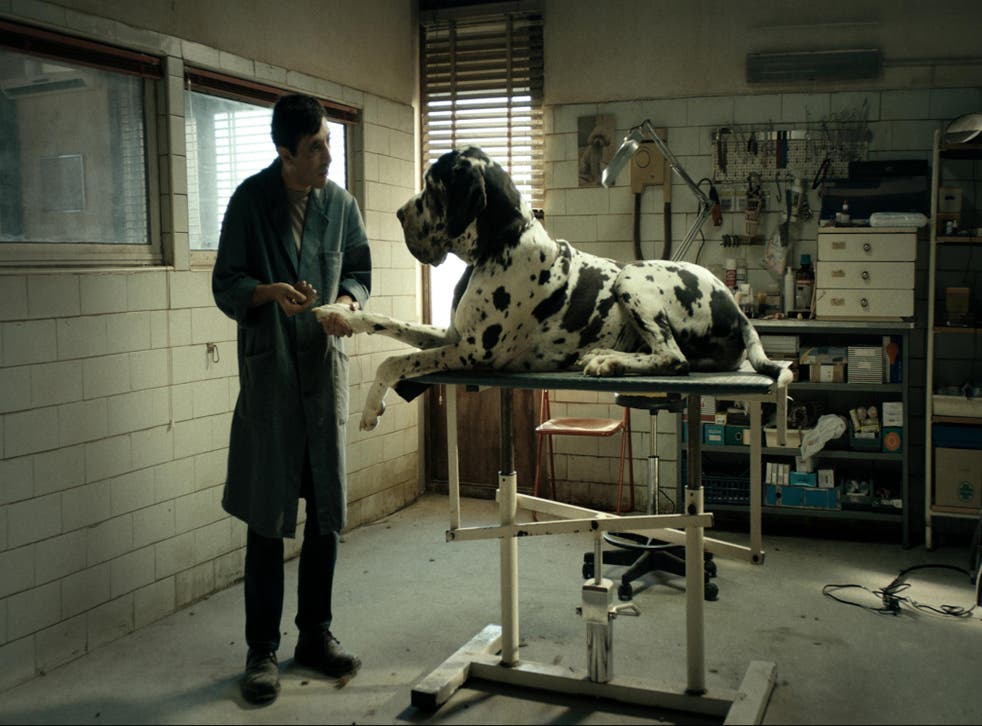 Dir: Matteo Garrone; Starring: Marcello Fonte, Edoardo Pesce, Nunzia Schiano, Adamo Dionisi, Francesco Acquaroli, Alida Baldari Calabria​. Cert 15, 103 mins
Dogman is one of the best Italian films of recent times, a modern-day neorealist fable that bears comparison with the great work of Fellini, Rossellini, De Sica et al. Its main character, the dog groomer Marcello (Marcello Fonte), is a wonderful creation: loveable, vulnerable, seedy and comic all at the same time.
He makes a precarious living tending to his beloved dogs. Even the fiercest and most aggressive mutts seem instantly to trust him. Marcello also does a little low-level drug dealing on the side, to earn extra money to spend on his teenage daughter. It's a source of great pride to him that his neighbours cherish him and hold him in such high esteem.
Fonte plays Marcello like a modern-day Charlie Chaplin, squeezing both humour and pathos from the role. Look out for the wonderful, Chaplinesque scene in which Marcello defrosts a lapdog he finds in the freezer.
The villain of the film, Simoncino (Edoardo Pesce), also looks as if he could have walked out of some silent comedy. He's a huge bruiser of a man, a close-cropped ex-boxer with a dangerous gambling addiction and a drugs habit. He can't control himself. When he doesn't get what he wants, or if he is denied instant gratification, he will resort to extreme aggression and violence. Inevitably, Marcello becomes caught up in his affairs, with disastrous consequences.
Director and co-writer Matteo Garrone doesn't hold back on the brutality. We see Simoncino head banging fruit machines and beating up anybody he thinks may have crossed him. He is as vicious as the huge, snarling dog Marcello is shown trying to wash and placate at the start of the film. Marcello finds himself boxed in a corner and forced to become the thug's accomplice, though it is inevitable that Simoncino will betray him sooner or later.
The filmmakers play up the contrast between the tiny dog handler and the hulk-like petty thief and delinquent. The smaller man think he can tame the brute. Simoncino, though, is far more difficult to control than even the most rabid dog in Marcello's care.
The tone of Dogman gradually darkens as Marcello's problems multiply. As he takes extreme measures to solve them, a film that begins as a beguiling comic drama takes on a tragic hue.
This is the story of a sweet-natured little man who never gets a break and whose character begins to warp in the face of so much misfortune. Fonte, a little known figure who has rarely played leading roles before, won the Best Actor award at Cannes. It would be no surprise at all if his tender, funny and immensely poignant performance picks up further prizes down the line.
Support free-thinking journalism and attend Independent events
Register for free to continue reading
Registration is a free and easy way to support our truly independent journalism
By registering, you will also enjoy limited access to Premium articles, exclusive newsletters, commenting, and virtual events with our leading journalists
Already have an account? sign in
Register for free to continue reading
Registration is a free and easy way to support our truly independent journalism
By registering, you will also enjoy limited access to Premium articles, exclusive newsletters, commenting, and virtual events with our leading journalists
Already have an account? sign in
Join our new commenting forum
Join thought-provoking conversations, follow other Independent readers and see their replies