12 Strong's Chris Hemsworth interview: 'It was much easier with Elsa playing my wife. We've been rehearsing more than seven years for this part'
Hemsworth and his wife Elsa Pataky have plenty of chemistry in '12 Strong', even adding in a few lines of dialogue taken directly from their own marriage, in the drama about the first 12 American soldiers sent into Taliban-held Afghanistan in the wake of 9/11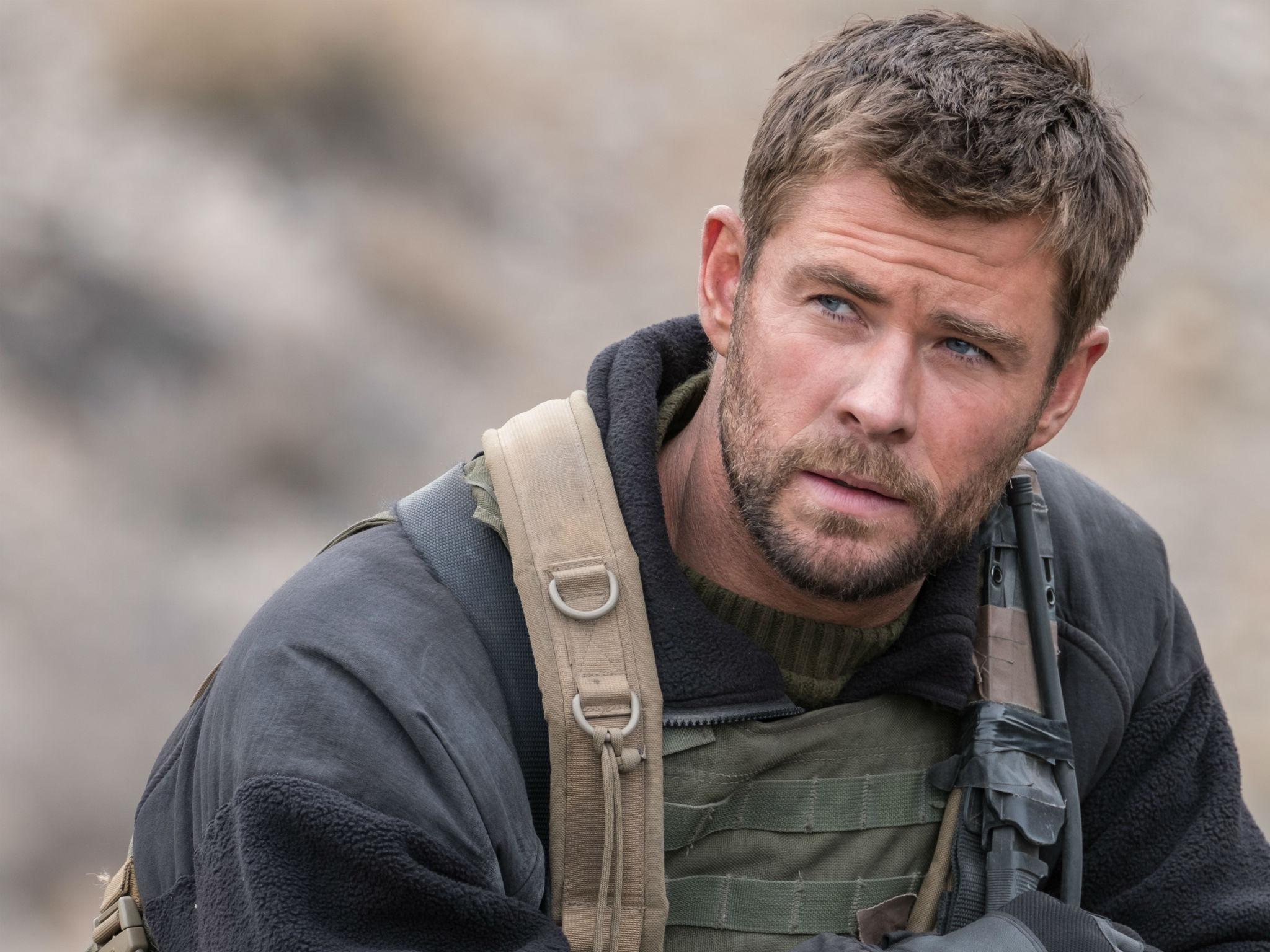 Working together in Hollywood is often a recipe for disaster. Who can forget Tom and Nicole in Eyes Wide Shut? Or Brad and Angelina's marital drama By the Sea, which served as a prelude to divorce?
Unsurprisingly, Chris Hemsworth and wife Elsa Pataky have no desire to join the parade, defying the curse to play husband and wife in action drama 12 Strong.
"Obviously it was much easier with Elsa playing my wife. I felt like we've been rehearsing more than seven years for this part," laughs Hemsworth, who was set up on a date with the Fast & Furious actress by their mutual agent eight years ago.
"We joked while we were filming, 'If we don't have any on-camera chemistry in this movie then we're in trouble'," he adds.
They needn't have worried because the chemistry is palpable as their characters savour their time together before Hemsworth's special forces captain must leave for deployment in northern Afghanistan.
Other couples who took their love to screen have not been so fortunate. Ben Affleck's romance with Jennifer Lopez captivated audiences far more than their movie Gigli ever did while Ryan Gosling and Rachel McAdams' own love affair failed to replicate the epic romance they portrayed in The Notebook. Twilight's real life lovers Kristen Stewart and Robert Pattinson sizzled brightly before fading and Charlize Theron and Sean Penn's passion expired long before their film, The Last Face, even hit the cineplex.
But Hemsworth and Pataky keep their 12 Strong scenes brief and poignant, even adding in a few lines of dialogue taken directly from their own marriage.
Parents to five-and-a-half-year-old daughter India Rose and four-year-old twin boys Tristan and Sasha, the couple left the kids with the grandparents, treating themselves to a kid-free honeymoon on set.
"It was actually Chris who suggested I take the role," says Pataky. "We enjoyed getting to just be us again with no kids and talking about work which is what we love to do. Chris always tries to get the best out of me and I think the best of him, so we challenge each other."
Access unlimited streaming of movies and TV shows with Amazon Prime Video
Sign up now for a 30-day free trial
Sign up
Access unlimited streaming of movies and TV shows with Amazon Prime Video
Sign up now for a 30-day free trial
Sign up
Nonetheless, Hemsworth admits to receiving a ribbing from his mates. "One of them asked: Isn't work like a much needed time apart? Sometimes, you don't want too much of a good thing? But for us, we've been so busy with the kids for a number of years that, if anything, it was like a working holiday together," offers the Australian Thor star, who regularly flirts with his wife over instagram, recently posting a photo of them together, captioned, "Hanging with a real life superhero".
If the couple are in no rush to repeat their on-screen coupling, then Pataky's reasoning is more practical than superstitious.
"I think it would be complicated for us both to be working at the same time. This was a very small role and I think Chris wanted me to do it because he feels kind of guilty that I put aside my career for him so he could follow his own passion.
"I've been doing this for a long time and he wanted to have his moment but still we wanted a family so I told him: just do it and I'll be here with our kids," says the Madrid-born actress who had already enjoyed considerable success on TV and film in her native Spain when the couple first met.
Her decision enabled Hemsworth to pursue a career which includes the Thor/Avengers franchise, Snow White and The Huntsman and In the Heart of the Sea, as well as portraying Formula 1 legend James Hunt in Rush and making cameos in comedies Vacation and Ghostbusters.
It's little wonder he is so in awe of his wife as she continues to orchestrate their harmonious family life, even agreeing to move to his homeland where they raise their family on a horse ranch in Byron Bay.
If they turned their 12 Strong experience into a second honeymoon, then their interaction is just a small portion of this drama, which tells the declassified true story of the first 12 American soldiers sent on a covert mission into Taliban-held Afghanistan in the wake of 9/11.
If every American adult remembers exactly where they were when 9/11 happened in 2001, then Hemsworth has his own vivid memories.
"I was still at school, living with my parents and I remember watching on TV as the first plane hit and just being as shocked as anyone going, 'Oh my God, how did this happen? Was it an accident? How did they not see the building?' The confusion was the thing I remember most, just not being able to understand or make sense of it, and still can't."
Portraying Captain Mitch Nelson, selected to lead the first offensive, Hemsworth cannot imagine how tough it is for the these real soldiers to go into war, leaving their loved ones behind.
"I don't know how they do it," he says when we meet in Los Angeles. "When I was leaving home to come here I said to my daughter, 'OK, see you later,' and she said, 'But you just got back?'. It breaks my heart every time the kids say that. But I'm going off to a safe little movie set or press tour, so to be walking out the door not knowing how long you'll be gone for or if you're even coming back, there is no tougher job."
While Hemsworth continues to work frequently in the US and around the world, he's glad he's discovered his own slice of heaven in Byron Bay.
"I enjoyed living in Los Angeles, but from the moment we went back to Australia, I was finally having conversations outside of the business and meeting people who were creative in different ways. Not to take anything away from LA, but I found it a little suffocating at times," says the actor – he lives close to younger brother Liam who met his girlfriend, Miley Cyrus, after co-starring in the Last Song eight years ago.
Pataky was easy to persuade even though it took her even farther away from her homeland. "We met in LA, half way between both our countries. I told Chris: OK I'll make a deal. I'll never make you live in Spain if you never make me live in Australia.
"But when he took me to Byron Bay, I fell in love. It's a beautiful place to raise a family and I've made so many friends and it feels like home now."
So will this gorgeous couple share the screen again?
"Yes, we would if the project is right," says Pataky. "I'm sure there's more couples who stay together after working together than those who fall apart. I think once you have a good experience where its worked, it would make you want to do more."
'12 Strong' opens on 26 January
Join our commenting forum
Join thought-provoking conversations, follow other Independent readers and see their replies