2016 in film: with Ghostbusters and Rogue One, how will women fare?
Will the new year raise 2015's benchmark for women in film?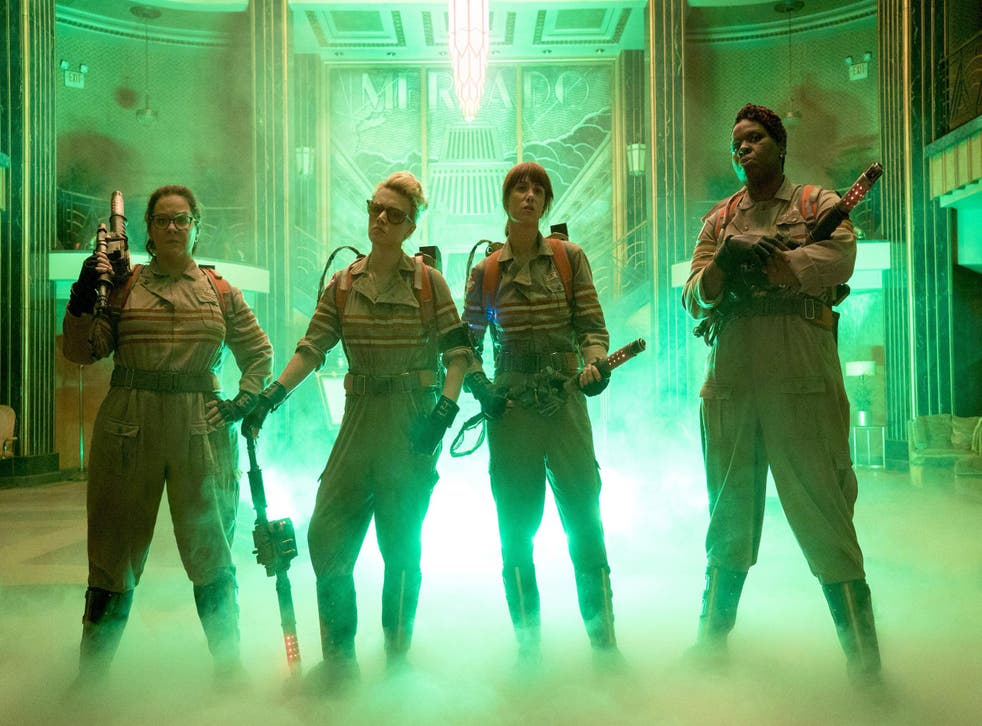 2015 was the year everyone called 'a benchmark' for women in film. Rey to Imperator Furiosa, Cinderella to Katniss Everdeen. The powerhouse performances of Carol's Cate Blanchett and Rooney Mara, or Joy's Jennifer Lawrence.

Triumph behind the camera too: Elizabeth Banks steered Pitch Perfect 2 to blockbuster success. Amy Schumer fired up the comedy world with one sharp-as-hell Trainwreck script. Mad Max: Fury Road received its inspired, adrenaline-pumping editing from Margaret Sixel. 

Sure, we're still far from our goals; but there was so much to celebrate over the past year. For 2015, we could believe that equality was an achievable future, and not something left to the hopeful dreamers. But what of 2016? 
Was it naive to hope the past year had set a new image for things to come? Or will Hollywood fail to uphold its promises and reduce genuine, sustainable gender equality into another flippant trend? To be frank, looking over what's to come doesn't inspire much confidence. 

There's really only one major, female-fronted film getting hyped for next year. You know the one. Yet, with a second possibly in the wings; it's intriguing to see Felicity Jones take front-and-centre of that single promotional image released for Rogue One. As with The Force Awakens, Disney has remained incredibly tight-lipped on the first of the Star Wars anthology films, leaving us with absolutely nothing in terms of specific character roles. 

Considering it wasn't apparent Rey was the protagonist of The Force Awakens until most people had actually watched the film, who knows when we'll get clarity on the relative prominence of Jones' role? For now, it's exhilarating just to imagine Disney could prove Rey wasn't just an obligated gesture towards equality, but that the entire franchise was shifting towards balance by offering (at least) two female leads in its upcoming slate. Are we about to get a badass female X-wing pilot with skills to rival Poe Dameron?
But let's get down to Paul Feig's Ghostbusters: the female-fronted movie of the year, and the hinge upon which all conversations surrounding women in film will inevitably hang. A film drowned under vast oceans of misogynistic bile before even a single cast member was announced, taxed to spend the coming months fighting un uphill battle just to be recognised amongst all the other standard reboots and remakes heading to screen next year. Yes, remakes are largely annoying. But why hasn't Antoine Fuqua's trite-looking remake of that all-time classic, The Magnificent Seven, received even a fraction of the abuse Ghostbusters has received? Is it maybe because the cast consists entirely of dudes? 

This reactionary hysteria has now left Feig's film with this absurd burden of being the definitive decider of whether or not women belong in film. Oh, and add to that the proof of whether or not women can be funny. For, not only does it have to equal the 1984 original, but somehow transcend it. It has to achieve such ethereal perfection that even looking upon a single frame of its glory will make your entire face melt Raiders of the Lost Ark-style. Only then, as the MRAs scrape their melted features off the ground, will they finally concede that an all-female Ghostbusters team is "OK". 

There are reasons to be optimistic, though. Ghostbusters has always felt like the spiritual child of those early days at Saturday Night Live, most apparently in the use of cast members Bill Murray and Dan Aykroyd. Feig's Ghostbusters does exactly the same. Regardless of gender, these four women sublimely represent the SNL of today. Kristen Wiig is resolutely the best performer to have graced its stage in recent years, Kate McKinnon and Leslie Jones highlights of the current cast. Melissa McCarthy was Emmy-nominated for three consecutive years for her hosting duties. Men or women, this is the best shot at Ghostbusters we've got. 
Though the studio slate's never been plentiful with women behind the camera, the past year did boast a few high-profile successes, with Pitch Perfect 2 ($287M) and Fifty Shades of Grey ($570M) conquering the worldwide box office.This year, The Heat's Katie Dippold contributes the screenplay to Ghostbusters, and Sharon Maguire returns to direct Bridget Jones's Baby. Nia Vardalos and Linda Woolverton both return to pen respective sequels My Big Fat Greek Wedding and Alice Through the Looking Glass, and a potential hit lies with Erin Cressida Wilson's adaptation of the best-seller The Girl on the Train. Individually celebratory, but together forming a paltry list of female directors and writers for the coming year. 

Furthermore, 2016 will sorely miss the presence of The Hunger Games' Katniss Everdeen, with no obvious successors to her title. Nor to Mad Max: Fury Road's Imperator Furiosa. Our best hope for kickass, warrior women in 2016 may lie with The Huntsman: Winter's War and it's triple whammy of mighty actresses. Sure, the trailer comes off deeply uninspired, but you never know what the combined powers of Charlize Theron, Emily Blunt, and Jessica Chastain could achieve. 

And, still, we await our female superheroes to take centre stage. It's a void that will continue to be keenly felt until 2017's Wonder Woman, though Gal Gadot's debut in the role in Batman v Superman: Dawn of Justice will be an early indicator of what's come. That said, though she's formed a central part of the promotion trail for the film, it seems unlikely she'll be offered that much screentime in-between its eponymous, battling titans. We may have to make do with what's essentially an extended cameo from the character. 
Beyond that, the focus inevitably rests on Margot Robbie's Harley Quinn in Suicide Squad. Quinn's a long-time fan favourite for comic enthusiasts, but there's a lot of fraught danger in her portrayal. At her best, she's gloriously unhinged; the kind of gleeful, chaotic villainry so rarely granted to female characters. Yet, she's long had to fight against her origins as, essentially, an extension of The Joker; a victim of his brainwashing left obsessively in love with her abuser. And what we've seen so far of Suicide Squad suggest potential elements of both; we'll have to wait and see whether there's brains to go with those short-shorts.

The earliest candidates for the Oscars 2017 race bear the usual, male contenders; Martin Scorsese's Silence and both of Terrence Malick's films are sure to dominate the conversation. But there's also a host of new work appearing from some of the field's leading female filmmakers: Andrea Arnold's American Honey, Niki Caro's The Zookeeper's Wife, Amma Assante's A United Kingdom, Mira Nair's Queen of Katwe, and Kelly Reichardt's Certain Women. If there's anything to be done to help women in film this year, it's to ensure these deserving works form part of the usual awards hype. It's only a shame that Lynne Ramsay left Natalie Portman's Jane Got a Gun, as it's potential certainly could have included it in that list.
One more film, Nicolas Winding Refn's Neon Demon. Vampiric cinema has allowed women a certain freedom of late, to vocalise that kind of hungry, feminine sexuality society expects us to reject as immoral; with Demon following hot on the heels of Byzantium, Kiss of the Damned, and A Girl Walks Home Alone. Refn's film will riff on the mythology of Elizabeth Báthory, the 17th-century serial killer known as 'Countess Dracula'; fusing vampirism, voodoo, and cannibalism, and featuring the talents of Elle Fanning, Jena Malone, Christina Hendricks, and Keanu Reeves. Plus, Refn's unique vision will be guided to fruition by cinematographer Natasha Braier, undoubtedly proving girls know just as well how to shoot all that blood and gore.

2016 may not look so hopeful to the eyes of cinematic women but, then again, some of the greatest triumphs of 2015 came as a complete surprise. Fingers crossed, hearts open; let's raise the benchmark of gender equality and get the work of these wonderful women the recognition they deserve.
Join our new commenting forum
Join thought-provoking conversations, follow other Independent readers and see their replies