2018 in film: With Tomb Raider and Mary Poppins Returns, how will women fare?
The top three highest-grossing films in 2017 were female-led – so, what's next?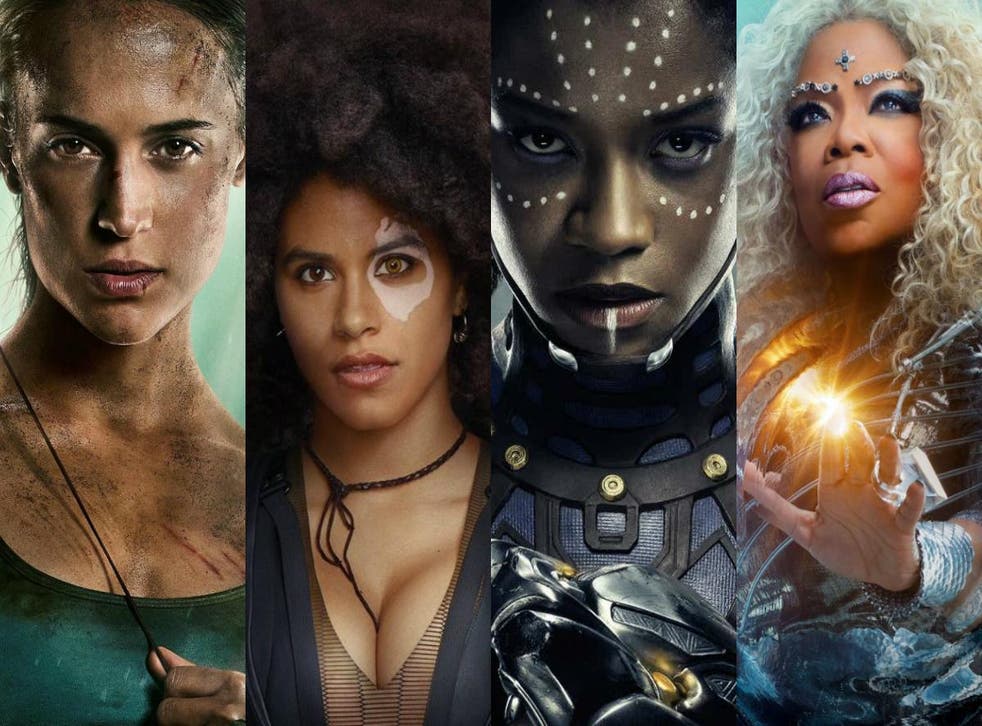 For women in film, 2017 was a year of great pain, but also of hard-earned triumph. The conversation on sexual abuse came to the forefront as long-embedded scars were finally revealed in full, with the #MeToo movement still growing each day in strength. The pain was numbing in expansiveness, yet there was also the sensation of breath finally being let out.
We move forward now: with the Time's Up initiative seeing 300 women who work in film, television, and theatre banding together to create a legal defence fund to help survivors of sexual harassment, champion legislature to punish companies who tolerate harassment, and work towards gender parity in Hollywood leadership. This feels like true mobilisation, driven by renewed, sustained hope that things can – and will – change for the better.
Cinema seemed to reflect that hope too: 2017 was the year of Wonder Woman crossing No Man's Land, Rey wielding her lightsaber, Valkyrie's rainbow-framed strut – larger-than-life pop culture images that spoke to true power. It was a year, also, in which the top three highest-grossing films were all female-led: Star Wars: The Last Jedi, Beauty and the Beast, and Wonder Woman. The last time that occurred was in 1958.
Patty Jenkins became a hero of her own after Wonder Woman became the highest-grossing film directed by a woman of all time. There's been setback after setback, but these individual victories are important. They are the rallying call to keep fighting. How far will we get in 2018?
Though Marvel's yet to deliver a solo outing for a female superhero (we must wait another year for Captain Marvel), the studio is at least giving shared billing between Ant-Man and the Wasp for 2018. Evangeline Lilly's Hope van Dyne was pretty much relegated to tough girl love interest in the first film, so it'll be interesting to see just how far the character's allowed to develop for this instalment, and whether she'll really get her moment to shine.
However, what feels particularly hopeful about 2018 is the opportunity to finally give black female comic book heroes some time in the spotlight, off the back of Tessa Thompson's scene-stealing performance in Thor: Ragnarok last year. Hollywood's "feminist victories" will remain forever hollow if their inclusion is limited only to white women.
Black Panther's cast brings an unbeatable squad in the form of Lupita Nyong'o, Danai Gurira, Letitia Wright, and Angela Bassett. Meanwhile, Deadpool 2 will introduce Zazie Beetz's Domino; who's never given much distinct character development in the comics, meaning there's a lot of leeway with where the sequel could take her.
What would be especially great to see is someone with enough wisecracks to compete with the Merc with a Mouth himself, since Atlanta's already proven Beetz has the comedic chops for it.
Outside of the world of spandex, Disney has a few opportunities to land some major box office hits with female-led films. A Wrinkle in Time saw Ava DuVernay become the first black woman to direct a live-action film with a $100 million budget, adapting Madeleine L'Engle's novel about a young girl who journeys to save her astrophysicist father after discovering he's held captive on a distant planet, with the help of a trio of astral travellers: the goddess-like Reese Witherspoon, Oprah Winfrey, and Mindy Kaling.
Access unlimited streaming of movies and TV shows with Amazon Prime Video Sign up now for a 30-day free trial
Sign up
A team-up, to note, that might only be outdone in star power by Ocean's 8, which boasts Cate Blanchett, Anne Hathaway, Mindy Kaling (again), Sarah Paulson, Rihanna, Helena Bonham Carter, and Awkwafina.
Teaser trailer for Ocean's 8
Studios have been even more stubborn with investing in female-directed projects than they have female-led stories (we can have Rey, but not a single female director in the Star Wars universe), so there's hope DuVernay, Jenkins, and Nikki Caro (with Mulan, which looks to be delayed until 2019) could be the start of a real breakthrough.
Disney also hopes to follow up Alice in Wonderland's gargantuan success with The Nutcracker and the Four Realms, with Mackenzie Foy as Clara. And then there's Alicia Vikander's Tomb Raider, which jettisoned the character's original cartoonish guise of the late '90s and early 2000s, favouring instead the 2013 reboot game as a source of adaptation, which looked to bring a more emotionally layered, more brutal, and all round grittier female hero to screens.
Hopefully it will translate, though Hollywood's still deep under the curse of doomed video game adaptations. If not, Red Sparrow's Jennifer Lawrence and Proud Mary's Taraji P. Henson will be kicking plenty of asses on screens, too.
Lara Croft isn't the only pop culture icon returning to screens, however. Barbie will finally get her own live-action film, with Anne Hathaway as its star and Alethea Jones in the director's chair; teaming up to examine how the pressures of perfection impact women. Meanwhile, Jamie Lee Curtis returns to the Halloween franchise, we're getting a new Lisbeth Salander (Claire Foy) in The Girl in the Spider's Web, and Mary Poppins Returns, with Emily Blunt.
2018's Oscar season also has an exciting mix of female-led films in the running, with the likes of Three Billboards Outside Ebbing, Missouri, The Shape of Water, and I,Tonya all with a chance of picking up awards.
Most importantly, Greta Gerwig's Lady Bird has been picking up steam on the awards trail. If she wins Best Director, she'd be only the second female director to have done so, after Kathryn Bigelow for 2009's The Hurt Locker. And then there's Dee Rees with Mudbound, another potential contender.
Looking even further into the future, there's a fascinating slate of female-directed films set for release in 2018 (in the US at least, in the UK you may have to wait until 2019): for example, Chloé Zhao's The Rider, Jennifer Kent's The Nightingale, Jennifer Yuh Nelson's The Darkest Minds, Marielle Heller's Can You Ever Forgive Me?, Lucrecia Martel's Zama, Josie Rourke's Mary Queen of Scots, and Mimi Leder's On the Basis of Sex.
The world enters 2018 with so much uncertainty. As with every year, it'll surely end up feeling like an uphill battle for women to be heard, and to be seen. Yet each of these films, in their own way, represents a small victory. Each combine to usher in the tide of a brighter, better future. What we can do is lend these projects the support they deserve.
Register for free to continue reading
Registration is a free and easy way to support our truly independent journalism
By registering, you will also enjoy limited access to Premium articles, exclusive newsletters, commenting, and virtual events with our leading journalists
Already have an account? sign in
Register for free to continue reading
Registration is a free and easy way to support our truly independent journalism
By registering, you will also enjoy limited access to Premium articles, exclusive newsletters, commenting, and virtual events with our leading journalists
Already have an account? sign in