18 films to look out for in 2021, from 'Dune' to 'Promising Young Woman'
Adam White and Jacob Stolworthy look forward to new films from Steven Spielberg, Edgar Wright and Chloé Zhao – plus the return of 007
Saturday 26 December 2020 07:46 Comments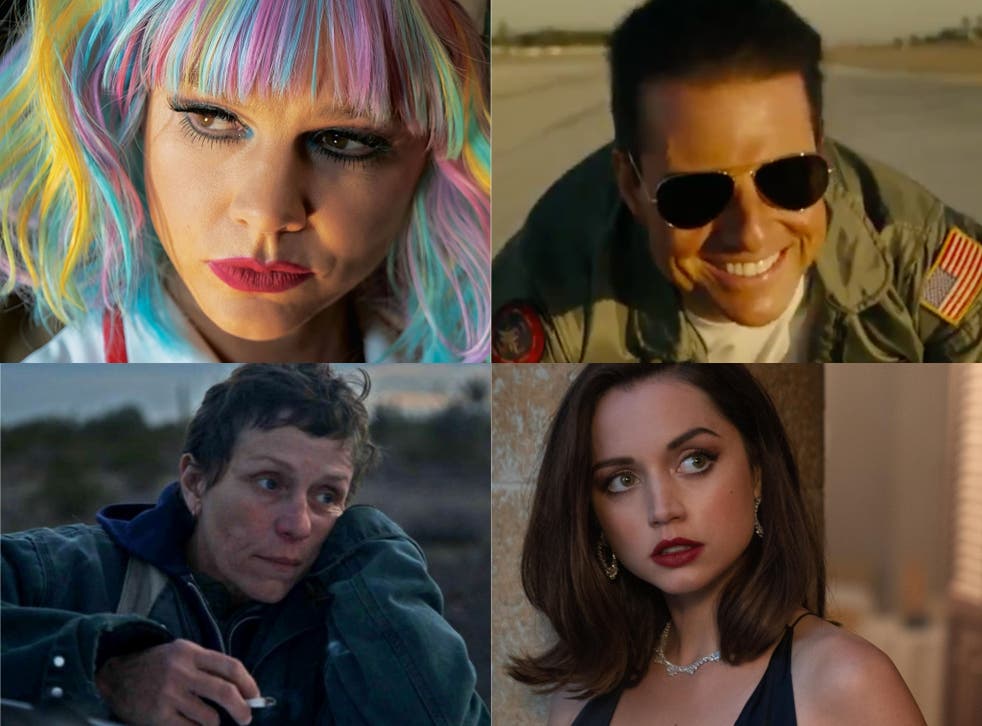 A bumper preview of next year's must-see films seems… ambitious. But that's what happens when a pandemic upends the entire film industry. Next year's film calendar is dominated by many of the movies we thought we would see this year. Perhaps 2022's will be, too. 
There are, however, a number of intriguing newcomers we hadn't heard about at this point in 2019, from the Korean-American drama Minari to the Zendaya-starring Malcolm & Marie, which was written and filmed during the pandemic.
The sad truth of the matter is that we don't know what 2021 will bring. Warner Bros' controversial decision to simultaneously release their 2021 slate in US cinemas and on the fledgling streaming service HBO Max hasn't yet affected the company's UK plans… but it might. Cinemas aim to reopen in the coming months… but they may not.
Ambiguity reigns supreme and frustration seems inevitable. A number of films still don't have dates, including Wes Anderson's The French Dispatch, the film adaptation of hit musical Everybody's Talking About Jamie and buzzed-about arthouse films The Souvenir Part II and Kogonada's After Yang, so we've not included them in this list. All we can know for certain is that the 19 films below are ready and raring to be seen.
Blithe Spirit
Blithe Spirit is exactly the kind of silly British comedy that thrives during the winter months, even more so as we enter another colossal lockdown. Based on the Noel Coward play, it stars Dan Stevens as a struggling writer who turns to a psychic medium (Judi Dench) for inspiration, only to accidentally summon the spirit of his dead first wife (Leslie Mann). Isla Fisher also stars. Adam White
Released 15 January (in cinemas and on Sky Cinema)
Malcolm & Marie
Written and filmed in summer this year, Malcolm & Marie is a time capsule of Hollywood in flux. Made when the industry was still figuring out what film production during the pandemic would look like, it features just two actors (John David Washington and Zendaya), just one location, and a deliberately small-scale plot. The pair play a Hollywood couple whose relationship falls apart after returning from a film premiere. AW
Released 5 February (on Netflix)
Promising Young Woman
Promising Young Woman was primed to be the most provocative thriller of 2020. This February, barring any further disaster, it will become the most provocative thriller of 2021 instead. Carey Mulligan is earning Oscar buzz for her performance as a traumatised young woman seeking vengeance against a plague of bad and stupid men. Writer-director Emerald Fennell, who stole scenes as Camilla Parker Bowles in The Crown, has made something pulpy, hilarious and wonderfully wild. AW
Released 12 February
Nomadland
The first of two Chloe Zhao films set to be released in 2021 (the other being Marvel's Eternals, of all things), Nomadland is an awe-inspiring love letter to the American landscape and the potential it is ripe with. Frances McDormand, at her most warm and earthy, is a woman who bounces between jobs and locations in her camper van, finding community and inspiration along the way. It feels tailor-made for anyone who's been stuck in their house for most of 2020 and is eager to be free of the capitalist machine. AW
Released 19 February
Coming 2 America
This very belated sequel sees Eddie Murphy reprise one of his most beloved characters, Prince Akeem of Zamunda. Just as he's about to become king, Akeem makes a return trip to New York after discovering that he unknowingly fathered a son (Jermaine Fowler) back in 1988. James Earl Jones and Arsenio Hall reprise their roles from the first film, while Wesley Snipes and KiKi Layne are among the newbies. AW
Access unlimited streaming of movies and TV shows with Amazon Prime Video Sign up now for a 30-day free trial
Sign up
Released 5 March (on Amazon Prime)
The Many Saints of Newark
Whether you like it or not, a film prequel based on The Sopranos is being released in 2021. The presence of David Chase, the HBO show's creator, goes a long way to assuage any concerns fans might have, and it'll at least be a fine chance to explore the mobsters' family history. The film is expected to focus on Dickie Moltisanti, the father of Christopher, whose memory loomed large over the series. Jacob Stolworthy
Released 12 March
Minari
Likely to factor into 2021's weirder-than-usual Oscars is this universally acclaimed family drama. Steven Yeun, of The Walking Dead and Burning, is the patriarch of an average family of Korean-Americans, who move from cosmopolitan LA to rural Arkansas. Set in the early 1980s and filled with quiet optimism, it is the exact sort of gentle sweetness that next year is calling out for. AW
Released 19 March
No Time to Die
While Daniel Craig's Bond tenure has been marked by severe whiplash in terms of quality, there remains something incredibly exciting about the arrival of a new 007 movie. No Time to Die, Craig's final outing as the super-spy, also boasts an intoxicating array of talent on and off screen, from Cary Fukunaga on directorial duties, to a script co-written by Phoebe Waller-Bridge, and a cast of newcomers including Ana de Armas, Rami Malek and Lashana Lynch. AW
Released 2 April
A Quiet Place: Part II
A Quiet Place would surely have been better off as a standalone film, but the financial success of writer-director John Krasinski's B-movie-style horror put paid to that. This isn't to say there's no more story to tell. In fact, Krasinski made no secret of the fact he had a whole universe he could one day explore, and sure enough, joining returning stars Emily Blunt, Millicent Simmonds and Noah Jupe are new additions in the form of Cillian Murphy and Djimon Hounsou. JS
Released 23 April
Last Night in Soho
Edgar Wright is adding "psychological horror" to his film-making repertoire with Last Night in Soho, a neon-soaked thrill ride starring quite the ensemble (Anya Taylor-Joy, Matt Smith, and the late Diana Rigg). The intriguing plot focuses on a young girl for whom "time falls apart" after she's somehow transported to the 1960s. It sounds like a cult hit-in-waiting. JS
Released 23 April
Top Gun: Maverick
Tom Cruise is back later in the year with one of the two Mission: Impossible films he's filmed back-to-back mid-pandemic, and this summer revives another classic. He's returned to the cockpit for a sequel to the daddy of all Eighties films, Top Gun. There'll surely be an element of "teaching new dogs old tricks" in the Joseph Kosinski-directed film, as Pete "Maverick" Mitchell mentors a new generation of US navy fighter pilots. We're hopeful the result will – wait for it – take our breath away. JS
Released 9 July
Barb and Star Go to Vista Del Mar
It's not the Bridesmaids sequel everyone begged for a decade ago, but Barb and Star is its spiritual follow-up at least. Kristen Wiig and Annie Mumolo, the women behind the 2011 smash, write and star in this new comedy, playing two best friends who venture out of their small midwestern community for the very first time. They soon get mixed up in a villainous plot to kill an entire town. Jamie Dornan and Damon Wayans Jr also star. AW
Released 16 July
Old
M Night Shyamalan's new horror thriller is allegedly inspired by a 2011 graphic novel, Sandcastle, about a group of holidaying teenagers who rapidly age over the course of a few days. The film's premise remains under tight lock and key, but its young cast (which includes Little Women's Eliza Scanlen and Jojo Rabbit's Thomasin McKenzie) and unambiguous title suggest that the Sandcastle rumours might be true. And for all you Phantom Thread fans out there, Vicky Krieps is in this too. AW
Released 23 July
Deep Water
The endlessly photographed and occasionally baffling romance between Ben Affleck and Ana de Armas has been the only A-list fling of the pandemic, and the film they met on will finally be released next year. From the almighty Caligula of the erotic-thriller genre, film-maker Adrian Lyne (9½ Weeks, Fatal Attraction), Deep Water stars De Armas as a woman unhappily married to Affleck, and whose younger lovers keep ending up dead. AW
Released 13 August
Candyman
Watchmen star Yahya Abdul-Mateen II continues his incredible ascent with the starring role in this remake. Produced by the ubiquitous Jordan Peele, the new Candyman revives the hook-handed killer originated in 1992's genuinely terrifying Bernard Rose film, but with a black and female director (Nia DaCosta, who will soon direct Captain Marvel 2) and predominantly black cast – which ought to mean the frustratingly ambiguous racial themes of the original can finally be given their due. AW
Released 27 August
Dune
A remake of David Lynch's Dune would ordinarily cause our eyeballs to rattle around our sockets, but not when Denis Villeneuve's in the director's chair. Warner Bros is so committed to the director's vision that it ignored the fact that his breathtaking Blade Runner sequel flopped, and set him to work on a fresh adaptation of Frank Herbert's novel. He did direct Prisoners, Enemy and Arrival, after all. Timothee Chalamet and Zendaya head up the cast. JS
Released 1 October
Eternals
Regardless of whether you're a keen follower of the Marvel Cinematic Universe or not, Eternals should pique your interest. Sure, it may be spearheading a brand new phase of Marvel franchises – there really is no end in sight for the studio's box-office behemoth – but it features what has to be one of the most eclectic casts ever seen in a superhero film: Angelina Jolie, Kit Harington, Kumail Nanjiani, Brian Tyree Henry and Salma Hayek. JS
Released 5 November
West Side Story
Long in the works, Steven Spielberg's West Side Story looks set to be a festive smash this time next year. Speculated to be closer in spirit to the original Stephen Sondheim musical than the iconic 1961 film, this new version casts Ansel Elgort as Tony and newcomer Rachel Zegler as Maria – the latter, incredibly, beat out more than 30,000 candidates for the role after submitting an audition video via Twitter. AW
Released 10 December
Register for free to continue reading
Registration is a free and easy way to support our truly independent journalism
By registering, you will also enjoy limited access to Premium articles, exclusive newsletters, commenting, and virtual events with our leading journalists
Already have an account? sign in
Join our new commenting forum
Join thought-provoking conversations, follow other Independent readers and see their replies