Aardman Animations at 40
David Sproxton and Peter Lord were recipients of The Animation Personality of the Year Award at The Annecy Festival
Geoffrey Macnab
Wednesday 22 June 2016 14:15 Comments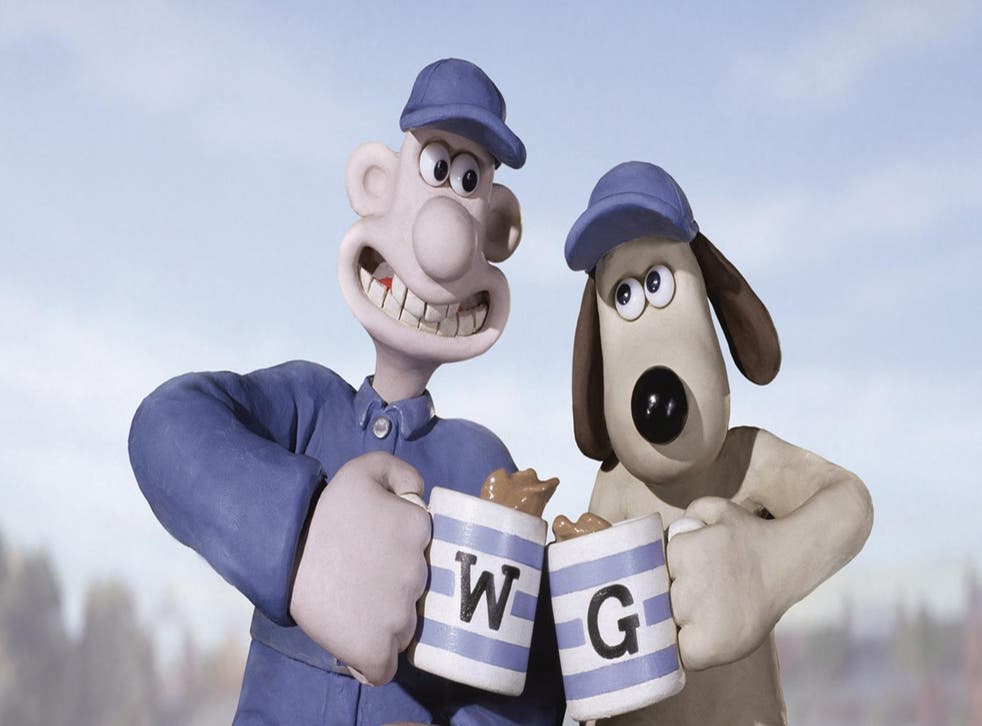 When you see them in front of you, wisecracking away and laughing at each other's jokes, it doesn't take very much to imagine Peter Lord and David Sproxton (now both in their early 60s) as mischievous 12-year-old school children meeting for the very first time. The future founders of Aardman Animation (creators of Shaun the Sheep and Wallace and Gromit) both attended Woking Boys' Grammar School in Surrey in the mid-1960s.
The desks at the school were labelled alphabetically but, when Lord arrived as a new boy six weeks after the term had started, he was told to "go and sit next to Sproxton" because there was no other desk. Thus began a collaboration that has transformed the world of British animation. "Peter had been in Australia for five years at a Rudolf Steiner-style school," Sproxton remembers of the outgoing young lad with the Aussie accent who landed as if from Mars in the classroom next to him.
Sproxton himself was from a typically British middle-class background. His mother taught art at primary school. His father, a keen amateur photographer, was a producer at the BBC. Young Sproxton was immediately struck by the compulsive way that Lord drew and drew and drew.
"I couldn't get my head around what his surname was. He had a very strong Australian accent, a profoundly strong Australian accent… Peter Lawwd!" he pronounces the name in the same strident way that Aussie comedian Paul Hogan might have imitated a parrot. "But what I did see was someone who was just pouring out stuff."
The fame of Lord's drawings quickly spread. Everyone in the school wanted to see them. Lord was so prolific that he wrote on the front of a foolscap ledger, several hundred pages long and containing multiple examples of his cartoons and stories, "Peter Lord – By Popular Demand." Sproxton's brother, who was five years older and in the sixth form, demanded to see this book. "He said, 'Dave, can you get Peter's book because my mates want to see it? I thought, blimey, he (Lord) has pulled it off."
Sproxton Jnr. and Lord first bonded over their shared enthusiasm for Hanna-Barbera's Top Cat. Lord, thanks to his time Down Under, was much more familiar than Sproxton with American cartoons and DC comics. "My father was quite literary and so I had upper-class comics," Sproxton remembers of a childhood spent reading staunchly British fare such as Swift and Eagle comics while watching The Wombles and Clangers on TV.
The official launch of Aardman came in the late summer of 1976 – which is why the company is now celebrating its 40th anniversary. Earlier this month, Sproxton and Lord were at the Annecy Festival to accept (jointly) an Animation Personality of the Year Award.
In fact, the Sproxton/Lord axis stretches back far more than 40 years. The name Aardman ('hard man') was first registered in 1972 and Sproxton and Lord's collaboration began at school. Bright youngsters, they had gone to separate universities (Sproxton to Durham to study Geography and Lord to York to take a degree in English Literature) but had always stayed in touch.
"At the end of our academic career, we were doing bits and pieces in the summer break. We got this contract for Take Hart on BBC TV, which was recorded in Bristol. For various reasons, Bristol seemed a good place to go," Sproxton reminisces. "We said 'we're going to see if this works for a year and if it doesn't, we'll go back to stacking shelves.'"
Access unlimited streaming of movies and TV shows with Amazon Prime Video Sign up now for a 30-day free trial
Sign up
Sproxton had long been interested in puppetry, marionettes, and what he calls the "illusion of film and theatre". Lord, meanwhile, was a draughtsman extraordinaire. One of their Eureka moments as would-be professional animators came with their discovery of plasticine as a material in which to mould their characters.
Shaun the Sheep directors unveil Aardman exhibition in Paris
Aardman is the indisputable leader of the pack when it comes to British animation; it is the chief, the king, the tip-top company. Morph, Wallace and Gromit, Flushed Away and Chicken Run are as close as the Brits have ever come to producing cartoons – both shorts and features – that have competed on equal terms with the work of Disney and Pixar.
Their movies have been backed by Dreamworks and Sony and have made hundreds of millions of dollars at the British box office. Nonetheless, Sproxton and Lord still speak about their company as if it is a small British family business, a bit like Morgan Motor Cars.
Work is now well underway on Nick Park's next animated feature, the prehistoric comedy Early Man (which will be released in 2018). According to the Aardman bosses, it was an almighty struggle to get the film financed, even with Eddie Redmayne leading the voice cast and a budget less than half of that of the average Pixar or Disney blockbuster.
"I have no complaints about the business at all. I love it," Lord says but adds that the perception the Aardman founders are "rolling around in great pots of gold" is not true at all. They still have to hustle to put together their movies. "We can't just say we want X million."
Aardman is loved for its hand-crafted stop-motion Wallace and Gromit films and its distinctively British sensibility. Nonetheless, the company is continuing to experiment. At the Sheffield Doc Fest last week, there was a premiere of its new 10-minute VR (virtual reality) movie, We Wait, about a terrified Syrian family, caught up in the refugee crisis, trying to cross the sea.
The company also worked recently with Google Spotlight on a zany new short called Special Delivery, which you can watch on YouTube and mobile devices. Some of the company's best-loved work has been on ads and pop promos (for instance, its collaboration with Brothers Quay on Peter Gabriel's 'Sledgehammer' video).
Unintentionally terrifying children's movies

Show all 7

A few months ago, Sproxton approached legendary singer Nina Simone's daughter Lisa Simone, who was giving a concert in Bristol. Nina Simone loathed the pop promo that Aardman made for her hit song, 'My Baby Just Cares For Me'. "I went up to her (Lisa Simone) and said 'oh, by the way, I am one of the guys who helped make that film.' 'Oh, the one with the cat,' she said. 'I don't think my mother liked it very much.'" Thankfully, Lisa Simone herself was much more enthusiastic.
It is one of the defining qualities of Aardman films that (unless you are Nina Simone), they are impossible to dislike. You'd have to be very jaundiced and misanthropic not to enjoy the humour, quirkiness and ingenuity of their work. Another of their traits is their equanimity. I ask about the fire a decade ago that destroyed the storage building which housed props and sets from many of their films.
"It was sad, there were a lot of memories that went up in smoke," says Sproxton. Thanks to the fire, any chance of a Chicken Run sequel was destroyed. The studio simply couldn't have afforded to make a second film from scratch. Not that the Aardman founders spent too long mourning.
"The sets and props from Chicken Run were a sad loss but no more than that," Lord agrees. "I don't know how you live but I at home have cardboard boxes that if someone threw them away, I wouldn't care – but there are probably some interesting things in them. It was a bit like that. The stuff was out of sight, out of mind."
Not that the fire endangered the Aardman legacy in any way. The old films continue to be revived, the new ones are cherished. Early Man is in production, another Shaun the Sheep movie is in the offing and there are many other projects in development. The company founded by the two grammar school boys in Bristol 40 years ago is now firmly established as one of the superpowers in the animation world.
Early Man is released in 2018. David Sproxton and Peter Lord were recipients of The Animation Personality of the Year Award at The Annecy Festival.
Register for free to continue reading
Registration is a free and easy way to support our truly independent journalism
By registering, you will also enjoy limited access to Premium articles, exclusive newsletters, commenting, and virtual events with our leading journalists
Already have an account? sign in
Join our new commenting forum
Join thought-provoking conversations, follow other Independent readers and see their replies