comment
Adam Sandler shows no one cares about nepotism and the reviews back him up
The actor-producer's latest film, coming-of-age comedy 'You Are So Not Invited to My Bat Mitzvah', has shot to No 1 on Netflix. His daughter, Sunny Sandler, is the star, while the rest of his family also fill out the cast list. For once, 'nepo baby' discourse seems to have taken a back seat, writes Louis Chilton
Tuesday 29 August 2023 15:22 BST
Comments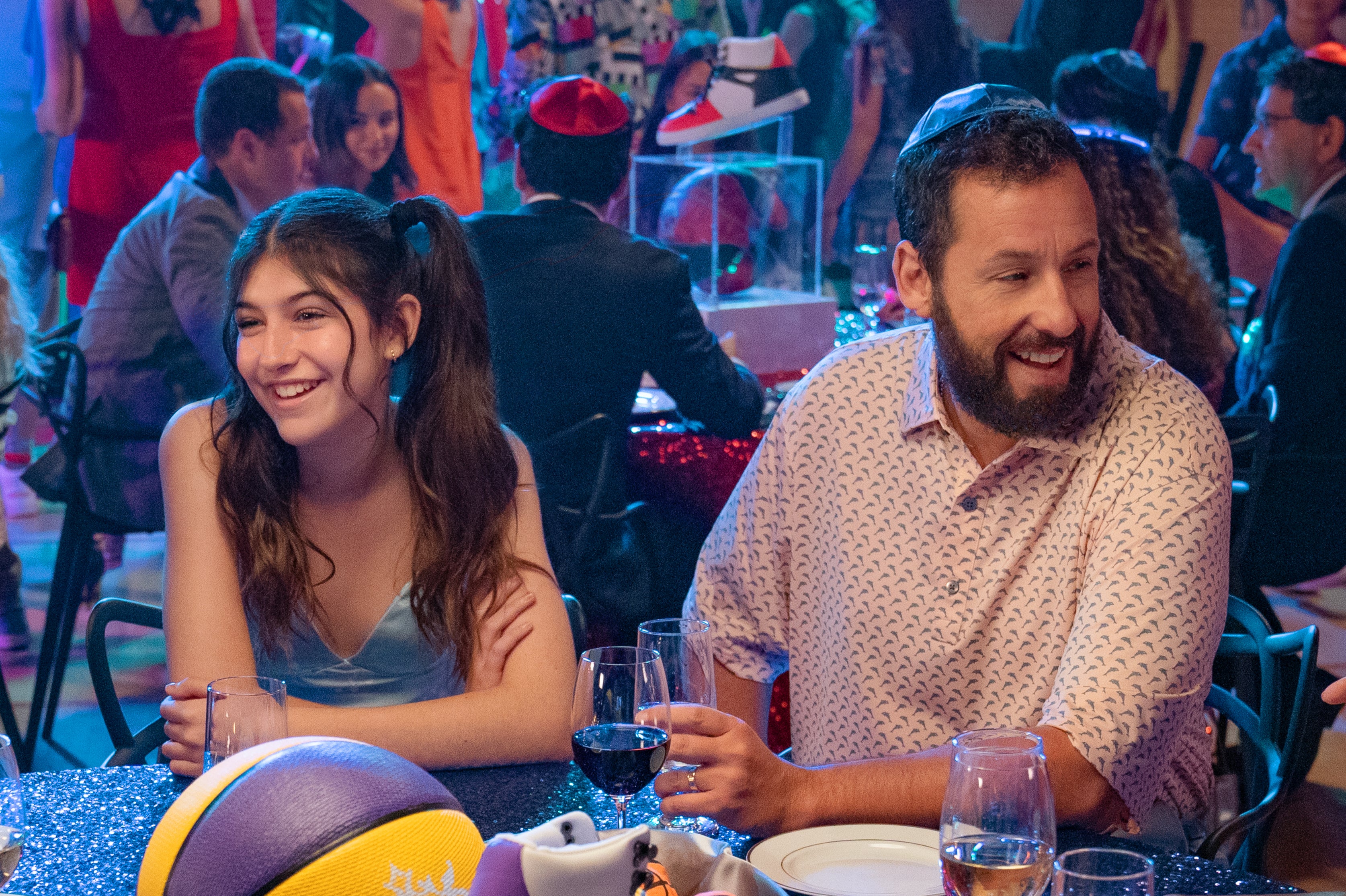 Blood is thicker than water, they say – but is it thicker than The Waterboy? For years, Adam Sandler has been one of Hollywood's foremost proponents of benign nepotism. Since founding his own production company, Happy Madison, in 1999, the American actor-comedian has cast his friends and family in pretty much every project to bear his name. He's thrown Rob Schneider more bones than a voodoo priestess. Sandler's latest project, the Netflix comedy You Are So Not Invited to My Bat Mitzvah, may be his most transparent act of nepotism to date – Sandlers dominate the cast list. Both his daughters star in the film, as well as his wife, the actor and former model Jackie. Yet cries of "nepotism!" have been few and muffled. For once, it seems no one cares.
At least, it's clear that Netflix viewers have been unfazed by the filial casting. Fuelled, presumably, by Sandler's name on the mantle, You Are So Not Invited to My Bat Mitzvah – let's squash it to YASNITMBM for the sake of the word count – has rocketed straight to No 1 on the streaming service's Most Watched chart. It's been roundly praised by critics and currently sits as the highest-rated feature film of Sandler's career on aggregator website Rotten Tomatoes. In the film, Sunny plays Stacy, a Jewish teenager on the cusp of nominal womanhood. She clashes with long-term bestie Lydia (Samantha Lorraine) over a dalliance with a boy; their bitter falling out is the movie's main jeopardy. Jackie Sandler plays Lydia's mother, while Idina Menzel (Wicked) plays Stacy's. Adam Sandler is Danny, Stacy's overprotective father. It's something of a cakewalk for the Uncut Gems star, who doesn't really have to do anything more than show up and offer a bit of fatherly charm. Danny even dresses like Sandler, down to the oversized basketball shorts and brightly coloured sneakers.
Films featuring the progenies of famous stars often struggle to escape the stigma of it – projects such as the Will and Jaden Smith vehicle After Earth, or the Sean and Dylan Penn drama Flag Day saw conversations dominated by the issue of nepotism. There are, however, several factors that help YASNITMBM avoid a tarring with the "nepo baby" brush. The first, and most convincing, is simple: Sunny Sandler is very good in the lead role. While her father is known for his broad, explosive comic energy, Sunny takes the opposite tack, imbuing Stacy with a kind of naturalistic awkwardness that reads as completely credible. The other Sandlers, too, are good, though their roles are less prominent. The film's success hinges on the pathos and believability of Sunny's performance and she delivers.
YASNITMBM also takes advantage of Adam Sandler's offscreen reputation. He is a movie star with a tremendous amount of goodwill to his name, a man whose staggering commercial success has never dampened his ability to pass as a sort of affable everyman. Sandler is cinematic teflon, able to emerge from the most damning of stinkers (The Ridiculous 6; The Out-Laws) with his rep unblemished. In films such as Uncut Gems, The Meyerowitz Stories and the Happy Madison-produced Hustle, he has proved his chops as an actor of depth and range – but this isn't why he's so popular. His stardom stems from his high-wattage likeability. As a result, we are disposed to view any nepotistic casting choices not as the noxious cronyism of a Hollywood bigwig, but as the kindly gestures of a person looking out for those close to him.
There is also something nice about the casting in a project like YASNITMBM; seeing real family members interact on screen is its own little thrill. It lends the film a lived-in authenticity and makes the otherwise standard-issue family unit feel fleshed out and singular. (For another example of similar, consider the Haim sisters' roles in Paul Thomas Anderson's Licorice Pizza.) It's nepotism, sure, but it's additive – the film is richer for what it brings.
With the success of You Are So Not Invited to My Bat Mitzvah, it feels like Sandler's career has never been sturdier. It's a film tailor-made for the streaming era, a crowd-pleasing coming-of-age drama with charm and just a dusting of star power. Is it a win for nepotism? Probably. But – in this case, at least – there's no loser either.
'You Are So Not Invited to My Bat Mitzvah' is streaming now on Netflix
Join our commenting forum
Join thought-provoking conversations, follow other Independent readers and see their replies