Aladdin star Naomi Scott: 'For women, a lot of the time we have to work twice as hard'
Disney's new Princess Jasmine talks to Clarisse Loughrey about what it takes to update a classic for a new generation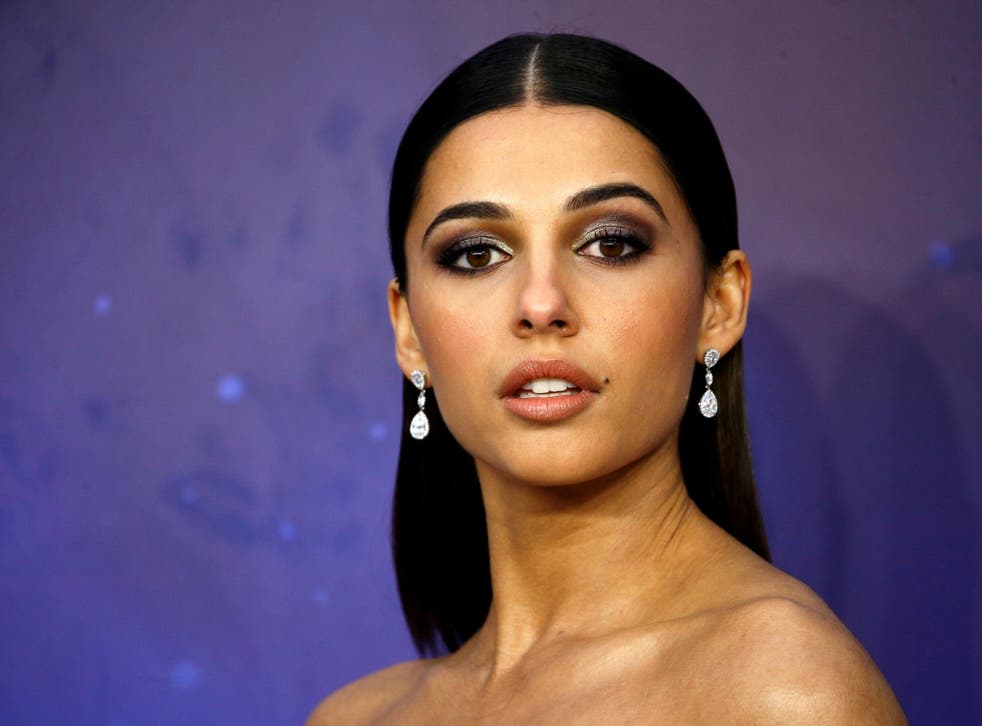 I don't have time to worry about what labels people are going to put on me," says Naomi Scott. Her words could very well serve as a manifesto for her generation. The 26-year-old, like so many of her peers, refuses to be pinned down: she's an actress, singer, music producer, and director. She's the pink Power Ranger, from the 2017 film, and one of Charlie's Angels, with a new reboot opening in cinemas later this year. Most, however, will soon know her best as Princess Jasmine, at the forefront of Disney's live-action remake of Aladdin. And, just like Scott, this new Jasmine won't be easily defined. She's got a lot more on her plate than waiting around for her prince to come.
"She's so many different things at so many different points," Scott explains. "What I love is that you can be strong and you can cry. You can be strong and feel weak." The actor says the word "sassy" has come up a lot when describing the character, but she finds the word a little reductive. "Yeah, she's sassy, but what's more important is that she's actually fighting for the freedom of choice for her people," she says. "That's feminism, it's not just a witty comment."
For an actor on the brink of stardom, Scott doesn't seem overly fussed about cultivating an image. She's happy just to be herself. We're in a luxurious London hotel room – perched at either end of the kind of sofa that threatens to swallow you whole – but it doesn't take long for the enforced formality of our surroundings to disperse. We're soon just two twenty-something women, excitedly discussing 1998's Mulan (another Disney film set for a live-action remake). In particular, the moment when the eponymous heroine overcomes failure, proves herself to her fellow soldiers, and climbs to the top of a wooden pole that no one else could conquer. "It's the perfect metaphor of a woman in a man's world," she says. "Because for women, a lot of the time, there's that sense that we have to work twice as hard."
Scott also credits Mulan with helping her see past the limitations girls are taught to place on themselves, and the assumption that they have no right to compete with the boys. "I don't know where that comes from," she says. "It's very subconscious and can be very subtle, you know? I grew up around a wonderful family." Scott was born in Hounslow, London, though her family later moved east, across the city, to Woodford. Her mother, who is of Gujarati Indian descent, was born in Uganda, while her father is English. "I wasn't shut down in any way, but it's just society in general, right?" Scott continues. "It seems so simple, but for some reason, there has always been that thing of: 'No, you can't.'"
Yet, while the Disney princesses of the 1990s may have felt empowering to one generation, times change. "I loved that character," Scott says of Princess Jasmine. "She was my favourite Disney princess and she made me feel empowered. She spoke up, she wanted to fight for the choice to marry. But in our movie, she's way more active."
The 30 best Disney films

Show all 30
Sure, she still has to choose a husband from the endless parade of gaudy suitors turning up at her door (including Prince Ali, who's actually Aladdin the "street rat", fitted out with a new identity after using one of Genie's three wishes), but she now gets a much greater hand in the rule of Agrabah. She comes to blows with her father's trusted advisor, the villainous Jafar, who has his own plans to turn the kingdom into a vast empire. And at no point does she have to put on a sexy red outfit and seduce him, as the 15-year-old Jasmine does in the original. "She's studied everything," Scott says. "She's a politician. I wanted her to have tact and to be strong, because she's not just saying she wants to lead for the sake of saying. She's showcasing skills of leadership." This Jasmine is also more mature than her predecessor, since Scott didn't want to play her "too young and whimsical". She adds: "There's a sense that she knows the situation she's in. She understands why her dad is overprotective, she clocks Jafar. She sees everything."
Jasmine's 21st-century makeover gets its own musical showcase in "Speechless", a brand new number with music by Alan Menken, who scored the original film, and lyrics by La La Land duo Benj Pasek and Justin Paul. Music, in fact, was Scott's first love. She'd perform in the youth band at the Bridge Church in Woodford, where both her parents were pastors. A pivotal moment arrived when she sang Aretha Franklin's "Say a Little Prayer" at a local summer camp. "I remember being like: 'I don't think I'm being delusional here, I think I've got a really good voice,'" she says. From that point on, the only future she saw for herself was as a performer. Her first break came courtesy of the House of Mouse, with roles in the Disney Channel UK series Life Bites and the 2011 film Lemonade Mouth. She's also released two EPs and a string of singles.
Scott was raised on gospel music and it's informed her style ever since, meaning Aladdin marked a major departure for her – she's never had singing lessons, and certainly hasn't been classically trained. But it was important to her that Jasmine kept that rawness. (To demonstrate the opposite, Scott starts vocalising like Snow White and I half expect a bird to fly through the window and land on her finger.) The actor sang many of her numbers live. "I wanted it to feel as natural as possible, you know?" she explains.
"Speechless", in particular, works as a power anthem, in line with Frozen's "Let it Go". Jasmine has had to grin and bear one too many put-downs from Jafar, a man who thinks she'd be better off staying silent and compliant. As Scott notes, it's a moment that a lot of women can relate to. For her, it represents Jasmine's realisation that "I may lose this battle, but it's worth me saying something, because I do have a voice". The actor doesn't just perform the song, she unleashes it like a roar, as the tears stream down her face and the veins in her forehead pop. "I wanted her to have that fire in her belly," she says.
Access unlimited streaming of movies and TV shows with Amazon Prime Video Sign up now for a 30-day free trial
Sign up
Beyond Jasmine, the new Aladdin also carried the responsibility of tackling the original's legacy of cultural representation: for some, it meant a lot to grow up with characters that actually looked like them, while others have argued the stereotypes it presented ended up doing more damage than good. The lyric "where they cut off your ear if they don't like your face", for example, was removed from the opening number "Arabian Nights" after protests from the American-Arab Anti-Discrimination Committee and academic Jack Shaheen.
While the animation used a cast of white voice actors, the new remake has placed an emphasis on the diversity of its leads. Alongside Scott, Mena Massoud, who plays Aladdin, was born in Cairo to Coptic Egyptian parents and emigrated to Canada when he was young. Marwan Kenzari, who plays Jafar, is Dutch, born to Tunisian parents. "I'm so proud of how diverse our cast is," says Scott. "For me growing up, Jasmine was my princess, probably because I saw myself in her. She was someone that I could play."
Perhaps as a nod to the story's source material, One Thousand and One Nights, a collection of folktales with roots across the Middle East and Asia, the original Aladdin drew on a mix of cultures to create the fictional city of Agrabah. Scott, certainly, picked up on the South Asian elements as a child. "It sounds silly, but even something like Rajah [Jasmine's tiger], I remember that was such a symbolic thing in Indian culture."
It's an approach that's been even more enthusiastically embraced for the remake. Scott describes the film's setting as a "gateway into the Eastern world", with the production team drawing from Middle Eastern, South Asian, and even Chinese influences. "We've created a world that so many different people can pick things out and take it with them," Scott concludes. "I think, ultimately for young kids, seeing themselves in a character is really powerful. Even if they don't get the nuanced, small things, they probably do pick it up subconsciously. For me, I think that's beautiful."
Aladdin is released in UK cinemas on 22 May
Join our new commenting forum
Join thought-provoking conversations, follow other Independent readers and see their replies