Alan Rickman's best Professor Snape moments in the Harry Potter films
'You have your mother's eyes'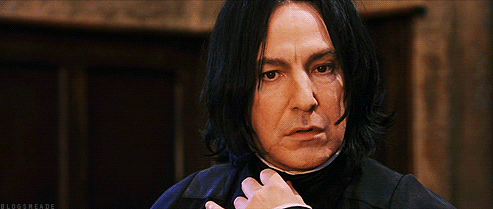 Alan Rickman, well known for his performance as Severus Snape in Harry Potter, as well as his work in Die Hard, Love Actually, and Sense and Sensibility, among many others, has died from cancer, aged 69
The British actor, who only began his career at 41, captured the hearts of a generation by appearing as the stern potions teacher over a ten year period from 2001 to 2011.
Harry Potter author JK Rowling said on Twitter that she was "devastated" by the news, and that "he was a magnificent actor and a wonderful man".
Actor Oliver Phelps, who played one half of the Weasley twins in the films said Rickman was "a funny and engaging person who put a young shy actor at ease when I was on HP".
Take a look at some of the best Snape moments below.
The introductory glare
It didn't take us long to work out Snape meant business... and that he was annoyed most of the time.
The book slap
Perhaps a bit controversial to go around hitting students, but teachers everywhere probably cheered.
The boggart incident
Because seeing Snape in Neville's grandma's clothes was the dream we didn't know we had.
When he tries to save Harry during Quidditch
And no one knew it was him!
"Always"
It all make sense now!
When he totally ousted Lockhart in a duel
He had it coming.
His untimely death
"Take them to the Pensieve"
Every dramatic pose ever
We're still waiting for him to feature in a L'Oreal advert.
All gifs © Warner Bros
Register for free to continue reading
Registration is a free and easy way to support our truly independent journalism
By registering, you will also enjoy limited access to Premium articles, exclusive newsletters, commenting, and virtual events with our leading journalists
Already have an account? sign in
Register for free to continue reading
Registration is a free and easy way to support our truly independent journalism
By registering, you will also enjoy limited access to Premium articles, exclusive newsletters, commenting, and virtual events with our leading journalists
Already have an account? sign in
Join our new commenting forum
Join thought-provoking conversations, follow other Independent readers and see their replies