Alexander Sokurov - The Russian auteur and his Faustian pact with Putin
When Alexander Sokurov wanted to film Goethe's tale, help came from an unlikely source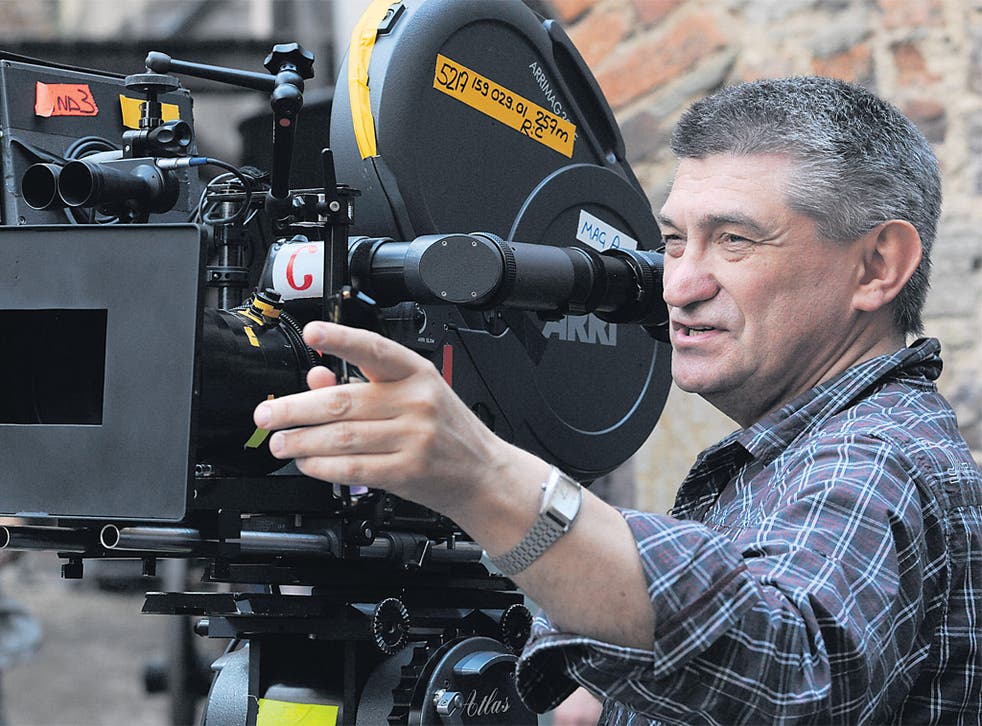 Modern mass culture, aimed at consumers, is crippling people's souls," the late Andrei Tarkovsky claimed. This is hardly the remark you expect from a film-maker. Cinema, after all, is the mass-culture medium par excellence. It's expensive, collaborative, industrial, and reliant on technicians, labs, marketing and distribution.
There have been few film-makers able to escape the commercial constraints on their craft. Tarkovsky, who made his best films within the straitjacket of Soviet-era censorship, used to talk of his work as being akin to "sculpting in time". The phrase would have made film financiers in the West wince. The idea of directors chiselling away at their images was the antithesis of Western studio working practices, which were about budgets, deadlines and release dates.
The Russian was an anachronistic and unusual figure 30 years ago (he died in 1986). From today's vantage point, he seems as outlandish as a dodo, or a director from another planet. "Tarkovsky is the greatest of them all. He moves with such naturalness in the room of dreams. He doesn't explain. What should he explain anyhow?" Ingmar Bergman wrote of him.
The door to that room has long since been closed. That's why it was so surprising at the Venice Film Festival when the competition jury, headed by Black Swan director Darren Aronofsky, ignored the claims of Tinker Tailor Soldier Spy, Shame and various other much-hyped movies to give the Golden Lion to Tarkovsky's disciple, Alexander Sokurov, for his cinematic version of Goethe's Faust, one of the movies showing in a season of the director's work at London's BFI.
What made Sokurov's triumph in Venice register all the more strongly was that it came at a time when governments across the world were slashing their culture budgets. His brand of film-making seems to be under threat more than ever.
"Culture is not a luxury. It is the basis for the development of the society," Sokurov chided politicians when he picked up his award. However, Faust had an unlikely politician-patron in the form of Russian Prime Minister Vladimir Putin.
"The film would not have seen the light if Putin had not found the funding," Sokurov told the press in Venice, explaining how Putin invited him to his country house to discuss the project, which was then, promptly, and mysteriously, supported by a charitable fund in St Petersburg. Putin also phoned him with congratulations minutes after he was awarded his Golden Lion. When I interviewed Sokurov in London this week, the Russian was a little bashful about having had to rely on Putin to get the film made. He had spent seven years trying and failing to raise the finance.
"That's a lot, both in terms of the film industry and of your life," he sighs, reflecting on the "strong resistance" he encountered. "I went to see him [Putin] to save my work," he says. "To my surprise, two or three weeks after our meeting, I received confirmation that there would be money allocated to my film." He is not a Putin supporter but he is adamant that government has a responsibility to support the arts.
"What is the state there for unless it is there to help us in the social sphere and the sphere of culture?" he asks. Sokurov and Putin spoke for an hour, discussing such subjects as the likely fate of the Lenfilm Studio in St Petersburg and the plight of the Russian film industry in general. Sokurov also touched on social issues such as how prisoners were treated in Russian jails.
Access unlimited streaming of movies and TV shows with Amazon Prime Video Sign up now for a 30-day free trial
Sign up
"During this conversation, our opinions, our points of view, coincided [sometimes] but very often they did not. I did not feel any discomfort about that." He speculates it was Putin's interest in Faust and German culture that prompted him to back the movie. Given that Faust is the fourth in Sokurov's cycle of films about "men of power" (following his earlier films about Hitler, Lenin and the Japanese Emperor Hirohito), it's bizarre but fitting that Putin should be its champion. "There is an irony when a man who has such power helps you to complete your work about men in power," the director notes.
Sokurov's films are not at all flattering about their subjects. In Taurus, he showed Lenin as wheelchair-bound, wasting away from illness and powerless to prevent Stalin's machinations. In Moloch, the focus was on the relationship between a very neurotic Hitler and Eva Braun. In The Sun, Hirohito was shown pottering around writing poetry even as the Americans bombed Tokyo to smithereens. Faust is a fictional character but what he has in common with his predecessors is that he suffers (as Sokurov has written) "from pathological unhappiness in everyday life" – and "unhappy people are dangerous".
Over the years, Sokurov has proved a very disconcerting interviewee. He talks a lot about the Russian soul. Ask him about his influences and he'll discuss Chekhov and Dostoevsky before he even mentions anything to do with film. In preparation for his film Mother and Son (1996), about a mother dying as her devoted son tends her, he and his cinematographer went to Berlin and spent hours together sitting in front of Caspar David Friedrich's painting The Monk By the Sea. Before shooting his film Father and Son (2003), he studied JMW Turner's watercolours. He calls many of his films "elegies," as if he is a composer or a poet, not a director. Although he reveres Ingmar Bergman and Alexander Dovzhenko, he is contemptuous
about 3D and James Cameron. In short, he takes an utterly uncompromising and sacral approach to his art.
It is hard to identify any contemporary Western film-makers who approach their craft in the Sokurov manner. A generation ago, the British still had a few film-makers whose work was as personal and as self-consciously "artistic" as that of Tarkovsky and Sokurov. These film-makers were often supported by the British Film Institute. Directors like Terence Davies with his trilogy, Peter Greenaway early in his career, Derek Jarman, Sally Potter and Bill Douglas were all able to make idiosyncratic and very personal films in the late 1970s and 1980s. Greenaway and Davies are still at work. Greenaway's Goltzius and the Pelican Company, about a late-16th-century Dutch printer and engraver of erotic prints, started shooting in Zagreb in July. Davies's new feature, The Deep Blue Sea, closed this year's London Film Festival.
Nonetheless, what became increasingly apparent over the 10-year period in which the UK Film Council was the lead agency for film is that the British really don't regard cinema as an art. The UK industry is producer-led, not director-led. Its idea of a perfect film-maker is of a solid craftsman who can tell a story: a Tom Hooper (director of The King's Speech), not a Sokurov or Tarkovsky. When artists themselves have moved into the film arena, as Steve McQueen has done so memorably with Hunger and Shame and Sam Taylor-Wood with Nowhere Boy, they have made narrative films. Meanwhile, experimental work is kept out of the mainstream.
It was telling that no British distributor had bought Faust at the time it won the Golden Lion. There can be something intensely off-putting about Sokurov's mysticism and nationalism. What can't be gainsaid is his fervent conviction that film is an artistic and deeply personal medium. He is determined to work in the "room of dreams" even when he has to rely on Vladimir Putin to allow him to get in there.
Sokurov: A Spiritual Voice, BFI, London SE1 (www.bfi.org.uk) to 30 December
Join our new commenting forum
Join thought-provoking conversations, follow other Independent readers and see their replies