Alicia Vikander - Make room for a new Swedish sensation
Alicia Vikander outshines Keira Knightley in Anna Karenina. Geoffrey Macnab meets a rising star
Geoffrey Macnab
Saturday 15 September 2012 03:25 Comments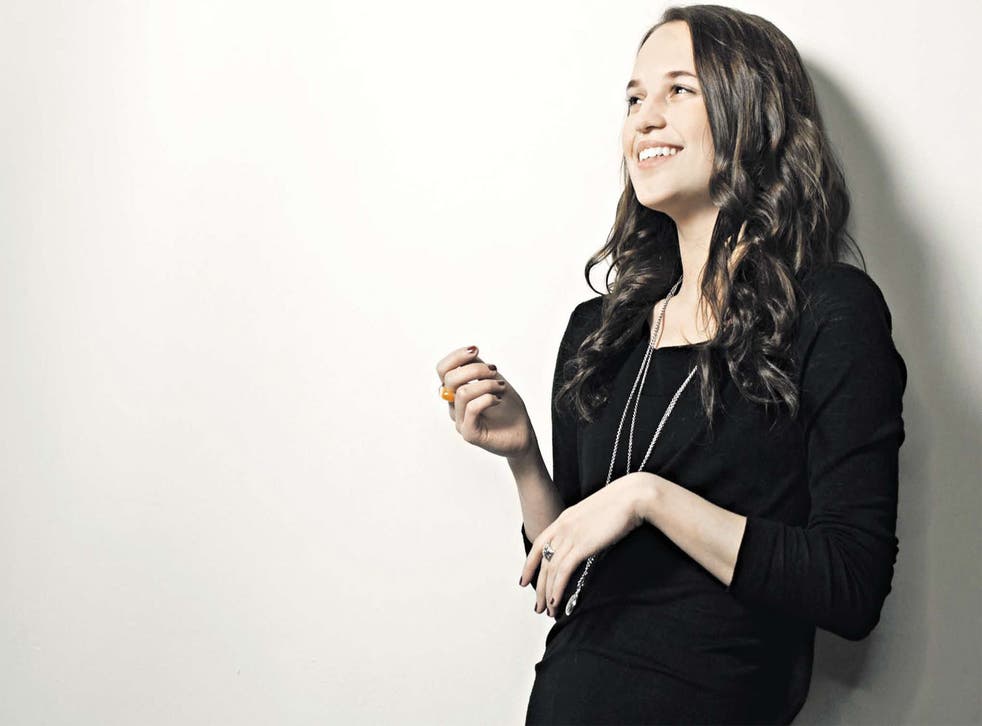 Twenty-three-year-old Swedish actress Alicia Vikander has been earning rave reviews for her role as Kitty in Joe Wright's Anna Karenina. Vikander is on screen for far less time than Keira Knightley's Anna but some critics are suggesting she outshone the British star.
"Modulates stunningly from flighty impulse to a chastened, trembling realisation of what love can mean," enthused one British paper – and it's true, Vikander undergoes a startling transformation during the film. In the early scenes, flirting with Vronsky, whom she hopes will marry her, Vikander's Kitty is a flighty, immature coquette. She seems oblivious to the unhappiness she causes Levin, the suitor from the country she so casually brushes off. She is very pretty, very immature. However, late on, seen in the frozen limits of Russia tending the ill, Kitty shows steeliness and tenderness. There is more to her – and to the actress who plays her – than we could have guessed.
"From tomboy to temptress, from street kid to secretary, Vikander shows a sheer range in her big-screen debut that's utterly hypnotic," the jury that chose her as a "Shooting Star" at the Berlin Festival last year observed of her performance in her 2010 film, Lisa Langseth's Pure. In the film, she plays a young woman from a troubled background "prepared to do whatever it takes to acquire a new identity."
Directors and cinematographers who've worked with her talk of her extraordinary screen presence. Her voice, too, is utterly distinctive – lower and more powerful than you would expect
"I think Alicia has something which is very uncommon. Maybe it's a cliché but I think it's true that some people have faces that the camera loves. You can look at her face and you can see so many different levels of her soul at the same time," Langseth says of Vikander's qualities. "Her face tells a story in every picture."
When I meet the young actress at a film festival lunch where she and Langseth are announcing their new film, Hotel, the young Swede doesn't exactly seem the new Greta Garbo. Dressed in jeans and a black T-shirt, she is friendly and politely spoken but comes across more the girl-next-door type than the aloof diva. She isn't surrounded by a phalanx of agents and publicists. She chats away happily about meeting Tom Stoppard, one of her idols, on the first day of shooting Anna Karenina, and of her admiration for the film's British director, Joe Wright.
Vikander may appear easy-going but her friend and mentor Lagnseth points out that the young actress is far more driven than she appears. "Alicia has a very special talent that is not very common but I think she really, really wants this. I don't think these kind of careers happen just by themselves."
It's a testament to the young Swede's ambition and adaptability that she has appeared in two major international films this year for both of which she had to learn to act in new languages.
For Nikolaj Arcel's costume pic A Royal Affair, she plays the 18th-century Queen Caroline Mathilde who scandalised the Danish court by having an affair with her doctor Johan Struensee (Mads Mikkelsen). To win the part, she did a crash course in Danish.
Access unlimited streaming of movies and TV shows with Amazon Prime Video Sign up now for a 30-day free trial
Sign up
"I did my first audition in Sweden," Vikander recalls. "I had to call my friend's mother, who is half-Danish. She actually recorded all of the lines (in Danish) of her iPhone and sent them to me so I was able to practise on my own." The actress told the startled director that, no, she didn't speak Danish but that if he gave her the part, she would learn the language before shooting began. In the event, Danish audiences didn't even realise she was a foreigner.
Something similar happened with Anna Karenina. She came to London to lobby Joe Wright directly for the role and very quickly demonstrated that she could act in English.
Vikander grew up in Gothenburg. Her mother is the stage actress Maria Fahl Vikander. Her father is a psychiatrist. "Theatre has always been a part of my life. When we couldn't find a babysitter, I always slept in the wings," Vikander recalls of her backstage childhood watching her mother perform. She has had no formal theatre training herself. When she was nine, she enrolled in ballet school. Vikander had spent nine years training to become a dancer when she sneaked out for an audition for an acting role in En Decemberdröm, a TV series directed by Tomas Alfredson (of Let The Right One In and Tinker Tailor Soldier Spy fame.) She hadn't told her teachers. Alfredson gave her the part – and she promptly abandoned her dreams of becoming a prima ballerina.
Not that the ballet school apprenticeship went entirely to waste. "I do work very hard," she states. "I have been very coloured by that education. I spent six days a week, seven hours a day training. That will always be the foundation of my work."
Still at the start of her career, Vikander has largely managed to keep out of the gossip columns. "I love doing interviews that are about work that I do, films that I make. I am not very interested in the rest. I think I have always been quite reserved and a bit frightened of that whole thing."
For most of the summer, Vikander has been in Vancouver, shooting fantasy adventure The Seventh Son with Jeff Bridges and Julianne Moore. ("I play this girl who's half witch, half human.") Now, she is back in Stockholm, hard at work on Langseth's second feature, Hotel, which is billed as an "anarchistic psychological drama." She plays Erika, a young woman whose perfect life crumbles around her and who starts checking into hotels under assumed names, taking on the traits of "the person she wants to be be."
In other words, it's another role which flings her into dark and disturbing territory. "I love to see how far you're able to go, both in skills but also emotionally how far I can push myself," she declares of her determination to make sure no one mistakes her for just another screen ingénue.
Register for free to continue reading
Registration is a free and easy way to support our truly independent journalism
By registering, you will also enjoy limited access to Premium articles, exclusive newsletters, commenting, and virtual events with our leading journalists
Already have an account? sign in
Join our new commenting forum
Join thought-provoking conversations, follow other Independent readers and see their replies