Alison Sudol interview: 'Fantastic Beasts is a wild, surreal dream for me'
The star of 'Fantastic Beasts and Where To Find Them' is also writing a children's book and is set to release a new album under her own name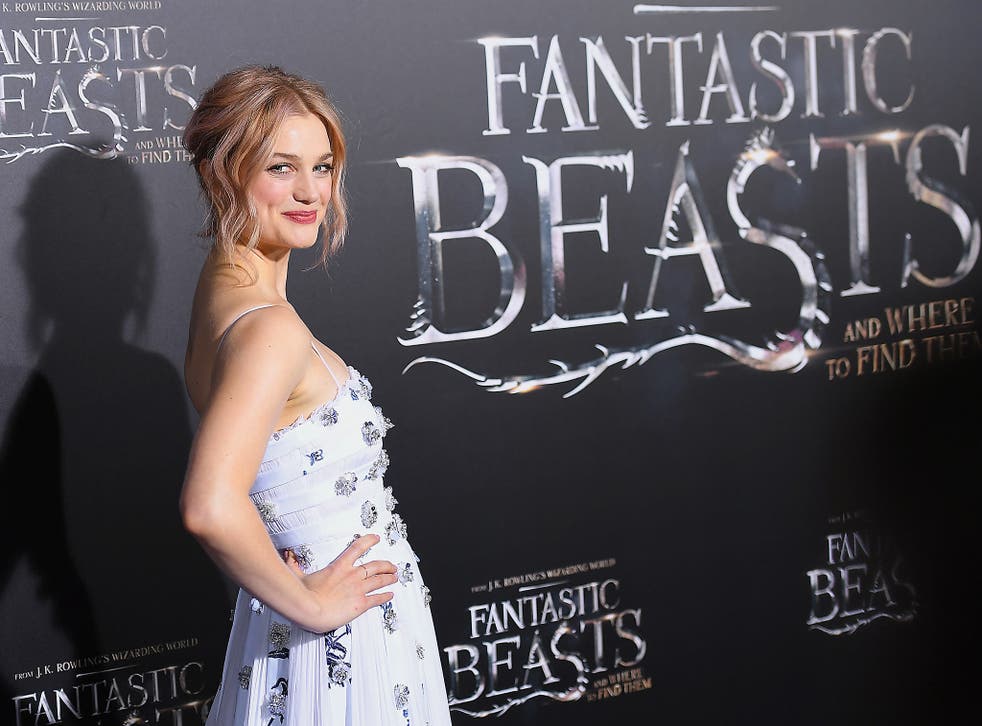 Such was the secrecy behind the making of the Harry Potter spin-off film Fantastic Beasts and Where to Find Them that when she was first approached, Alison Sudol didn't even know that she was being called in to read for the movie. "I went for a general meeting with Fiona Weir, the casting agent, and within a few minutes she said, I'd like you to read for something, but first you have to sign a non-disclosure-agreement.'"
Even before Sudol had a chance to read a word, she was already sold on the role. "Fiona told me about this character, Queenie, who I play, she just described her as incredibly empathetic and kind. She is seen as a beauty, but that is not how she sees herself at all, she is very feminine and incredibly perceptive and lovely. The way we talked about Queenie, made me fall in love with this person. Then she said that she was a witch and I didn't know what was happening."
Anyone that has seen The Wizard of Oz should know that depending on which direction you look there are as many good witches and bad. And so it came to pass that Sudol was joining the most successful film franchise in history. This was not even a turn of events that seemed possible a few years ago, when Sudol was touring and playing to thousands in her musician guise.
Born in Seattle in 1984, both of her parents are actors. She grew up in Los Angeles watching the ups and downs that her parents went through in their chosen profession. Although there are a couple of minor acting roles on her resume from her early twenties, Sudol's main interest was music and books. She performed alternative music using the moniker, A Fine Frenzy, named after a verse in A Midsummer's Night's Dream. She's a singer-songwriter who plays the piano. A Fine Frenzy released a debut album, One Cell in the Sea, in 2007. Sudol had many successes, touring with Rufus Wainwright before headlining her own shows. Three more albums came out and she lived in England for a bit.
But the life of a musician can be hard, especially in the internet era where touring is the most likely way to earn money. Having a record deal doesn't lead to as many yellow brick roads as it once did. It's easy to get disillusion when commerce affects art. Four years ago, Sudol grew frustrated and needed a change of scenery. She enrolled in acting classes and before you can say Voldemort, she was winning roles.
Her first major acting gig was a role in the second season of Amazon Studios award-winning show Transparent, about a family coping with the news that dad is transgender. Her character, Kaya, was a love interest of middle child Josh, played by the shows writer / director Jay Duplass. There was also a TV role in short-lived mystery-drama Dig.
In her presence it's easy to see why she was immediately booking roles. She beams positive energy and her smile is as wide as a Cheshire cat. Fantastic Beasts is just the latest instalment on her journey and the 31-year-old has a childlike excitement about appearing in a JK Rowling project.
For one thing, she was enamoured by the Potter universe. She talks about the Rowling books offering her comfort in the way a child holds a teddy bear. "This is a wild surreal dream for me, I read all of the books. I read some of the books on tour, actually, and it's really lovely to have that sort of universe to escape to, because when you're on tour you are constantly moving from city to city and then it's all quite disorientating, and then to go to such a strong vivid world in my bunk at night is really quite lovely."
Fantastic Beasts And Where To Find Them IMAX Premiere Featurette
As well as writing songs, she also has been working on her own children's story. A fact she seems slightly embarrassed to talk about, as it's far from done. "It [the book] makes it all of this more surreal because that is how my mind works. Naturally. It's really long and needs editing and I can't face it. One day when I can face editing a 400-page novel down to 200 pages, you will hear about it." The suggestion that she ask Rowling to help cut it down is met with the kind of laughter that tells the questioner that she thinks such an idea is beyond crazy.
Access unlimited streaming of movies and TV shows with Amazon Prime Video Sign up now for a 30-day free trial
Sign up
She has though found new creative juices for her music career and a new album, to be released under her own name, is in the works. During the shooting of Fantastic Beasts she would escape to Bristol to record songs. Just being able to wander around the sets, that turned Leavesden Studios in north London into 1920s New York set her creative juices flowing. "The sets are so massive and powerful that I had quite a few moments of just stopping and looking around and trying to take it in."
The film shows author Newt, played by Eddie Redmayne, as he is doing research for the book. His adventures take him to New York where he becomes fast friends with two witches, Sudol's Queenie and her sister Tina (Katherine Waterston), as well as a human called Jacob (Dan Folger). In a number or Americanism's, Rowling has flipped some of the Potter terms, so those with no knowledge of magic are now designated as no-maj rather than muggles. The quartet are soon also doing battle with sinister dark forces.
The action that takes place at Christmas in 1926, and between takes she and Dan Folger would sing carols at the top of her voice. The story revolves around the adventures of Newt Scamander, who in the Potter universe has written an encyclopaedia collating all the fantastic beasts in the universe. It's read by first year students at Hogwarts and in 2001, supporting Comic Relief, Rowling published a version of the textbook.
Living in London while making the film was also inspiring. "It's having a huge impact on me as a person. I love the culture, I can spend entire days walking, going to museums, parks and coffee shops and just observing people. In LA you can be quite isolated, but in London you can ride the Tube and are right in the thick of humanity and every type of person that you can imagine is passing by. I love watching people."
Now though, people are going to be watching her closely. Fantastic Beasts is the type of blockbuster that has cinema chains rubbing their hands at the guaranteed sold-out notices and popcorn sales. Sudol would have been one of those on line and doing the Potter tours if she didn't have such a prime seat: "I would have paid to go to this theme park, yet I get to be part of it," she spouts, positively revelling in being part of the movie magic.
'Fantastic Beasts and Where to Find Them' is on general release from 18 November
Register for free to continue reading
Registration is a free and easy way to support our truly independent journalism
By registering, you will also enjoy limited access to Premium articles, exclusive newsletters, commenting, and virtual events with our leading journalists
Already have an account? sign in
Register for free to continue reading
Registration is a free and easy way to support our truly independent journalism
By registering, you will also enjoy limited access to Premium articles, exclusive newsletters, commenting, and virtual events with our leading journalists
Already have an account? sign in
Join our new commenting forum
Join thought-provoking conversations, follow other Independent readers and see their replies