The Independent's journalism is supported by our readers. When you purchase through links on our site, we may earn commission.
Interview
Ally Sheedy: 'The Brat Pack label was undermining – and the ladies weren't part of it anyway!'
The cool one from 'The Breakfast Club' talks to Adam White about misogyny in Hollywood then and now, interrogating the film that made her a star, and arguing with director John Hughes about her character's onscreen transformation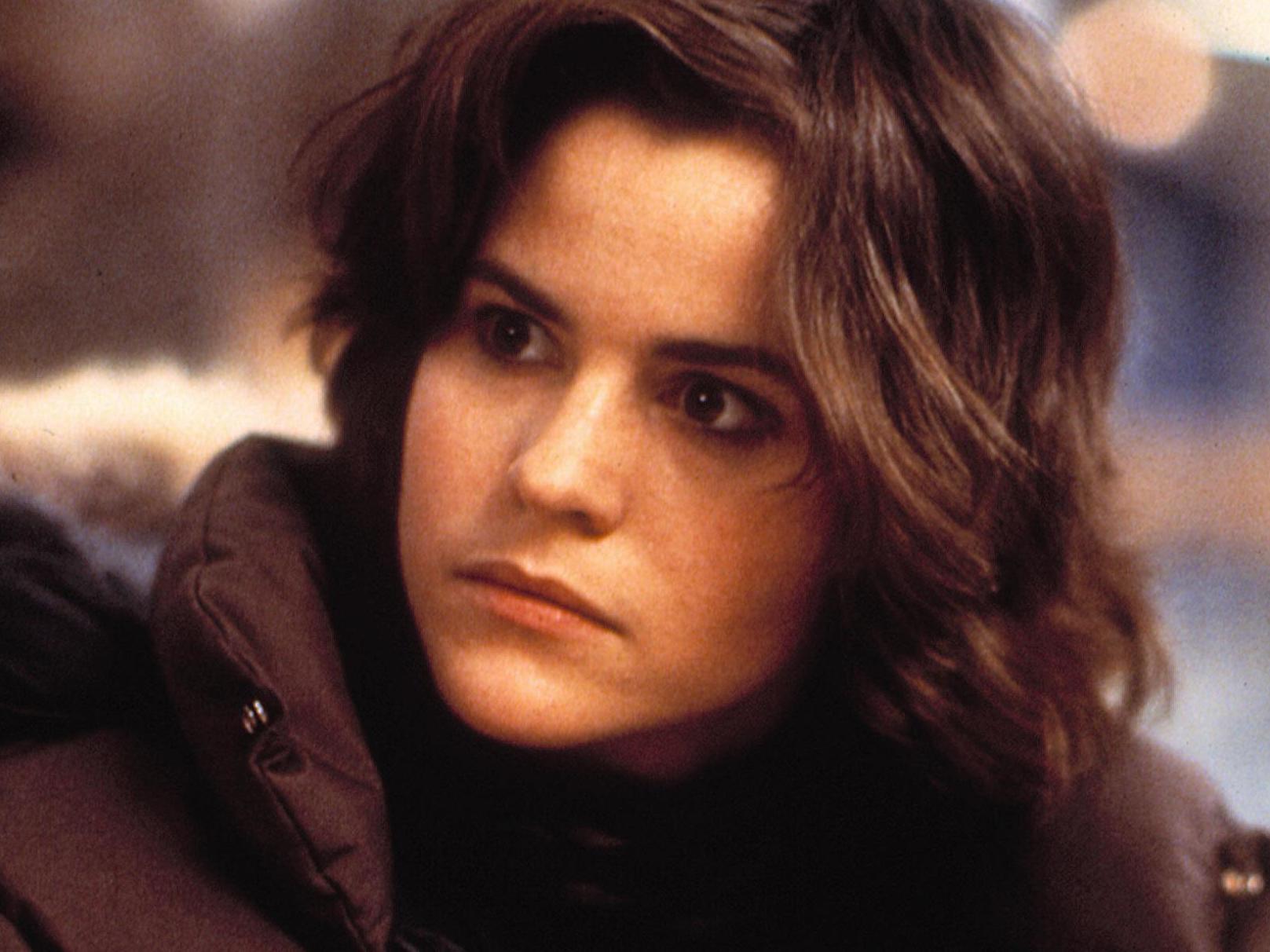 Ally Sheedy's son didn't want to watch any of his mother's films. Unfortunately, she starred in The Breakfast Club, one of the most important touchstones in American cinema, and it just so happened to be a part of the young Beck Lansbury's film class curriculum. "He was about 12 or 13 and they were showing him and his class a whole bunch of films that said things about the culture over the decades," Sheedy remembers. "Afterwards, he told me it was a good movie, that he liked my character, and that he thought I did a good job. He was the audience member I was most concerned about, so it was a relief. It also gave me a little tiny modicum of coolness with my son, so I really appreciated that."
It's 35 years on Sunday since the film was released in the UK, yet it makes sense that Sheedy's son still found her character so compelling. Of the five disparate high schoolers forced to interact with one another during a long Saturday detention in John Hughes's iconic teen film, Sheedy's character was always secretly the coolest. Allison Reynolds was the black-clad "basket case" and compulsive liar of the group, who was prone to weird noises, light thievery and hiding behind her hair. Around her were the popular princess (Molly Ringwald), the jock (Emilio Estevez), the brain (Anthony Michael Hall) and the marijuana-toking criminal (Judd Nelson). It was Allison, though, who stole the film in all her strange glory.
It's meant that, for many of us, Sheedy has been encased in amber since 1985. That was when The Breakfast Club was released, a year before she starred opposite a robot in Short Circuit. Somewhere in between she was anointed the moody wallflower of the Brat Pack – the vaguely demeaning nickname given to Sheedy, her Breakfast Club cast-mates and the equally up-and-coming actors they always seemed to act alongside: Rob Lowe, Demi Moore, Andrew McCarthy and a young Robert Downey Jr, to name but a few.
As a consequence, it is jarring at first to see her in 2020, speaking over Zoom from her home office in New York, promoting a live-streamed NOW TV watch party for a film she made when she was 21. It's an unexpected collision of two very different eras, even if Sheedy, now 57, looks and sounds much the same – the pitch-black hair, that sharp and striking face, the firm if warm huskiness of her voice. If Allison was the intriguing oddball high schooler, edgy and strange but undeniably beguiling, Sheedy now resembles your favourite teacher – the kind of mentor figure who would let you eat your lunch in her classroom rather than in the cafeteria with the peers you hate. It's also a fitting comparison, for Sheedy today makes her living from teaching acting, as well as editing books under a pseudonym. Acting, for the most part, is in the rear view.
"Acting in movies started to lose meaning for me at a certain point," she explains. "Other things came in that felt more purposeful. They made me feel like I was actually making a contribution to the world in some way."
Sheedy's life and career has been one of repeated ups and downs, all played out on film and in the press thanks to her rare outspokenness about the realities of Hollywood. The daughter of a New York literary editor and an advertising executive, Sheedy trained as a ballet dancer, wrote a children's book at 12 and fell in love with acting soon after. While studying drama at the University of Southern California, she began booking movies, including the Sean Penn thriller Bad Boys (1983) and the teen hacker classic WarGames (1983). It was The Breakfast Club that made her a star, though, and it's the film she's been asked about ever since. She doesn't flinch about it, unlike some of her fellow Clubbers. Speaking to The Guardian earlier this year, Estevez seemed eager to change the subject whenever anything vaguely John Hughesian came up. Sheedy admits that she understands that impulse. "It's been a long time," she says, "and I guess some of the cast feel like they're at different points in their lives and maybe don't feel like revisiting it all over again. Thirty-five years can change you."
Besides, the subject of John Hughes movies is not always an easy one these days. In 2018, Ringwald wrote an essay for The New Yorker about rewatching the movies she made with Hughes (which also included Sixteen Candles and Pretty in Pink) through a post-#MeToo lens. Elements of The Breakfast Club made her particularly uneasy, specifically a scene played for laughs in which it is implied her character, Claire, is groped beneath her skirt.
Sheedy says that she still loves Hughes, who died in 2009, but that she found Ringwald's essay to be "wonderful". She also agrees that parts of the film have aged poorly. "I think it's a good thing to interrogate this stuff," she says. "It's a very good thing. And seeing which parts of it are still relevant or dated and how it speaks to some young people and not to others. I don't like to watch myself onscreen whatsoever, so I haven't actually seen The Breakfast Club in a long time, but I'm interested to see what my own responses are going to be to it next time I do."
One element of the film she has always disliked is her character's end-of-film makeover. It saw Claire transform Allison's appearance, covering her in blush and eye-shadow and giving her a pink dress and headband to wear. "You know you really do look a lot better without all that black s**t on your eyes," Claire tells her. Only after Allison has changed herself does a boy deign to kiss her.
Access unlimited streaming of movies and TV shows with Amazon Prime Video
Sign up now for a 30-day free trial
Sign up
Access unlimited streaming of movies and TV shows with Amazon Prime Video
Sign up now for a 30-day free trial
Sign up
"I never liked the makeover," Sheedy declares. "Listen, it was Hollywood in the Eighties. They wanted to take the ugly duckling and make her into a swan. As far as I was concerned, that wasn't what I was doing with that character, but that was what they wanted."
Sheedy says that both she and Ringwald petitioned Hughes to change it so as to promote a less negative message. She didn't want Claire to put make-up on Allison's face, and had hoped that her physical transformation would involve merely slipping off her enormous black sweater and wearing with pride the plain white shirt she had on underneath. "I tried to negotiate with John that it would be about taking stuff off, or Allison taking down this wall that she had put up to keep people at arm's length. They didn't go for that. So I ended up wearing this girly, pinkish kind of thing." She holds her hands up at the memory. "Listen, at a certain point, when you're 21, you just have to go with what they were doing. I knew what it was, that it was about glamourising her in a particularly stereotypical way, but…" She sighs. "I tried my best."
Sheedy's experiences in the Eighties, both before and after The Breakfast Club, followed a similar pattern, particularly when it came to trying to change an industry that had no interest in listening to her. That she became synonymous with a crowd of wild, reckless teenagers propelled into movie stardom didn't help. The term "Brat Pack" – a play on the Sixties' Rat Pack that surrounded Frank Sinatra – was coined by journalist Mark Blum in the summer of 1985, after he joined Estevez, Nelson, Lowe and Downey Jr for a night on the town. "And that's never a good idea," Sheedy jokes.
The way Sheedy describes it, the women connected to the quartet by proxy of being in movies with them were sullied by association. "The ladies weren't there! I think he got one particular angle when the truth is that the guys would hang out a bit, but we weren't hanging out as one big group. We weren't young actors running around town spending all our time together. I thought it was a little gossipy and undermining, and I didn't know that it was going to stick the way that it did. It was uncomfortable for quite a long time."
It meant they collectively got a bad reputation, doors suddenly became closed, and many of the group had to fight to be taken seriously as actors. Sheedy had her own movies (the 1986 action thriller Blue City and 1987's rich-girl-gone-broke comedy Maid to Order – both of which were directed by female filmmakers), but they struggled at the box office. Respect was also hard to come by. Sheedy has suggested she didn't appear in 1988's Short Circuit sequel as they refused to give her a bigger salary, despite her being the female lead in the original film.
"I loved working and I loved making movies," Sheedy remembers. "There was a period in my life that, when I look back on it, I felt very much at ease and comfortable with the whole world. But then that changed for me."
As her commercial viability dimmed in the eyes of the industry, Sheedy was suddenly asked to entirely change her image in the hopes of winning more roles. She has previously said that producers told her she wasn't "f***able", and that she had managers who pushed for her to get breast implants.
"As time went on, the white men's club in Hollywood became more and more uncomfortable," she explains. "I preferred to work with women, but I didn't have that many opportunities to do so. Hollywood was and is a misogynist culture. There was quite a bit of pressure on me from the men in power about what I looked like, and about this and that and the other thing. Acting started to just feel more and more to me like something that I didn't want my life to necessarily be about."
In 1991, Sheedy published a book of poetry that documented her struggles with addiction, an eating disorder and depression. She told The Baltimore Sun that year, "When I came to Hollywood in 1980, I was compulsive and smoking a lot of pot. I went to see a counsellor and got sober for seven years. Then I fell in love with somebody who is a heavy drinker, and it started all over again. I would take tranquillisers… they were my means of escape." Aided by Demi Moore, she went into rehab and recovered. She would marry in 1992 and have her son in 1994, all while struggling to find acting work. "I couldn't get arrested," she joked in 1998. That same year she experienced a career comeback via Lisa Cholodenko's High Art, an independent film in which she played a renowned, heroin-addicted photographer who had faded from the limelight. Sheedy, who won an Independent Spirit Award for her work in it, is phenomenal – feral, wounded and desperately raw.
"It was the role of a lifetime," Sheedy says today. "I identified with that character in so many ways. It was almost all women on the set, and everything came together and worked beautifully. It was one of those experiences that made me feel, 'ah, you know, I'm glad I've done this with my life.'"
In the wake of High Art, Sheedy continued to act in independent films, working for directors including Todd Solondz, Allison Anders and Adrienne Shelly, and onstage. She also hasn't entirely quit the business, despite saying in 2018 that she had (while watching the Golden Globes deify her former co-star James Franco, then the subject of a number of sexual misconduct allegations that he denied, she tweeted and then deleted: "James Franco just won. Please never ask me why I left the film/tv business"). "I still love acting and I love to work," she says. "If something came along that was wonderful and engaging and complex, where I was working with people who really did want me to work with them, I would jump at the chance."
For now, though, she's looking back. Even if some of it is difficult. "Acting has just folded into my entire experience of life," she explains. "It's not a separate thing. I can't look at it from outside of it, so it's always a mixed bag. If you look back at what you were doing 30 years ago, you're gonna have some conflicting feelings. Bad things just happen to be woven in there for me."
That's always been Sheedy's Hollywood, after all – a lot of fun, a lot of wading through ugliness, but the worst of it becoming less painful as time goes on. Appropriately, it's a bit like high school.
The Breakfast Club can be streamed on NOW TV with a Sky Cinema Pass, which allows you to stream more than 1,000 films for just £11.99 a month
Join our commenting forum
Join thought-provoking conversations, follow other Independent readers and see their replies