American Sniper: How navy sharpshooter Chris Kyle's story became a political battleground
A totem of the right, to liberals Chris Kyle is a symbol of imperialist aggression, as Terrence McCoy reports
Terrence McCoy
Tuesday 20 January 2015 20:48 Comments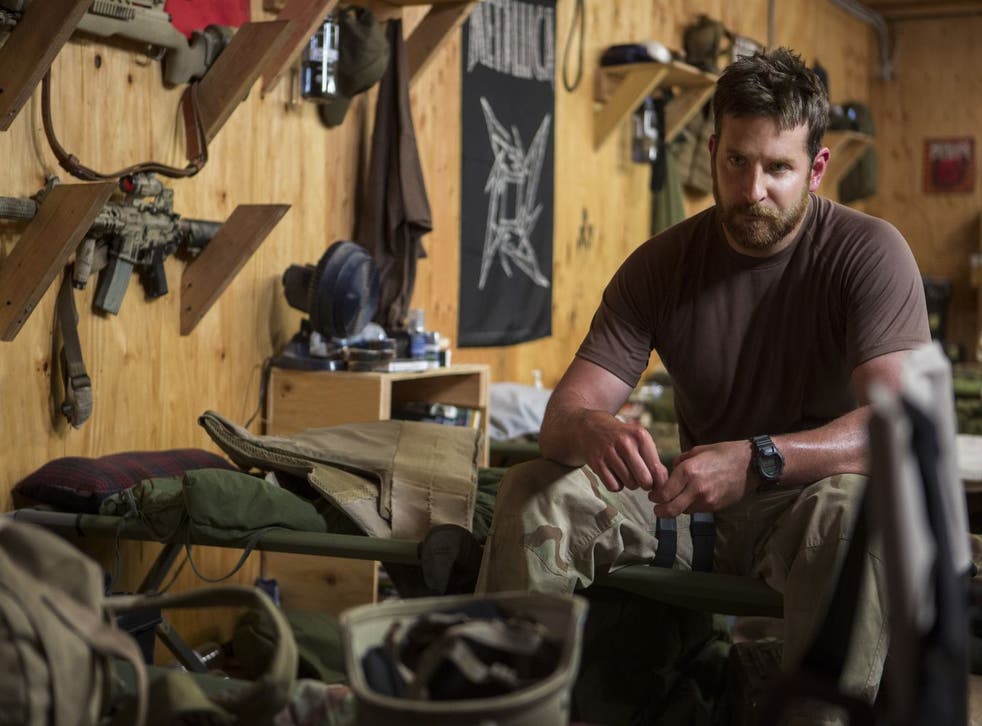 In the States, it's this week's most popular film, and everyone involved claims it has nothing to do with politics. "Really," star actor Bradley Cooper stressed over and again in interviews, director Clint Eastwood's American Sniper simply explains the "plight" of a soldier, and provides a "character study".
But this was no ordinary soldier. This was the late Chris Kyle, the much-mythologised "deadliest sniper" in American history. And regardless of what Cooper wants, his film has become political.
Before he was shot dead at a Texas gun range two years ago, Kyle, who claimed that he killed scores of people as a sniper in Iraq, oozed conviction and charisma. He wore big boots. He spoke with a languid Texas drawl. He wrote a bestselling memoir. He made millions. And he stirred controversy just about everywhere he went.
The conversation that now shadows American Sniper – which was released worldwide last Friday, and collected a record $105m (£69m) in the US over the weekend – has been no different. After early screenings, which the Associated Press called an "unprecedented success", the film has been subject to widespread praise among conservatives for depicting an American soldier at his best, and condemnation among liberals who question the admitted pleasure Kyle took in killing and dehumanising Iraqis.
Then there were the tales Kyle told about himself, which came under increasing suspicion after numerous journalists tried – and failed – to corroborate them. Among them: he shot dead two armed Texas thugs who wanted to steal his pick-up truck; and he travelled to New Orleans and killed 30 bad guys in the chaos following Hurricane Katrina. He also falsely claimed that he punched former Minnesota governor Jesse "the Body" Ventura after Ventura, a former special forces operative himself, disparaged the US Navy Seals.
Oscars 2015 nominations

Show all 28
But anyone who mentions such holes in the Chris Kyle narrative or critiques his ethos does so at their own peril. It's a lesson that journalist Rania Khalek learnt last week when she let loose with a series of tweets that took aim at Kyle's book, also named American Sniper.
"Savage, despicable evil," Kyle wrote. "That's what we were fighting in Iraq. That's why a lot of people, myself included, called the enemy 'savages.' There really was no other way to describe what we encountered there." He later added: "There's another question people ask a lot: 'Did it bother you killing so many people in Iraq?' I tell them, 'No.' … I loved what I did. … I'm not lying or exaggerating to say it was fun."
To Khalek, any movie that lionises Kyle represents "dangerous propaganda that sanitises a mass killer and rewrites the Iraq War". She said that Kyle was consumed by "unrepentant bloodlust" fuelled by "hatred, bigotry and enthusiasm for killing Iraqi 'savages'". Khalek received death threats almost immediately for her comments.
One man, who has since had his Twitter account deactivated, told her that she "need[ed] to be shot dead. Do [us] all a favour… go kill yourself." Or, as the left-wing website Alternet commented after posting an article critical of Kyle: "This kicked off an endless flood in our Twitter mentions of outraged right-wing military worshippers who've whipped themselves into a hateful frenzy out of blind obedience to a mass killer."
Access unlimited streaming of movies and TV shows with Amazon Prime Video Sign up now for a 30-day free trial
Sign up
Even those who were less incendiary were met with online venom. On Saturday, The Interview actor Seth Rogen, who himself just emerged from a political storm, said, "American Sniper kind of reminds me of the movie showing in the third act of Inglourious Basterds," referencing a Nazi propaganda film inside Quentin Tarantino's film that glorifies a sniper. Rogen quickly backed off the remark, adding he "actually liked" the film. But that wasn't before he got walloped: "Amazing considering guys like Kyle are the reason you're not sitting in a N Korean prison right now," one person told him.
On 18 January, documentary filmmaker Michael Moore tweeted: "My uncle killed by sniper in WW2. We were taught snipers were cowards. Will shoot u in the back. Snipers aren't heroes. And invaders r worse." He, too, doubled back, saying he thought that Cooper's performance was great. But, he added, "Most of us were taught the story of Jesse James and that the scoundrel wasn't James (who was a criminal who killed people) but rather the sniper who shot him in the back. I think most Americans don't think snipers are heroes. Hopefully not on this weekend when we remember that man in Memphis, Tennessee, who was killed by a sniper's bullet."
Even Sarah Palin entered the fray, excoriating "Hollywood leftists" for "spitting on the graves of freedom fighters who allow you to do what you do, just realise the rest of American knows you're not fit to shine Chris Kyle's combat boots".
The exchanges are just the latest eruption in a long culture war. "As screenings have sold out, the conservative media has manned barricades against liberals who have attacked the movie," conservative David Weigel wrote for Bloomberg. He noted that much of the controversy involves the extended battle over guns – and gun control – and pits pro-Iraq war conservatives against anti-war liberals.
But it also hints at another gulf in American politics: the plummeting number of Americans who serve in the armed services has given rise to a widening divide between civilians and combat veterans. During the Second World War, more than 12 per cent of Americans served in the military. Today, fewer than ½ per cent do, and many of them are what military analyst Thomas Ricks calls "socially isolated, politically conservative". That growing chasm has resulted in a modern America in which few grant much thought to soldiers except for ritualised reverence.
If there is any cultural force that exacerbates misunderstandings, it's films such as American Sniper, according to Karl Eikenberry and David Kennedy in The New York Times. To many conservatives and members of the armed services, Chris Kyle was a man beyond reproach, and to criticise him disrespects both the military and those who choose to serve.
"The greatest challenge to our military is not from a foreign enemy – it's from the widening gap between the American people and their armed forces," the authors wrote in 2013. "The media offer us images of drone pilots, thousands of miles from the fray, coolly and safely dispatching enemies in their electronic cross hairs. Hollywood depicts superhuman teams of special operations forces snuffing out their adversaries with clinical precision."
To quote another military observer – this time from the Crimean War: "C'est magnifique. Mais ce n'est pas la guerre."
Chris Kyle was a killer. But was he a liar too?
Chris Kyle, muscle-bound, grim-faced and lethal, liked to tell stories. He was killed on a gun range two years ago, aged 38, by a troubled veteran. But before his murder, the so-called deadliest sniper in American history nurtured a comic-book narrative.
The "true American badass", as one journalist called him, wore big boots and affected an "aw shucks" Texas swagger. With scores of confirmed kills under his belt, he became the stuff of military legend. Statues were erected. He wrote a best-selling book.
And then there were the stories he told of himself – some of which, according to his biographer Michael J Mooney, "are really unverifiable". Such as the one in which he shot dead two hoods bent on stealing his truck. Or the one he told about former Minnesota Governor Jesse "The Body" Ventura.
According to Kyle, he had punched Ventura out at a bar in 2006 for criticising the Iraq War and saying the Seals "deserve to lose a few". According to Ventura, that was false. And a Minnesota jury, which last July awarded Ventura $1.8m (£1.19m) in damages from Kyle's estate, agreed. No one denied that Kyle was an exceptional soldier – but the verdict laid bare a separate side of him: his bravado.
His writing is drenched in braggadocio. "People ask me all the time, 'How many people have you killed?'" he wrote in American Sniper. "My standard response is, 'Does the answer make me less, or more, of a man?'"
Manliness, however, was clearly an issue to him. Leaving the Seals and returning to Texas in 2009, the tales became taller. "After his incredible military career, he felt such high pressure to maintain his image," says Mooney, and one way he did this was through bar fights, blaming his behaviour on "pent-up aggression". He told a story in his book of one time that he and a pal pummelled a few "wannabe Ultimate Fighters" in a bar. "I would rather get my ass beat than look like a pussy in front of my boys," he wrote.
That sense of superhuman toughness perhaps led him to tell stories reporters couldn't confirm. One involved a cold January morning at a gas station south-west of Dallas. Two armed men, he said, approached him and told him to hand over the keys to his black Ford F350 pick-up truck. "I told them I would get them the keys," he told Mooney. "I told them they were in the truck and to just let me reach in." Kyle then claimed he reached into the car, pulled out a gun and, shooting under his armpit, killed both men. "It's true," he said.
But was it? The medical examiner's office reported no such deaths in Cleburne in January 2009. Reporters, including the New Yorker's Nicholas Schmidle, called some of the nearby county sheriffs and none of them knew of it. "I went to every single gas station [nearby]," Mooney explained. "I talked to every single law enforcement out there, all the Texas rangers — and there's no evidence whatsoever."
Years after those alleged killings, Kyle had another story to tell. This one referred to the 2005 vacuum of authority in New Orleans following Katrina. According to The New Yorker, seven years later, during a late-night drinking session with a few other Seals, Kyle revealed that "he and another sniper travelled to New Orleans, set up on top of the Superdome, and proceeded to shoot dozens of armed residents who were contributing to the chaos".
One of those present said Kyle "claimed to have shot 30 men on his own"; one said Kyle and the other killed 30 between them. Whichever, neither the US Special Operations Command nor one of Kyle's officers had any knowledge of such unlicensed slaughter.
Does that mean it didn't happen? Who knows? It's certainly possible. It's also possible that Kyle killed two Texan thieves and their bodies disappeared. And that he killed 30 armed assailants in New Orleans to protect its residents in Katrina's aftermath. But it's also possible Kyle couldn't let go of his own legend, and, in a haze of post-traumatic stress, allowed his tales veer into untruth.
Even now, the most important aspect of his myth remains unclear. His book says that the US Navy confirmed that he killed 160 in Iraq. Kyle, for his part, claimed that he killed 255.
© Washington Post
Register for free to continue reading
Registration is a free and easy way to support our truly independent journalism
By registering, you will also enjoy limited access to Premium articles, exclusive newsletters, commenting, and virtual events with our leading journalists
Already have an account? sign in
Join our new commenting forum
Join thought-provoking conversations, follow other Independent readers and see their replies