Ami Canaan Mann: A graduate of the family business strikes out
Her dad directed Heat but Ami Canaan Mann's new crime film proves she's a talent in her own right. James Mottram meets her
Friday 30 September 2011 00:00 BST
Comments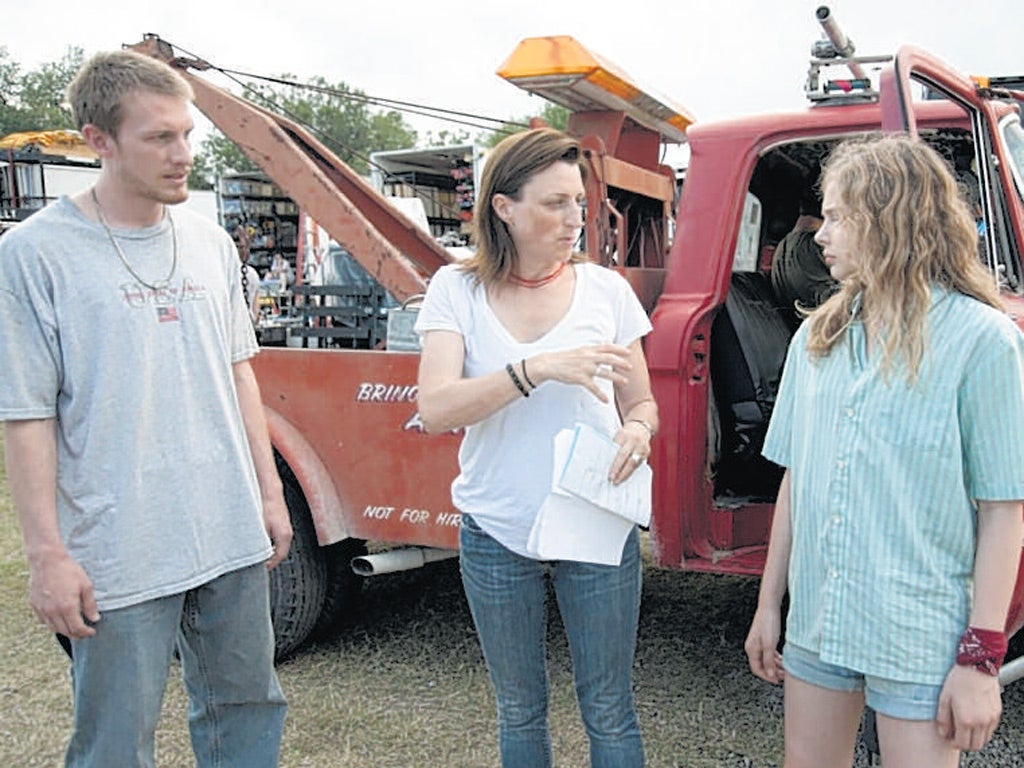 Ami Canaan Mann arrives for our interview with a black cushion. "It's because I'm so short," she admits, slightly abashed, as she slides it underneath her. She's not much less than her 5ft 8in father, though it's a stretch to imagine the hardboiled Michael Mann, director of such for-the-boys films as Heat, The Insider and Collateral, travelling to his press duties with soft furnishings. He usually turns up with a tape recorder and a suspicious frown.
At least she is sitting down, though: "My assistant said to me at one point that apparently I never sat down on set and it became a joke. My director's chair was just always there, empty." She talks like her father's child, intense, energetic and obsessive. So it's no shock that Texas Killing Fields, her second film as director, bears the hallmarks of the Mann family brand.
With her father acting as producer, the plot could have been lifted from Robbery Homicide Division, the crime television series from 2002 that he oversaw. Two hard-bitten detectives (Sam Worthington and Jeffrey Dean Morgan) are assigned to investigate the murder of an unidentified teenage girl, a case that leads to a desolate patch of swampland known as the "killing fields", outside of Texas City.
Fact and fiction chillingly collide here. Since 1969, the Texas Killing Fields had become a dumping ground for more than 50 female victims of sexual assault and murder, the cases unsolved. The script is the work of a former DEA agent, Don Ferrarone, an advisor to Michael Mann on Heat and the 2006 film of Miami Vice. Mann Snr met the detectives investigating these murders, suspected to be the work of a handful of killers over the decades. He commissioned Ferrarone to write the script, but his daughter tuned in when she found a map pinpointing where the victims were found, illustrated with headshots. "I don't know if you've ever seen a photograph and you can't take your eyes off it, but there was something about seeing these girls. What struck me is they all had hair-dos that were indicative of their decade – be it Eighties bangs, Nineties streaks, whatever. They were looking at us, me, and there was a feeling that struck me. I felt like they were people who had literally had their voices taken."
Shot in just 32 days, Texas Killing Fields is by no means perfect but nobody can doubt Mann's intentions. The script relies on the cliché of the mismatched cops, but it does play loose with black-and-white Hollywood moralities. "I didn't want to do: there are good guys, bad guys, we find the bad guy and we feel good at the end when we walk out of the theatre," she says. Recalling the everyday maniac of Henry: Portrait of a Serial Killer, as she puts it, "[the killer] could be in your grocery store right now, buying milk. Because that's what happens in life."
From the film's authentic feel, you'd think Mann, 40, was a Texas native. In fact, she was born in London, then raised in Dayton, Indiana – "a town that had a population of less than 1,000 people, and one television channel, and no movie theatre." Living without her father – her parents divorced in the early 1970s – Mann played the viola; the closest she got to film was photography. "I'd spend too much time in the dark room doing my own printing."
It wasn't her father's work that initially made an impact on her. "Somehow I couldn't divorce him from the film," she muses. Rather, she was wandering through her living room one day when she saw Francis Ford Coppola's Apocalypse Now on television, and became transfixed. "I don't know what it was but there was that moment where I realised, everything I am seeing is a series of decisions made by somebody and this was their vision, and it was all being cobbled together to have this collective effect on me."
She began to visit her father's sets in LA, scoring a job at 16 as a production assistant in the art department on Crime Story, a TV show he produced in the mid-1980s. "There's something about being amidst the electricians and the cameras that felt right."
Mann "had to be talked into returning to high school" afterwards. After finishing, she went to USC film school in California before receiving a more comprehensive education on the set of Heat. Helping research the film, she saw it evolve from "when it was just really Michael and his assistant, and Al [Pacino] and Bob [De Niro]" right through to its celebrated release.
Access unlimited streaming of movies and TV shows with Amazon Prime Video
Sign up now for a 30-day free trial
Sign up
Access unlimited streaming of movies and TV shows with Amazon Prime Video
Sign up now for a 30-day free trial
Sign up
Since then, Mann has used her father's influence sparingly (she directed one episode of Robbery Homicide Division) while carving out a career penning TV shows such as NYPD Blue. When it came to Texas Killing Fields, "First of all, he's working on his HBO show Luck, so he would come in for a couple of days here and there," Mann says. "He understands that when you are directing on a set, you need to have a certain amount of autonomy and a certain amount of authority." So how is she on set? As tough as her father is said to be? "I'm not a yeller," she says. "I'm more of a talker." Just don't expect her next film to be a rom-com – "or something about puppies", as she jokes. She's still her Daddy's girl.
'Texas Killing Fields' opens on 14 October
In the blood: 5 Director Daughters
Sofia Coppola
Oscar-winner for 'Lost in Translation', known for her quiet, meditative films – the polar opposite to the grandiose works of her father, Francis Ford Coppola.
Amy Redford
Daughter of Robert, she debuted with 'The Guitar', an insipid tale about a terminally ill woman following her dreams. Unsurprisingly, won a berth at her father's Sundance festival.
Anjelica Huston
Offspring of the legendary John Huston, the actress turned in 'Bastard out of Carolina' and 'Agnes Browne'. Respectable, but not enough to warrant giving up the day job.
Jennifer Lynch
Her debut, 'Boxing Helena', was critically shredded; her second, 'Surveillance', fared little better. Not what you'd hope from the daughter of David Lynch.
Jordan Scott
Highly personal, her boarding school-set debut feature, 'Cracks', was far removed from the epic visions of her old man, the 'Gladiator' director Ridley Scott.
Join our commenting forum
Join thought-provoking conversations, follow other Independent readers and see their replies