The Countdown
Amy Adams: Her 10 best performances ranked, from Arrival to Enchanted
Few A-listers have a range quite as vast as Amy Adams, who has played everything from the Lady Macbeth of a sinister spiritual movement to a Disney princess come to life. To mark the release of Adams's Netflix drama Hillbilly Elegy, Adam White ranks her greatest performances so far…
Thursday 19 November 2020 17:06
comments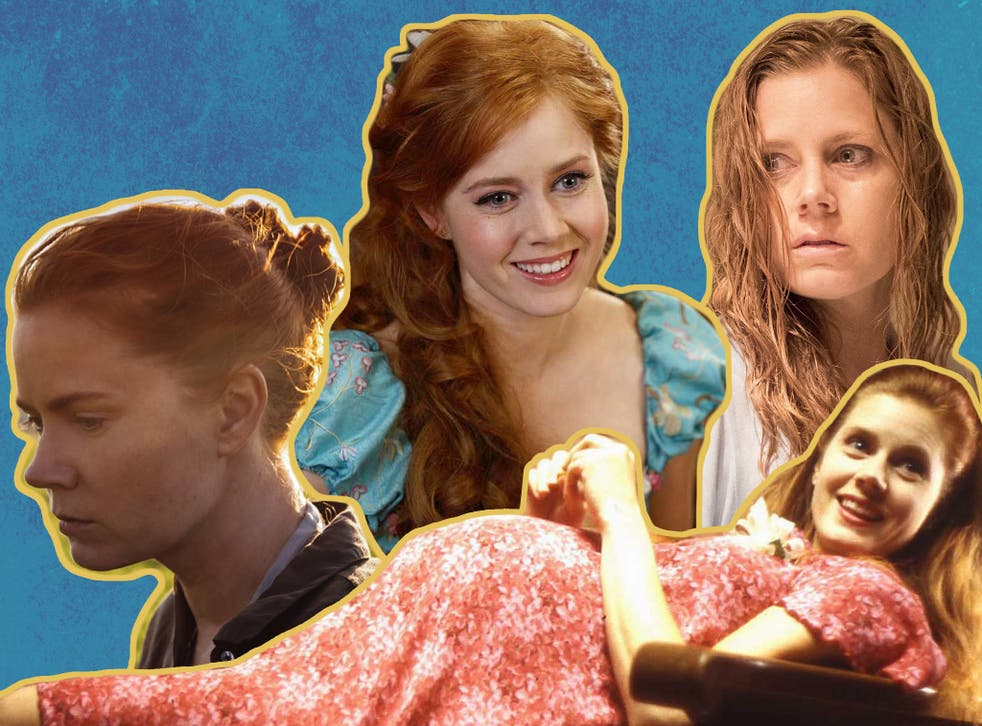 Amy Adams became the new Leonardo DiCaprio once DiCaprio finally got his Oscar. Much like DiCaprio pre-The Revenant, a feeling of "bizarrely underappreciated acting genius" has swarmed Adams… on the internet at least. And that's despite her numerous Oscar nominations (six in total) and her existence as an incredibly in-demand actor. She might be in a rarefied field only reserved for a specific tier of Hollywood talent, but a universal truth remains: Adams is slightly under-awarded and under-valued considering the powerhouse performances she's given throughout her career.
That doesn't mean Adams's fans are willing to settle for any kind of glory, however. Adams only occasionally has a misstep, as in this month's "sickeningly irresponsible" (gulp) Netflix drama Hillbilly Elegy, and the film's Oscar-season release has driven certain pundits to beg the awards-show Gods to not give her that long-awaited Oscar for this particular movie. Surely, after so many more deserving performances in her back catalogue were overlooked, she warrants a less problematic win?
To celebrate (or, if we're being honest, distract from) the release of Hillbilly Elegy, which arrives on Netflix on 24 November, we've ranked Adams's greatest acting roles so far.
10. Catch Me If You Can (2002)
Adams has admitted to being slightly confused that this Steven Spielberg caper didn't serve as her breakout role. She struggled to find work for two years in its wake, playing second fiddle to Debra Messing in a bad romcom called The Wedding Date and even getting fired from a forgotten Rob Lowe TV series titled Dr Vegas. Even stranger is that Adams is so wonderfully fearless in it, playing an adorably naïve teenager who unknowingly becomes engaged to a conman (Leonardo DiCaprio). It's a damning indictment of this era in Hollywood that Adams didn't immediately ascend from here.
9. The Fighter (2010)
Adams has smartly out-maneuvered typecasting over the years, veering left whenever she plays wide-eyed innocents one too many times in a row. The Fighter came on the heels of Adams playing a jittery nun in Doubt (2008) and her breakout role in the indie Junebug (2005), which we'll discuss shortly, and allowed her to spread her wings. Here, Adams is a perfect "around-the-way girl" – sexy, volatile and forthright, raised on the streets and with Boston toughness running through her veins. She takes a potentially shrug-worthy role of a boxer's girlfriend and runs with it. It deservedly gave her a third Oscar nomination.
8. Sunshine Cleaning (2008)
Adams's early career was unusually sexualised considering she would become famous for playing virtuous nice girls. In films such as Cruel Intentions 2 (2000) and the Matthew Perry/Elizabeth Hurley romcom Serving Sara (2002), she was cast as barely dressed prom queens quick to market their sexuality. Sunshine Cleaning, a little-seen indie she made with Emily Blunt, sees her return to that "type", only a decade or so after their prime. She is an upbeat if desperately sad woman in her early thirties who has realised she peaked in high school, and now makes a living cleaning up murder scenes. Sunshine Cleaning feels like a kiss-off to Adams's early typecasting, and a major declaration of what she can bring to the table when given the opportunity.
7. Enchanted (2007)
There's an argument to be made that Enchanted holds the quintessential Amy Adams performance. She sings and dances, is sweetly devoid of vanity, and is so wincingly sunny that you can't help but fall in love with her. She plays Giselle, a hand-drawn fairytale princess who is catapulted into live-action New York. Adams is also so convincing as a live-action Disney heroine that it's a mystery why the corporation went on to bother with the likes of Emma Watson or Yifei Liu.
6. The Master (2012)
If it is true that great acting is all about reacting, then The Master holds one of the greatest performances ever committed to film. Adams doesn't actually say much in this operatic Paul Thomas Anderson masterpiece, which is otherwise a fierce tête-à-tête between Joaquin Phoenix and Philip Seymour Hoffman. Yet she is powerfully omnipresent as Hoffman's wife, who is a mercurial presence in the higher echelons of a cult-like spiritual movement – always lurking, interjecting when necessary, and uniquely terrifying.
5. Drop Dead Gorgeous (1999)
This cult beauty pageant comedy features one of modern cinema's coolest ensembles (Kirsten Dunst, Allison Janney, Brittany Murphy and even Kirstie Alley are all spectacular), but it's arguable that Adams steals the show. Drop Dead Gorgeous was Adams's first film, the actor a local hire when the film began production in Minnesota, where Adams was working in community theatre. She makes the most out of a small part, playing a hyper-sexual ditz with a heart of gold.
4. Arrival (2016)
Adams's Dr Louise Banks should, in fairness, rank up there alongside Alien's Ellen Ripley among sci-fi's greatest female heroes. Not because she's physically tough or good with a machine gun, but because Arrival is such a showcase for female power in what is a typically masculine genre. Adams matches Denis Villeneuve's thoughtful alien invasion film perfectly – she is sorrowful, deep in grief and hauntingly reserved, with her trauma broken up by her sheer wonder at experiencing something she once thought impossible. It's a mesmerising performance, and one of Adams's very best. Naturally, it got her little of the same awards kudos she received for the turgid American Hustle (2013), Big Eyes (2014) or Vice (2018).
3. Her (2013)
Adams is so popular online because she seems to possess many of the qualities the internet brings out in its users: strange melancholy, quiet yearning, a kind of bittersweet malaise. It's best on display in Spike Jonze's Her, which grants Adams the most un-showy part (she plays the close friend of Joaquin Phoenix, who has fallen in love with his Siri-like operating system), yet one that she fills with blissful humanity. Here she is soft, slightly wounded, and yet nervously hopeful about things to come. If we were to guess the fictional character she's played who is most closely aligned to Adams herself, it's probably Adams's character in Her – she's even called Amy, which feels pointed.
2. Sharp Objects (2018)
It's strange to describe a performance as stressful, but Adams's work in this HBO limited series would be hard to convey any differently. Based on Gillian Flynn's bestseller, Sharp Objects is an unwieldy and gothic murder mystery, with Adams the self-harming and traumatised reporter at the centre. She delivers a transfixing bit of acting that is almost physically heavy, as if Adams had weighed herself down with rocks prior to the filming of each scene. Long before she becomes a bedraggled shell of a person at the end of the series, Adams's character embodies a sort of walking burial plot – all nightmares and tragedy, a woman carrying all kinds of secrets and terrified of learning more of them.
1. Junebug (2005)
If Adams struggling for work in the wake of Catch Me If You Can was weird, that she was propelled into the A-list by Junebug is even weirder. This is a minuscule fleck of dust of a movie, all about familial tension, buried hurt and tiny disappointments, with Adams its beating heart. She is the beautifully good-natured Ashley, nine months pregnant and giddy with excitement over the arrival of her educated, arty sister-in-law. Adams is funny, loveable and devastating throughout, ultimately earning the first of her many Best Supporting Actress nominations as a result. It should be said, though: if Junebug were made today, it would bypass cinemas, disappear into the Netflix algorithm and there probably wouldn't have been an Amy Adams as we know her. Something to think about.
Join our new commenting forum
Join thought-provoking conversations, follow other Independent readers and see their replies