Ana Lily Amirpour has created a completely new film genre - the Iranian Vampire Western
The UK-born, American-Iranian director knows how to surprise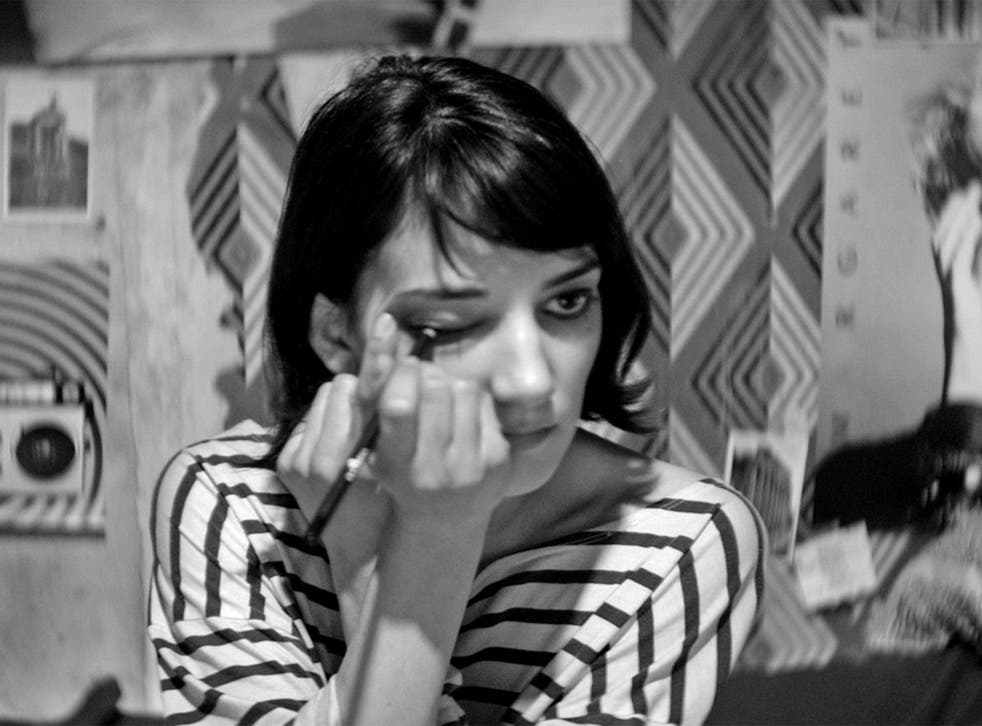 The hippest young director working in film today was born in Margate. Ana Lily Amirpour wowed Sundance with her debut A Girl Walks Home Alone at Night, which made her one of the most sought-after directors in the world. Actors clamoured to be in her second film, The Bad Batch, which is currently shooting and stars Keanu Reeves and Jim Carrey.
The British film industry can't really claim her as a homegrown success, though. There's the West Coast drawl, for a start. Her parents left Margate before Amirpour could form any memories of the place. "My mother hated living in Margate." So they moved to America, jumping from state to state. Amirpour grew up in Bakersfield, California; "It's where I had my first period. I think where you go through puberty is where you have to say you grew up." Her heritage is Iranian. Her father is a doctor and her mother a nurse who left Iran after the revolution.
Her debut is built on the best traditions of American indie cinema, with its cool soundtrack and hip monochrome cinematography. The New York Times praised its "Jim Jarmusch-like cool". Amirpour is not keen on the comparison, saying: "I'm not actually a Jarmusch fan." The character she compares herself to is Doc Brown from Back to the Future, a madman, locked up alone with his unique ideas, who does what he wants.
In her own way Amirpour is an inventor: she has created a completely new film genre – the Iranian Vampire Western. The characters all speak Farsi, although the film was shot on location in Taft in Southern California, where the landscape is dominated by oil derricks. It's a love story between the lonely handyman son of a junkie and an alienated female vampire who wears a chador and travels around town by skateboard. It's also the best vampire film ever made – if you don't like films with wooden stakes, garlic and creatures of the night.
The idea came to the UCLA film school graduate when she was making a short film and an extra walked through the set wearing a chador. The director asked to try it on and, looking at herself in the mirror, she felt like a bat. She immediately thought, "Iranian vampire" and wondered why no one had thought of it before.
The film defies categorisation and the same could be said of Amirpour. Her mantra is, "Film is a like a mirror to yourself and what you see in a movie is a reflection of yourself." So she prefers to hear what others think of her film than to answer direct questions about what the film says. Ask her about her background and she responds, "Does it matter?" before adding, "I wonder this because it seems like something that people fixate upon… honestly I feel this nervous anxiety about being asked what I am."
The two lovers in the film are alienated and lonely until they find each other. No one talks about race, or religion, or differences. Like many of the great directors, Amirpour challenges viewers' preconceptions without handing out justifications. She doesn't want to be pigeon-holed or to follow trends. Bad City, the fictional location of the film, is an American-looking town where some of the population speak Farsi. "Yeah, it's a mash-up, but it becomes really liberating, because as a kid growing up I wanted to be American, like my white American friends, but I am Iranian and my culture is very fixed and strong and it's been an overwhelming presence in my life. How do you explain that is part of who you are?"
Amirpour is close friends with her leading actress, Sheila Vand, who made her Broadway debut alongside the late Robin Williams in Bengal Tiger at the Baghdad Zoo. They met in 2009 and made short films together. Vand says of her director: "I was always very impressed with how relentless she was when it came to her vision of making things. It was one of the first things that jolted me about her that she wanted to make films that were about Iranian kids who were just like any other kids."
The soundtrack to A Girl Walks Home Alone at Night is one of the best in recent memory. At its heart are the spaghetti western-inspired sounds of Federale, the side project of Collin Hegna, guitarist with The Brian Jonestown Massacre. She met him after a gig with his main band, she told him about the film, and he mentioned his other band. It's the type of serendipitous meeting that she likes to cultivate. Her sets have a family feel, she says.
In interviews, Amirpour likes to wear clothes with the names of her favourite directors, David Lynch and Alejandro Jodorowsky, emblazoned across them. Of Mulholland Drive she says: "It's a movie about LA but it's the LA of David Lynch's mind." As for Jodorowsky, she's attracted more to the midnight movie classic El Topo that the lava lamp aesthetic of Holy Mountain. That said, the director has got used to doing things her own way. After film school she was signed up by a big agency and manager and found that they wanted to push her projects in the direction of getting big-name actors, writing out some of her quirkier elements. It was when she started to trust her own instincts that her career went into overdrive.
Megan Ellison, the 29-year-old film producer who was on Time magazine's list of 100 Most Influential People for her shrewd investments in such films as Her and American Hustle, has invested in Amirpour's second film. But how do you follow up something as unique as an Iranian Vampire Western, a film that is already well on its way to cult status? Amirpour has the answer: "The Bad Batch is a post-apocalyptic desert cannibal love story."
Now that's some tagline.
'A Girl Walks Home Alone At Night' is out tomorrow
Register for free to continue reading
Registration is a free and easy way to support our truly independent journalism
By registering, you will also enjoy limited access to Premium articles, exclusive newsletters, commenting, and virtual events with our leading journalists
Already have an account? sign in
Register for free to continue reading
Registration is a free and easy way to support our truly independent journalism
By registering, you will also enjoy limited access to Premium articles, exclusive newsletters, commenting, and virtual events with our leading journalists
Already have an account? sign in
Join our new commenting forum
Join thought-provoking conversations, follow other Independent readers and see their replies