Andy Serkis: 'Cinema is slipping away. The streamers are taking over'
The motion capture pioneer speaks to The Independent about the future of cinema, the deep messages behind his recent blockbusters, and how the Oscars are changing
Jack Shepherd
Wednesday 13 June 2018 10:57 Comments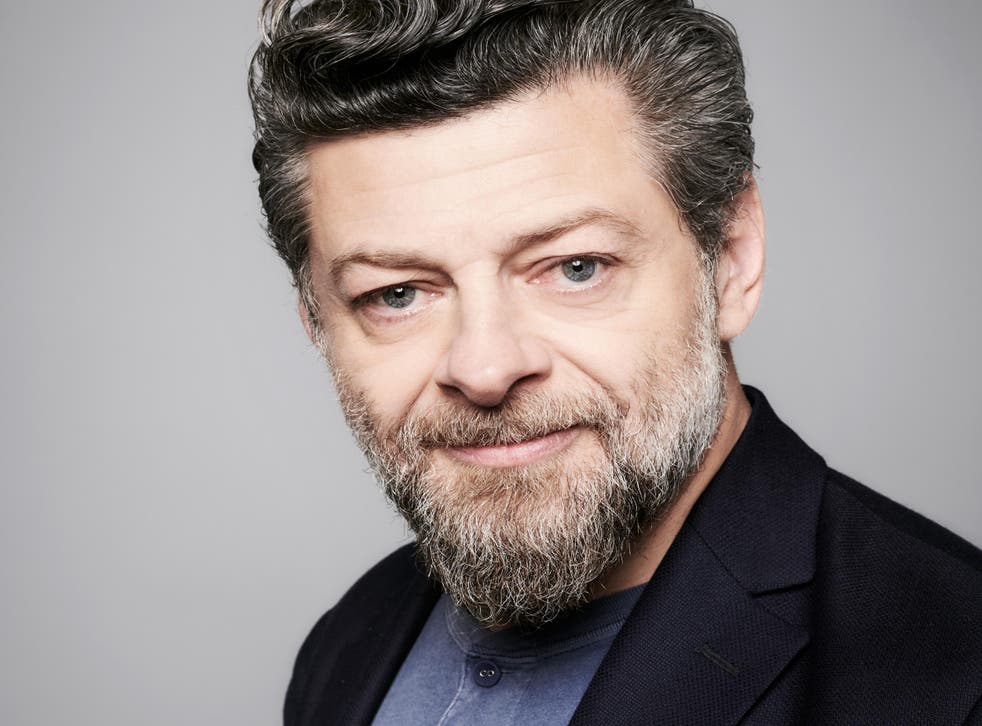 No conversation about motion capture in the movies can be conducted without mentioning Andy Serkis.
Ever since dazzling viewers as Gollum in the Lord of the Rings trilogy, Serkis has pioneered mo-cap in Hollywood, going on to play King Kong, Caesar in Planet of the Apes and Supreme Leader Snoke in Star Wars. Alongside those performances, the actor has started The Imaginarium, a London-based studio that specialises in "digital performance-capture".
Perhaps, then, there's no better person to talk to about how technology will change the future of cinema.
"We're entering into a different realm now, because entertainment will no longer just be cinemas as we know it," Serkis says. "Cinema is slipping away, sadly, apart from tent-pole blockbusters. The streamers are taking over."
Cinema, Serkis explains, will need to adapt, and there are two technological advances that will revolutionise the way filmmakers tell stories: virtual reality (VR) and augmented reality (AR). Motion capture will, of course, play a big part in that future, as the technique allows actors' performances to be mapped into a 360 degree story.
"There's just no question," he says. "Over the next 10 years we will see actors playing VR roles. Now that [Birdman director Alejandro Gonzalez] Inarritu has made this VR piece, you're going to see many, many more 360 degree stories that use VR capture."
Inarritu's VR project Flesh and Sand, written and directed by the acclaimed filmmaker, was released last year, debuting at Cannes Film Festival and becoming the first VR project to have ever been presented at the event. The seven-minute film – which was awarded a special achievement Oscar – sees viewers wear a headset and witness a first person account of someone walking the boarder from Arizona to Mexico.
Despite the acclaim, there's been some hesitance from classic filmmakers who refuse to accept the inevitable future being VR.
Serkis has seen this first-hand, but adds that attitudes are certainly changing: "Everyone has thought of it as 'How do we bring the film experience to VR?' What I actually think we need to do is ask, 'How do we bring theatre to VR?' VR requires a much more visceral performance. You create these avatar characters, but instead of a film narrative, it's a play script that is being brought to life."
Bringing VR to everyone remains some way off, as headsets are still expensive. And while the technology may be key to cinema's future, there are still some other dated opinions with regards modern technology that need addressing.
Access unlimited streaming of movies and TV shows with Amazon Prime Video Sign up now for a 30-day free trial
Sign up
27 films to look out for in the first half of 2018

Show all 27
One talking point earlier this year was the Oscars. Inarritu (who previously won the best director award for The Revenant) may have picked up the aforementioned special award, but Serkis remains without anything for the Planet of the Apes trilogy, an astounding series that arguably features the actor's best work. All three movies in the series failed to take home the best visual effects award, and Serkis never even sniffed at an best actor Oscar (despite a worthy campaign). Does that bother him?
"This year, to be fair, the academy spoke to me a lot about it," Serkis says. "They're looking to encompass diversity, looking at the nature of what a performance is. Performance capture, voice acting, animated films as a performance, suit work – like Doug Jones in The Shape of Water. What is the difference between that and John Hurt in The Elephant Man? That's a brilliant performance by a brilliant man caked in makeup."
Things, Serkis assures me, will change.
Another aspect of cinema that's rapidly changing – and again Serkis has knowledge on the matter – has nothing to do with motion capture, but rather blockbuster movies. Serkis has appeared in two Star Wars movies and three Planet of the Apes films in recent years, but many cinemagoers will recognise the actor as Ulysses Klaue, the secondary villain in both Avengers: Age of Ultron and Black Panther. Not covered by CGI, Serkis's actual face was finally featured prominently in a multimillion dollar movie (and both have grossed way over the $1bn mark).
Having worked on all these movies, Serkis has seen something peculiar happen in recent years: the messages contained within blockbusters have changed. "It's funny that it has befallen tent-pole movies to be the messengers of intelligent discourse," he says. "It's not the smaller prestige movies saying something intensely about an issue but these grand pieces of entertainment, which are really connecting with people."
And what are they saying? "They all say the same thing: the demise of empathy, of love. Star Wars is about the individual and the ability to unite to overcome the forces of darkness. In Panther, it's about building bridges, not walls. Thematically, it's all circling. These movies are our modern-day mythology and it speaks to the world. They're prescient movies and that's because they're great science fiction."
The most obviously prescient of all the blockbusters that Serkis has appeared in (and arguably the most revolutionary movie in recent years) is Black Panther. With a black director and predominantly black cast, the Marvel movie has become a cultural milestone, winning rave reviews and a huge box-office taking.
"It feels like the tide is changing," Serkis says. "In a sense, it's a shame, because all movies should be like Panther. We should have arrived at this point a hell of a long time ago. The world is obviously polarised at the moment but there are big movements happening which are fighting against the division. This plays a big part in that."
While we talk about blockbusters, I realise something – the majority of characters Serkis has played recently have been killed off. There's no point asking about sequels to these movies because, should they happen, he won't likely have any part. "I've been killed off in three major films in the past six months!" he jokes. Perhaps Disney has a vendetta against Serkis because of his upcoming rival Jungle Book adaptation? "It's a strange situation!"
That Jungle Book adaptation, formerly titled "Jungle Book Origins" but now simply called Mowgli, technically marks Serkis's directorial debut. Although his Andrew Garfield-starring Breathe may have reached cinemas last year – debuting at the London Film Festival – Mowgli was filmed before that biopic. Postproduction has led to the delay. "It's been a long time coming," says Serkis, "and I'm super-excited by it because it's actually really great."
Perhaps it's difficult to go from helming a movie to just acting in one? "I love it! I love going between the two. Because when you're helming a film, the responsibility is gigantic, the pressure is intense, for a long, long period of time. Going off and acting in projects, you just focus on the character you're playing."
And although Serkis may enjoy just acting, the director continues working on Animal Farm at The Imaginarium and will soon have to embark on an enormous press tour for Mowgli. No rest for this pioneer.
'Black Panther' is available on DVD and Blu-ray now
Register for free to continue reading
Registration is a free and easy way to support our truly independent journalism
By registering, you will also enjoy limited access to Premium articles, exclusive newsletters, commenting, and virtual events with our leading journalists
Already have an account? sign in
Join our new commenting forum
Join thought-provoking conversations, follow other Independent readers and see their replies