Interview
Anna Kendrick on The Day Shall Come, self-doubt and why America has gone 'so backwards'
The 'Pitch Perfect' star plays a scheming FBI agent in Chris Morris's first film since 2010's 'Four Lions'. She tells Alexandra Pollard why the absurdist humour is perfectly suited to the grim subject matter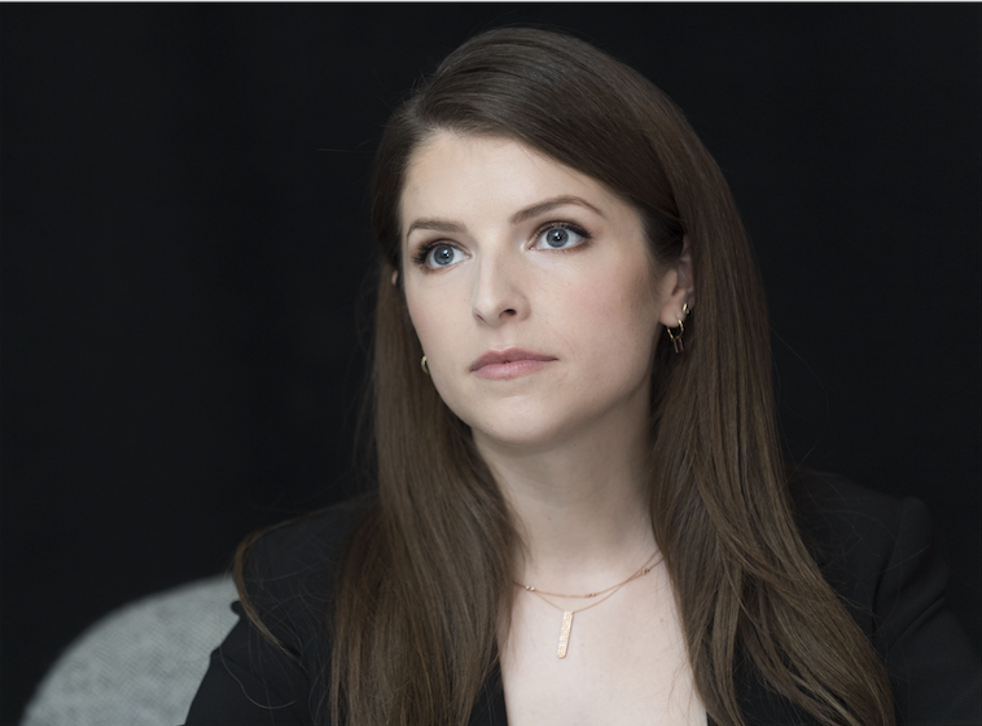 Back in the heady days of 2012, a year before Pitch Perfect made her a household name, Anna Kendrick wasn't keen to talk politics. "I never really want to go into it too much – it's always tricky," she told an interviewer. "We're not at a dinner party." Four years later, the US elected as its president a man who called Mexican immigrants "rapists", white supremacists "very fine people", and implored several congresswomen of colour to "go back" to their countries of origin. Staying quiet became trickier.
"What's really alarming is that in the Eighties, you couldn't be public about trying to start a new chapter of the KKK or something," says the 34-year-old now, on the phone from New York, no dinner party in sight. "These things were whispered in basements. And now, it's all out in the open. It's kind of shocking that it's all gone so backwards."
Kendrick is lively and unguarded. Maybe she's less reticent to talk politics in a world where Donald Trump reigns supreme – though, given the film she's promoting, there'd be no escaping it anyway. It would be unfairly glib to say that The Day Shall Come, cult British satirist Chris Morris's first film since 2010's Four Lions, is full of hot-button issues – but it is certainly arriving at a time when its themes of institutional racism are most relevant. And most needed. The film, says Morris, is "about governments betraying citizens in the name of some bogus war on terror".
The Day Shall Come - trailer
By turns messy yet powerful, farcical yet deeply troubling, it has an undeniably potent message. Doing justice to its elaborate plot would take longer than its lean 87-minute running time, but here goes: Moses (newcomer Marchant Davis) is an impoverished Miami preacher with mental health issues who runs a poorly attended community farm and mission, is adamant about the need for peaceful revolution against "the accidental dominance of the white race", and believes that dinosaurs will come to his aid. Kendrick plays Kendra, a foul-mouthed FBI anti-terror agent, quick of wit but weak of moral backbone, who discovers Moses on Facebook and spots an opportunity to lead a case. Using undercover operatives, the agency offers Moses money, and weapons, in an attempt to turn him into a legitimate terror threat in order that they can arrest him. Chaos ensues.
The film doesn't shy away from the darkness of what it's trying to expose – how US authorities radicalise, bankroll and entrap vulnerable, usually black or brown, people. "It's a complicated feeling, isn't it?" says Kendrick, when I tell her I laughed through the film and then left with a bitter taste in my mouth. "The very absurdity of the story is the thing that's compelling. It's funny, and then the subject matter is so grim that it leaves you with this weird mix of chemicals running around... which is hopefully affecting, because humour is such a powerful way to get people thinking."
Humour has always been Kendrick's bread and butter. Watch on YouTube the grainy VHS tapes of her on Broadway, aged 12, playing insufferable stage school brat Dinah in High Society, and you'll see the seeds of her fearsome comic timing. She was nominated for a Tony Award for that role, and would later use her eminently expressive singing voice in the movie adaptation of Sondheim's Into the Woods (2014), The Last Five Years (also 2014), and, of course, three dizzyingly successful Pitch Perfect films. But before all that, there was Twilight.
In a role that would have been instantly forgettable were it not for her ability to gracefully tiptoe between sweet and sardonic, the then-22-year-old played Jessica Stanley, the "sassy, awkward friend" of Kristen Stewart's Bella. The vampire saga didn't turn Kendrick, who grew up in Portland, Maine, the daughter of a history teacher and accountant, into a paparazzi-plagued superstar like it did her co-stars Stewart and Robert Pattinson. Yet it did open doors that had previously been shut, with Kendrick deciding not to barrel straight into another blockbuster but to use her substantial paycheck to take on smaller, riskier roles. "None of the filmmakers I worked with during those years had ever seen Twilight," she wrote in her 2016 memoir Scrappy Little Nobody, "but the series kept me in room and board while I did their movies for no money. It was like the world's most ridiculous day job."
The breadth of Kendrick's post-Twilight roles is impressive. After gaining an Oscar nomination for her role as an inexperienced but ambitious businesswoman alongside George Clooney in Up in the Air (2009), she mostly opted for films with a budget lower than $10m (the final Twilight film cost more than 10 times that). Kendrick has A-list charisma in abundance, and could easily have spent her career bouncing from cutesy part to cutesy part. But instead, she has used her five-foot frame and butter-wouldn't-melt looks as a weapon against those who would underestimate her, specialising in characters who are deadpan and quietly acerbic.
She worked twice with mumblecore director Joe Swanberg, on low-budget, improvised films Drinking Buddies (2013) and Happy Christmas (2014); played Joseph Gordon-Levitt's clueless therapist in cancer comedy-drama 50/50 (2011), and appeared as Jake Gyllenhaal's girlfriend in brutal police drama End of Watch (2012). Just like The Day Shall Come, that film exposed the brutality of the US criminal justice system – only we were being asked to root for the police officers doling out the violence, not their victims. "That's interesting," says Kendrick. "I do wonder if I watched it now, would there be stuff that I found problematic?"
There will be plenty that people will find problematic about The Day Shall Come – including the abundance of racism played for laughs. "Watch out for the nice ones," Kendra's boss tells her. "They get under your skin, and the next thing you know, the Statue of Liberty's wearing a burqa and we've beheaded Bruce Springsteen." For Kendrick, that line works because "we're clear that the person who's saying this insane thing is a bad guy. That's why we're allowed to laugh at something this absurd. We're not saying that the joke is funny, we're saying that the person saying it is absurd."
Then there's the sexism. Though Kendra's hardly a victim – in fact, says Kendrick, "I wanted it to be clear that she's one of the bad guys" – as the only woman in the room, she is on the receiving end of a barrage of misogyny. "We had this amazing consultant, she was in the FBI for many years, and she's my height," says Kendrick. "It was really difficult for her. There's no out-tough-guying guys who are six foot four, so you have to be clever and persistent and work harder than everybody else. Those things that women have to do to just try and get a seat at the table."
Did she find herself having to do similar things in her career? "Um, yeah. There was a film I did many years ago and it was a mostly male cast... which doesn't narrow it down very much at all," she adds, with a wry laugh. "There were times when I was like, 'Oh my God. I'm a joke to you.' I think if those guys could see videos of themselves now, they would be totally horrified. They wouldn't even recognise themselves, because the world is changing and people are becoming more self-aware."
Best films of 2019 (so far)

Show all 49
The world may have changed, but structural sexism is still ingrained into the film industry – and many others. When Michelle Williams won an Emmy for Fosse/Verdon last month, she used her speech to highlight this inequality: "The next time a woman – and especially a woman of colour, because she stands to make 52 cents on the dollar compared with her white, male counterpart – tells you what she needs in order to do her job, listen to her. Believe her." Kendrick was in awe of that speech. "I thought that was incredibly well put," she says. "When a person, especially a marginalised person, asks you for something, it's not because they want to cause trouble, it's because they want to do the best they can for you, so be grateful. Sometimes people assume that people only ask for things because they woke up and were like, 'How can I annoy my boss today?'"
It's not disappointing, but it is disconcerting, to find that Kendrick doesn't speak in quite the way she does on Twitter, where she has gained 7.4 million followers and a reputation for her pithy, often self-deprecating remarks. She was more prolific a few years ago, when articles abounded with headlines such as, "Literally Just 19 Hilarious Tweets From Anna Kendrick", or "35 Life-Changing Things Anna Kendrick Tweeted in 2014", or "215 Reasons Why Anna Kendrick Is The Funniest Person On Twitter". Yes, 215.
Her tweets are certainly very funny. "Ugh – NEVER going to a Ryan Gosling movie in a theater again," reads one, which has been liked 32,000 times, "apparently masturbating in the back rows is still considered 'inappropriate'." Her pinned tweet perfectly sums up her brand of earnest self-effacement: "For someone with an intense need to be liked, you'd think I would have figured out how to be less of an asshole."
The trouble is, tweets like this – along with winning appearances on the US talk show circuit – earned Kendrick a reputation for being "relatable" and "down-to-earth". Other female actors who've had these labels thrust upon them, who have had the temerity to be frank or funny or crude or any of the things men have been doing forever without raising so much as an eyebrow, have faced a sudden backlash. Kendrick spoke of this phenomenon a few years ago, saying that Jennifer Lawrence suffered from "being everywhere, and then people going, 'Ugh, that Jennifer Lawrence is f***ing everywhere.' Right, but that's because you put her everywhere."
I wonder if she worried she might suffer the same fate. Sort of, she says. "I worry about everything all the time. It's just a generalised anxiety thing. But on the other hand, I don't know. Occasionally people would prefer to think that you must be some eccentric throwing drinks in people's faces and getting pedicures for your dog, which is a strange outlook. I guess there's gonna be no convincing those people that I deal with self-doubt and laziness and all those very unbeautiful parts of being a human being."
It seems like a lose-lose. Show too much self-belief and you're accused of being conceited. Show too much self-deprecation and people say you're faking it. "I know what you're saying," agrees Kendrick. "Shouldn't we be bigging ourselves up, so it doesn't feel like we have to perpetually be going, 'No, no, no, I totally still think I'm a piece of s***! Therefore, am I allowed to exist in society? As long as I think I'm the worst?'"
She's given up trying to fight it. "There's no sense in trying to desperately convince them," she shrugs. "So they can go ahead and think that I get my dog pedicures."
'The Day Shall Come' is out in UK cinemas on Friday
Join our new commenting forum
Join thought-provoking conversations, follow other Independent readers and see their replies