Anya Taylor-Joy interview: 'If I thought about things, I'd freak the f**k out'
The 20-year-old rising star talks The Witch, M. Night Shyamalan, and being BAFTA nominated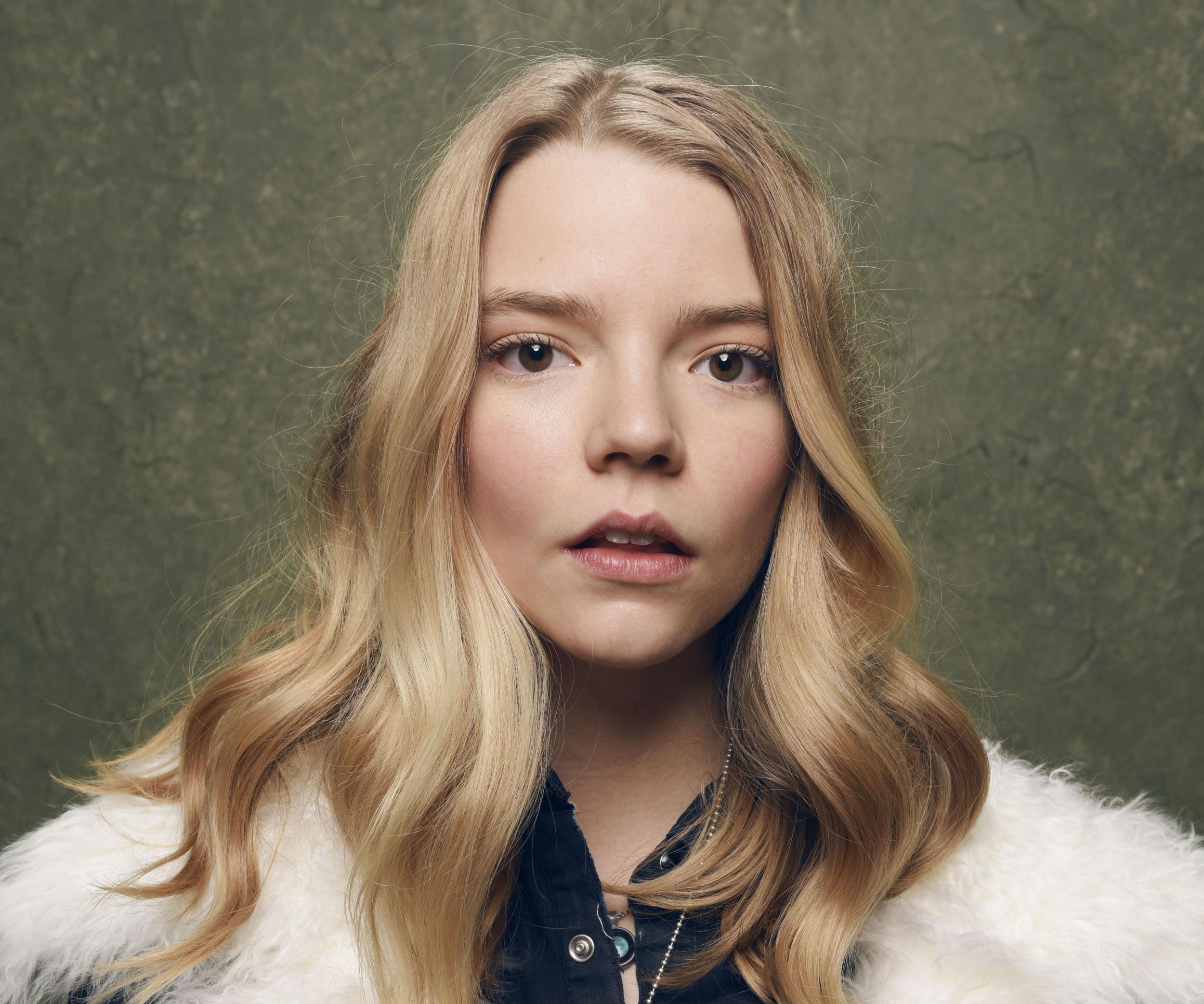 "I'm so hot blooded, I love the cold." So starts our conversion. Tucked into the corner of this oversized London hotel room is Anya Taylor-Joy, cuddling a grey sofa pillow. A large window looking out onto the streets of Soho is wide open, letting in a chilly January breeze.
There are few 20-year-olds in the world who can boast a CV as impressive as Taylor-Joy's: since debuting in critically acclaimed horror film The Witch in 2015, the actor has appeared in the Ridley Scott produced sci-fi slasher Morgan, Netflix's Barack Obama biopic Barry, and now M Night Shyamalan's Split.
Over the course of 18 minutes, we spoke about the latter thriller – in which she plays a young, kidnapped girl named Casey – along with the actor's rise to fame and her reaction to being nominated for the BAFTA Rising Star Award alongside Tom Holland and Ruth Negga (unfortunately, we weren't allowed to talk about her rumoured role in the upcoming X-Men films).
Hi Anya, what attracted you to Split?
I mean it's Night and The Witch wasn't out. It wasn't even specified which character I was reading for. It could have been any one of the girls. When I met Night we had an interesting connection. I thought "you're going to challenge me and I want to rise up to your expectation". He's a very specific person and one of my friends now – which is awesome – but as a director, he just really pushes you and I love that. The script was awesome. I read it all the way through – couldn't finish it fast enough – then I had to go back to really get everything.
Was it intimidating meeting Shyamalan for the first time?
I love what I do so much and I have a very acute understanding of how I work as a person so if I'm afraid I shut down and can't do anything. If I'm overwhelmed, I shut down and can't do anything. I just can't think about it that way. I just had to be Anya. I'm not meeting M Night Shyamalan, otherwise I'd freak out and die. I'm just meeting Night.
What aspects of your character, Casey, were the most interesting to play around with?
How silent she is. I was very aware that most of her sh*t is stage directions. I was wondering how much of that I can communicate with an audience just with my face, just with my eyes. It was a challenge and one I really wanted to play. And the manipulation aspect, that was very fun to modulate, because me and James [McAvoy, who plays her kidnapper] work quite similarly. We're very playful and we bring a different energy to every take. And so, that's really fun, to act with someone who is going to play with you and surprise you in that way. You get to experience things that come out of a place of impulsiveness.
Was it different on set to how you expected?
When I was cast, James hadn't been cast, so I didn't have anyone to envision in that role. Obviously, it would be a very different movie with anyone else in the role. James and I were very jokey and that was really good fun, because it's very dark. He plays this predatory man who kidnaps young women, and every young woman knows that feeling of – not what it's like to be kidnapped – but knows what it's like to be with a man who makes you feel comfortable. He just made it so safe, so nice, so secure, a really nice environment. We were able to really open up and be super vulnerable because we were really safe.
There were moments in the film loaded with humour. How was it playing this vulnerable character despite this?
I was there as Casey. Watching the film is really funny. James, Night and I have a very similar sense of humour so it's very much our humour. As you're shooting it, I was experiencing it through Casey, and Casey does not find this situation funny at all. There were maybe two scenes where I couldn't hold it together and Night does not like that at all. He's very serious with his work and he expects you to be serious too. But we got to a place of mental exhaustion where we couldn't keep it together.
Access unlimited streaming of movies and TV shows with Amazon Prime Video
Sign up now for a 30-day free trial
Sign up
Access unlimited streaming of movies and TV shows with Amazon Prime Video
Sign up now for a 30-day free trial
Sign up
How did working on The Witch compare to Split?
I find it very difficult to compare any two projects because they're all such different beasts. I'm growing up, I'm only 20 now. I'm a different person on each of these films because I'm growing very rapidly. The Witch was Rob[ert Eggers] and I finding our feet. He had never directed anything, I had never acted in anything. I didn't know what a mark was. When he said "go and hit the mark" I was like "what am I hitting?" I was so enthralled and excited by everything I was doing and picking things up because I had to. How many things am I allowed to do? How many takes do we get? Am I allowed to do things differently? I was finding my way. For Split, I was going up against James and Betty Buckley, so you want to give as much as you can – especially against James when he's giving me so much. He's playing all these personalities. All the work is subtle. He is very big. Casey is incredibly internal, such an introvert, so I was concerned I wasn't giving as much back as he was giving me.
How did you get involved with acting?
I don't remember wanting anything different. I've really tried to pinpoint the moment I was like "this is me, this is what I want to dedicate my life to". I just sort of knew. I got scouted for modelling on the street. I'm such a tomboy, still am. I just never thought about modelling before but I thought "ooh, interesting, similar world, perhaps it's a way into something". Then, I was on my third photo shoot ever and Adam Leech from Downton Abbey saw me reading poetry and asked me to recite some. He put me in contact with his agent and I got The Witch from there. It's mad. And I know I'm incredibly lucky to be here and so glad it worked out this way otherwise I'd be a very unstable individual.
Where were you when you got scouted?
I was walking outside Harrods in London, and I was wearing heels for the first time. They were probably like "oh, little blonde girl in heels, interesting".
How do you feel about the way everything is going?
Again, I know myself. If I thought about it, I'd freak the f**k out and you wouldn't be able to get me out of the room, you'd have to prise my fingers from the door. I'm really lucky, and the pace at which everything is happening I think it's a genuine giant blessing in disguise. I don't have time to sit down and think "oh my god, what happened to my life?" I used to joke that I went to Sundance and never went home again. I went to Utah as this 18-year-old girl who had never made a movie. Not because it wasn't any good but because when you make a tiny, little independent pure horror movie you don't expect bright lights, big city. It was unprecedented and me and Robert got catapulted on a life sphere that we never thought was possible.
Where do you see yourself in five years time?
I just want to see what life's going to throw my way. So far, it's been very unexpected. I'm kinda on a rollercoaster and want to enjoy that. I'm so lucky that I can genuinely say every film I do I love the f**k out of, I love it so much. I would follow my directors to the end of the earth. I'm so lucky because I know some of these directors and [they are now] some of my closest friends. When you share something that intimate with someone, our emotional babies. We were saying "this is my art, this is my passion. I'm putting it in your hands because I trust you". It's such a beautiful thing. I guess I just want to keep going and look back in 5 years and feel good about my choices.
Who are your role models?
I remember the first time I saw Kirsten Dunst in Jumanji. I'd never seen a kid in a movie before who wasn't much older than me. I thought "maybe I can do that, that's interesting". She was also in Interview with the Vampire, and I was like "you can get even darker and be in movies and still be little! That's amazing". Now, it's Tilda Swinton. It's been Tilda Swinton for a long time. I think she's just such an artist. She really follows her artistic integrity. She really doesn't give a f**k what other people think. At least that's my projection onto her. I don't know her, and I'm really nervous to meet her because she might think I'm a stalker because I've mentioned her so much.
What have you got coming up that you're most excited about?
I'm excited to see the movies I've been working on. They've been so close together, I just want to actually see the f**king movie. I've got one going to Sundance called Thoroughbred, which I'm really excited about because Sundance is such a magical place for me and I'm going back with Olivia Cooke who was also there the same year she was with Me and Earl and the Dying Girl. So we're kinda going back which is exciting. There's another film, Marrowbone, which we filmed in Spain. It was the time of my life. We were staying in this castle and we could communicate with each other through the walls, it was very summer camp vibes.
The films to watch out for from Sundance 2017
Show all 29
Do you feel like you're missing out on other experiences people your age are having?
No. I never fit in with people my own age. I grew up around adults. I was separated from everyone in my age group by a sheet of glass. I found my place in movies. I have fun, I have a great time. I'm a true professional and take my job very very seriously but I need an outlet. I found my tribe, I found my people and we have a lot fun.
What do you do for downtime?
I haven't had any of that yet. It sounds really boring but I act for fun. I don't see it as a job. I'm never more at peace than when I'm in a scene and I get the opportunity to act with these f**king world renowned actors. It's amazing. I write a lot too. My world is changing so quickly so it really helps to sit down and write a poem. Something neat and concise and wrapped up in a bow. Or write a song about it. I find it very meditative.
What does the BAFTA nomination mean to you?
It feels so surreal to be acting. I really see myself as an artist, and to be an artist and to be able to make art – that sounds terrifying to me. I don't think I'm strong enough to deal with that but when people allow me to do that it's unreal. Then you add on top of that that people are recognising me for that, I would never ever, it's so out of the realm of possibility for me. So, it's really exciting, I'm overwhelmed and it's so great to be in the company of such great actors. I can't wait to meet them. I just love so many of their individual performances. Like, Laia Costa in Victoria is amazing, it blew me away. I'm excited just to fangirl.
Split is in UK cinemas now
Join our commenting forum
Join thought-provoking conversations, follow other Independent readers and see their replies