Interview
Armie Hammer: 'Straight white maleness is threatening to everyone who is not a straight white man'
The 'Call Me by Your Name' star talks to Alexandra Pollard about toxic masculinity, playing LGBT+ characters as a straight man, and his new film 'On the Basis of Sex'
Thursday 21 February 2019 09:39 Comments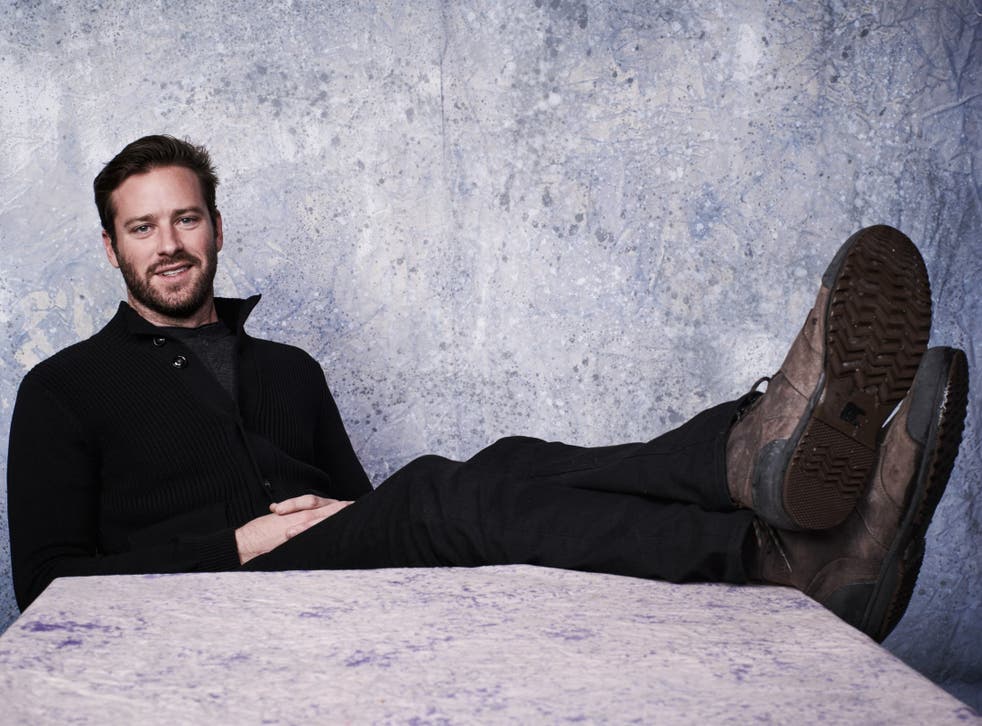 Armie Hammer has his feet up on the table. Leaning far back on a chair, his fingers interlocked, the 32-year-old is musing on straight white male privilege.
"How do straight white men," he begins, "react to other straight white men who are no longer acting how they believe straight white men should act?" Every time he says those words – "straight white men" – he over-pronounces the "Ts", enunciating the words as if they're bitter on his tongue. "And that is, the exercising of your straight white male privilege – all of the things that straight white men not only take for granted, but also are expected to capitalise on."
We're in a London hotel room – the exact same London hotel room in which the American actor stayed a decade ago while he was shooting his breakout role(s) as both Winklevoss twins in Aaron Sorkin's The Social Network. I know this because he was announcing it when I arrived, staring broodingly out of the window with his hands on his hips – a stance that would perfectly suit his (very tenuously) rumoured role as the next Batman. Last year, after starring alongside Timothée Chalamet in the intoxicating gay romance Call Me by Your Name, Hammer appeared on the New York stage, performing in Young Jean Lee's play Straight White Men. Clearly, it had an effect on him.
"If you see a straight white man not acting like that, not assuming his privilege, in a way, it's very threatening to your straight white maleness," he continues. "But at the end of the day, what is straight white maleness if not threatening to everyone else who is not a straight white man? If you stop assuming your privilege, the only people you harm are the people who are actively taking advantage of it."
Cerulean-eyed, six foot five and preposterously handsome, Hammer himself could probably breeze through the world with just about every privilege on tap. His great grandfather and namesake, Armand Hammer, was a wealthy oil tycoon whose name is plastered over Los Angeles (in a Hollywood Reporter profile, he drove the journalist past the Armand Hammer golf course), and he grew up in "f**king paradise" on the Cayman Islands. Does he never find himself exploiting his privilege still? "Yeah, I mean there's things all the time that I catch myself doing. Case in point, sitting here with my feet on the table," he says, suddenly offended by himself. "I mean like, I'm just being comfortable and relaxed, but like ... There are things all the time that I catch myself doing and I think, 'Wait a second, is this white privilege? Yeah, I think it is. Look at what I'm doing. Yeesh'." His size 15 feet stay on the table.
In 2016, Hammer starred in Nate Parker's The Birth of a Nation, a film about a slave rebellion in 1831 (the film was initially acclaimed, before rape allegations against Parker cast an irreparable shadow over it). Next came Call My by Your Name (2017), with its tender depiction of queer masculinity, and a year later Boots Riley's chilling, anti-capitalist race satire Sorry to Bother You. Now, he's playing Martin Ginsburg, husband of Supreme Court Justice Ruth Bader Ginsburg (Felicity Jones), in On the Basis of Sex.
The film begins with Bader Ginsburg's arrival at Harvard Law School – where she was one of nine women among roughly 500 men – and ends with a historic court case that began to topple the sexism engrained in United States legislation. As Martin, a tax lawyer who works with his wife on the case, Hammer proudly plays second fiddle to Jones's Ruth. To the film's potential financiers, it was alien to see such a supportive onscreen husband. Screenwriter Daniel Stiepleman recently disclosed that backers offered to fund the film only if Martin was rewritten as "angrier, or less understanding; maybe he should threaten to divorce his wife if she didn't drop the case".
I must admit, I say, I was waiting for Martin to have some sort of emasculated strop over his wife's brilliance. "Oh, then your mind is not as dark as mine," he says, "because as I was reading it, I was like, 'this guy seems amazing, this guy's incredible, this guy's such a fantastic husband and father ... He must be a serial killer. This is Ted Bundy.'"
He was pleasantly surprised when he reached the end, the body count was still zero, and the couple were still a force to be reckoned with. "They had pure equality in their relationship when not only was it not the done thing," he says, "but it was the farthest thing from what was expected. There was this storied history of: men are the mammoth hunters who go to work, and the women stay home and cook and clean and take care of the children. But in reality, if you look at that time, yeah, men went to work, but they were terribly dysfunctional, and the women stayed home, and were upset about the pigeon hole that they'd been put in. There's a reason that prescription pills were so highly prescribed at the time, and men were basically high-functioning alcoholics."
Access unlimited streaming of movies and TV shows with Amazon Prime Video Sign up now for a 30-day free trial
Sign up
In one scene, Martin's boss says to Ruth: "You're a smart girl, Ruthie, you married a star." It reminded me of a few other films released recently, such as The Wife and Collette, in which women don't get the credit they deserve. "It's an incredibly powerful plot point," says Hammer, "and I see it all the time in my own personal life, where my wife, who is so much smarter and so much harder working and so much more successful in so many different ways than I am, still gets introduced or written about as Armie Hammer's wife, when in reality, I'm lucky to be her husband." Hammer has been married to Elizabeth Chambers – an actor, TV journalist and business owner – for nearly a decade, and they have two children together.
"[My wife] is an incredibly strong and powerful woman who is not only able to hold down multiple jobs, and create a home environment," he says, "but also be an exemplary mother and role model, not only to our children but to me as well. If she got the due credit that she deserved, then I would be Elizabeth Chambers's husband. But that's not how it works. And I think that is what Ruth has worked so hard to overcome, and eventually she will no longer be there to fight that fight, so it's up to us to pick up that mantle."
I begin to ask another question, but he interjects. "By the way," he says, in a paroxysm of excitement, "when you do your write-up, you should write ... Something about ... 'Elizabeth Chambers's husband, Armie Hammer'." He is thrilled with the idea.
Hammer hopes that he and his wife can help create a better world for their children: "I recognise that there is toxic masculinity all around us, but that's not the world that I perpetuate. That's not the household that I live in with my wife and children, that's not the dynamic, and if anything, it's something that we keep an eye out for, and we try and keep as far out of our lives as possible."
Judging by his career choices over the past few years, Hammer is drawn to roles that either skewer toxic masculinity, or are devoid of it. Of the latter, few are more powerful than Call Me by Your Name. But actor Darren Criss recently vowed to stop taking on queer roles, because he didn't want to be "another straight boy taking a gay man's role". Hammer has played three gay characters in the past – what does he make of Criss's new stance? "I didn't really think about it when I was playing those roles," he admits, "mostly because I was just happy to have an opportunity to try to bring truth, and try to portray a character that was different from myself. I think that's what acting is. I would hate to only be able to do roles that fit perfectly with who I am.
"That being said," he adds, "the conversation is different now. People are asking, should straight actors take LGBTQA roles? I don't know. I'm certainly not the authority on that. But we are a much more sensitive and evolved world now than ... I mean look, people used to don black face in movies and that was acceptable, and now we say, 'no, you can't f**king do that'. And I think that's right, I completely agree with that, but I don't know. I guess the answer is – I don't know." he concludes, looking a little dismayed. At least we're now having these conversations, I say. It's important to think about these things, just like it's important that he interrogates his own privileges.
"It's like Schrodinger's white privilege," says Elizabeth Chambers's husband, removing his feet from the table. "Just identifying it makes it something."
On the Basis of Sex is released in UK cinemas on Friday 22 February
Register for free to continue reading
Registration is a free and easy way to support our truly independent journalism
By registering, you will also enjoy limited access to Premium articles, exclusive newsletters, commenting, and virtual events with our leading journalists
Already have an account? sign in
Join our new commenting forum
Join thought-provoking conversations, follow other Independent readers and see their replies