As 'Pride and Prejudice and Zombies' opens, here are some more literary mash-ups we need to see
From 'Paradise Lost in Space' to 'Gatsby vs Trump', these are our novel ideas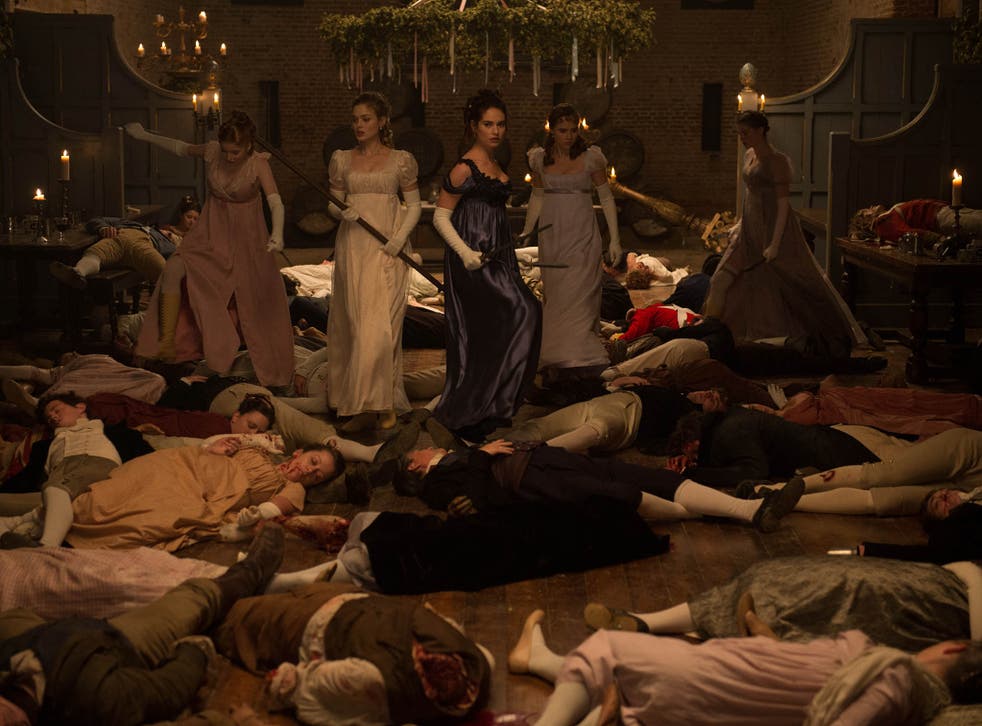 If Hollywood is boring itself with its endless procession of sequels and remakes quite as much as it is us, then it might like to consider another low-effort way to alchemise box-office gold from immediately recognisable elements; we're talking about the literary mash-up.
Take one classic novel, mix in incongruous, crowd-pleasing elements, and, hey presto, you have a hybrid product with instant literary and popcorn appeal.
In its infancy as a cinematic genre, the literary mash-up is set to get a leg-up with this week's release of Pride and Prejudice and Zombies. Based on Seth Grahame-Smith's hit 2009 book, the film imagines the undead intruding upon the romantic travails of the Bennet sisters.
And if P and P and Z manages to strike the period-horror sweetspot, then we imagine producers will be falling over themselves to find other classic books that they can cannibalise. Which is why we have prepared our own list of mash-ups just raring to go into production:
On the Fury Road
Jack Kerouac's trans-American odyssey may be an important work, but its story is too rambling and its characters too self-involved for satisfying cinema, as an anodyne 2012 adaptation proved. But you know what its protagonists could really do with? A bit of post-apocalyptic jeopardy to bring them out of themselves!
So, why not take a leaf out of Mad Max's book and have them embark on their voyage of self-discovery in the wake of a nuclear holocaust, thus interspersing their romantic battle for an authentic life with more tangible struggles against barbarous warlords and their feral body-painted minions. Mixing pseudo-visionary blather with steampunk couture, it will be a coming-of-age story like no other. - and the ultimate date movie for the Burning Man crowd.
Whatever happened to Baby Jane Eyre?
Charlotte Brontë's novel is one of our favourites, but this dark masterpiece comes unstuck with its ersatz happy ending "Reader, I Married Him" business. But reader, what if, it were to make good on its gothic potential by taking a leaf out of Bette Davis and Joan Crawford's 1962 camp classic?
To wit: Jane didn't marry that lying bully Rochester but instead she and the attic-bound Mrs Rochester together started a fire to dispose of him.
However when we catch up with the pair a few decades later, their relationship has soured; with Jane having locked Bertha in the attic once more for thwarting her marriage hopes all those years ago, this increasingly deranged recluse stalks the house in her ragged governess's uniform. But what's Bertha plotting? Cue a battle of divas like nothing the 19th century has ever seen.
Access unlimited streaming of movies and TV shows with Amazon Prime Video Sign up now for a 30-day free trial
Sign up
The 15 best opening lines in literature

Show all 15
Paradise Lost in Space
John Milton's verse epic has long been considered unfilmable – an adaptation starring Bradley Cooper was cancelled before it went into production – but that's only because producers have missed an obvious trick.
Give this transcendental tale the lift-off it deserves. After all, how better to "justify the ways of God" to multiplex masses than through that most commercially rewarding medium of space battles?
With his habit of getting all the best lines, Satan will be a far more charismatic galactic baddie than Darth Vader has ever been, while Adam and Eve's fall will be like Sandra Bullock and George Clooney's untethered spacewalk in Gravity, only more shameful.
No Country for Big Women
Meeting the current demand for both violent young adult franchises and revisionist feminist tales, this existential thriller will add firepower to Louisa May Alcott's sisterly saga Little Women.
In a lawless New England, and with their father away at the Civil War, Jo, Meg, Amy and Beth must defend their land, and their homestead, against ruthless marauders while repeatedly saving their drippy suitors from certain death.
Sensitive souls should beware of a particularly intense mid-section, where Beth goes on the rampage after descending into a scarlet fever-induced delirium.
Annie (Wolf) Hall
The romcom may have become all too formulaic, but here's one with a twist guaranteed to surprise: after all, how many Kate Hudson efforts climax with a beheading, hey?
Loosely inspired by Woody Allen's Annie Hall, this free adaptation of Hilary Mantel's Tudor saga puts the spotlight back on our lead royal duo, as the socially awkward neurotic Henry ponders the end of his relationship with the original manic-pixie-dream-girl, Annie Boleyn.
Breaking the fourth wall with wry commentary, Henry takes us through some of the key chapters in their relationship – such as that time when they cooked up the Act of Supremacy – before a wistful, executioner's block-side goodbye between our two protagonists gives way to a final monologue on this crazy little thing called love. With Thomas Cromwell on quippy BFF duties.
Gatsby vs Trump
When it comes to horror showdowns, Alien vs Predator and Freddy vs Jason will have nothing on this meta-fictional slugfest – an ideal project for Charlie Kaufman.
With an ever looser grip on reality, and a desire to tyrannise literary history, Donald Trump dives into the pages of F Scott Fitzgerald's novel to defeat the man he sees as his most formidable rival for the title of America's greatest capitalist charlatan.
He proceeds to lumber his way into the plot, throwing more vulgar parties than Gatsby ever could and comprehensively out-creeping Tom Buchanan. It ends with The Donald smashing up the green light at the end of Daisy Buchanan's jetty because it's an "open invitation to illegal immigrants".
Mario Kart of Darkness Pushing the cross-generational animation to its darkest limits, this will re-imagine Joseph Conrad's nightmarish quest via the medium of Nintendo's racing masterpiece. Truly, an Apocalypse Now for the Lego Movie generation.
'Pride and Prejudice and Zombies' goes on general release from this Thursday
Register for free to continue reading
Registration is a free and easy way to support our truly independent journalism
By registering, you will also enjoy limited access to Premium articles, exclusive newsletters, commenting, and virtual events with our leading journalists
Already have an account? sign in
Register for free to continue reading
Registration is a free and easy way to support our truly independent journalism
By registering, you will also enjoy limited access to Premium articles, exclusive newsletters, commenting, and virtual events with our leading journalists
Already have an account? sign in
Join our new commenting forum
Join thought-provoking conversations, follow other Independent readers and see their replies