Audrey Tautou interview: Ingénue, moi?
Yes, it really is 12 years since 'Amélie'… As its star tells Demetrios Matheou, she has moved on to darker things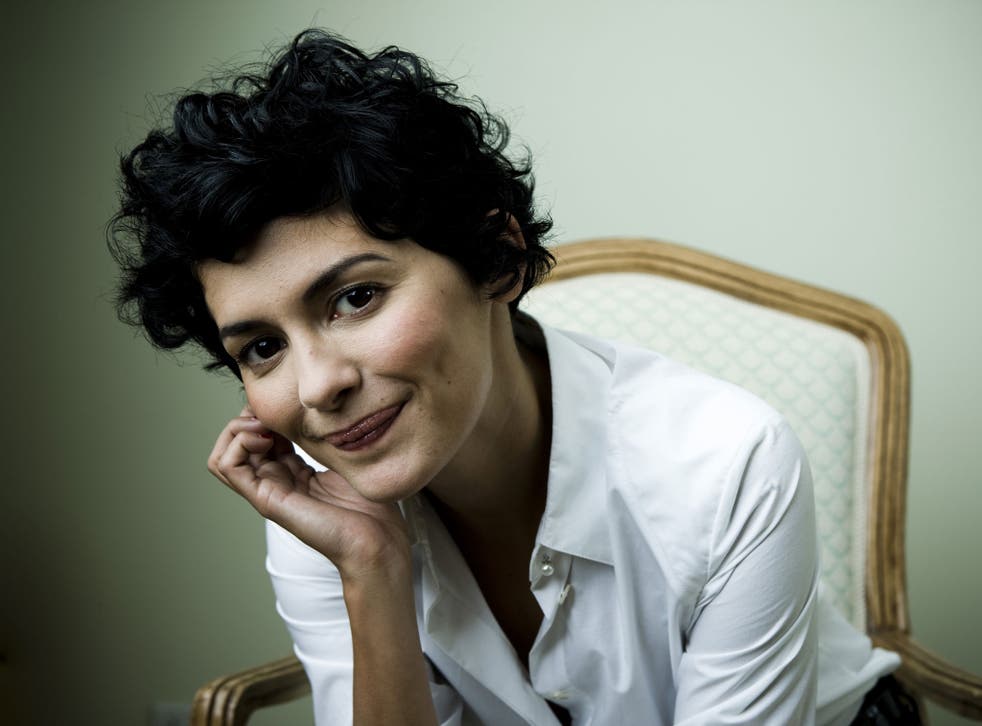 Last week the Cannes film festival closed as it began, with one of the most famous faces in France acting as maîtresse de cérémonie. Unlike other festivals, which tend to employ pretty (and, often, vacant) TV presenters to helm their opening and awards ceremonies, Cannes characteristically aims higher, at film stars with a bit of class. Jeanne Moreau was the first, setting the bar high; Audrey Tautou seemed a perfect fit.
That said, Tautou is an unusual star. Now 37, she's still most known for a single role, in the massive 2001 hit Amélie, her career since being respectable but not spectacular; she famously shuns the limelight. And yet there is something about that breakthrough character, the wide-eyed, gamine do-gooder Amélie Poulain, amid one of the most seductive renditions of Paris in cinema, which captured her country's imagination and held it. She was also the face of Chanel No 5 for a spell, and portrayed Coco Chanel on screen. Perhaps this is how she has endeared herself – by representing the very essence of Frenchness.
That allure has given her time to develop as an actress. In the 12 years since Amélie, Tautou has studiously avoid being typecast as an ingénue. Other, early roles included a stalker in He Loves Me… He Loves Me Not, a Turkish asylum seeker in Dirty Pretty Things and the nagging girlfriend – a selfless straight role – among a gaggle of Euro-dishes in Pot Luck. She's since been glamorous (Priceless), comic (Beautiful Lies) and briefly gone Hollywood (The Da Vinci Code). And her acting is about to enter a new, more mature phase. It's a career, she enthusiastically admits, to which Amélie was "a wonderful passport".
An extraordinary thing about Tautou is that whatever she's wearing – today, in a London hotel, it's a white shirt that accentuates her tiny frame – you can't help but focus on her eyes, which really are as black and as hypnotic as on screen. She has an engaging presence to match, with a punchy way of speaking English; until, that is, I try to move the conversation away from films.
On her work, she's eloquent. She tells me that through playing Chanel, in the 2009 film Coco Before Chanel, "I think I discovered a new register. I could express a character who had authority. I could escape the sweetness I had previously often been asked to express, despite myself. Coco gave me the possibility of playing something in a harsher vein, playing with more rigour."
And if that performance suggested a turning point in her career, taking the title role in Thérèse Desqueyroux seals the deal. The disturbing heroine of François Mauriac's 1920s novel is an intelligent woman who nevertheless marries according to the logic of her landowning Catholic family rather than her own, learns the error of her ways and turns to arsenic to solve her dilemma.
"Thérèse came at exactly the right time for me," she says. "I felt I had acquired a certain maturity and gravitas, and I wanted to take on a role that was complex and troubling. What scared me, though, was that I would not be able to show her ugly side, her jealousy, her desire for vengeance." She needn't have worried. It's a chilling performance, not least because it's so enigmatic; though we can perceive Thérèse's spirit, and unhappiness, the thought processes involved when she starts to poison her spouse are withheld. As directed by the late Claude Miller, an occasionally stuffy period piece is enlivened by a mystery and psychological intensity that are almost Hitchcockian.
"Claude sketches intentions rather than showing them," says the actress, "trusting the spectator to pick up the signs. I really loved working in this way. Underplaying is not necessarily more difficult, but it's more radical.
"Thérèse has been taught all her life to not show her feelings. Being forced to keep quiet, she has a constant interior dialogue with herself. I never let myself improvise a single second; every scene I knew exactly at what point she was in her inner turmoil. I think the revolt inside her – the contradiction of hating this bourgeois life yet having to live it – is so powerful that to hold it back she needs a very thick mask. It was a bit like keeping a lid on a volcano."
Access unlimited streaming of movies and TV shows with Amazon Prime Video Sign up now for a 30-day free trial
Sign up
Tautou was also in Cannes a year ago, when Thérèse Desqueyroux had its premiere; though sadly she was without Miller, a protégé of Truffaut and one of France's leading directors, who had died of cancer shortly after completing the film.
"It was obvious during the shoot that he was ill, because every morning he had to have radiotherapy," she recalls. "But he never complained, he was very discreet, he kept all his strength until the very end. That was amazing." She smiles. "I remember once he came onto the set and I said, 'Wow, Claude, you're so elegant, why are you dressed like that?' And he said, 'This morning I had some medical examinations, so I wanted to impress the sickness.'
"I went to see him a few times afterwards. Of course, at some point we learned that he would die, so it was not a shock. But I never thought he wouldn't … win."
As it happens, her next film is about illness, but Mood Indigo will be an altogether lighter affair than Thérèse Desqueyroux. An adaptation of Boris Vian's cult novel Froth on the Daydream, it is directed by Michel Gondry, the prodigiously inventive music video and film director, most notably of Eternal Sunshine of a Spotless Mind. Tautou plays a woman who has a water lily growing inside her lung, Romain Duris the husband determined to save her.
"It's very difficult to describe this story, because it's completely surreal," she says gaily. "And it was a crazy experience walking on to the set to make it. We travelled in clouds and in upside-down cars; the décor transformed every day. Michel has such a personal way of telling a story. He's a very special director because he's a photographer, a drawer, he understands animation. He's a genius."
Tautou recently told the French newspaper Le Figaro that "celebrity makes me awkward". Her response to it is to reveal no opinion or feeling that doesn't pertain to her films. She is gracefully evasive on such reasonable topics as the recent furore in France over film stars' wages ("I don't want to add oil to the fire") and fashion, despite her Chanel duties ("I'm not a specialist").
When asked how her parents, a teacher and a social worker, have responded to her success, she is lost for words. This reticence may be one reason why her position as poster girl for French cinema has been inherited by Marion Cotillard and Bérénice Bejo, and why, unlike Cotillard, Tautou has not pursued Hollywood further.
"I loved working on The Da Vinci Code, but just because I was in one blockbuster doesn't mean I want to do it all the time. I love my job, but I don't like to be in the spotlight to that extent. I prefer to be in the shadows."
But as soon as we're back to cinema, the sun comes out. She jokes of the lack of opportunities for women given Hollywood's focus on superheroes; my suggestion that she would make a good Catwoman leads to uncontrollable laughter. "Ah?! Me? I don't think so. Maybe in the comedy version."
'Thérèse Desqueyroux' is released on Friday; 'Mood Indigo' will be released later this year
Join our new commenting forum
Join thought-provoking conversations, follow other Independent readers and see their replies