Austin Powers at 20
'Groovy, baby!': How Austin Powers: The Spy Who Shagged Me became the greatest comedy sequel of all time
Twenty years ago, Austin Powers sequel The Spy Who Shagged Me grossed more in its opening weekend than the entire first film's run. Jacob Stolworthy speaks to cast and crew about how the modest follow-up became a summer tentpole
Thursday 01 August 2019 14:42 BST
Comments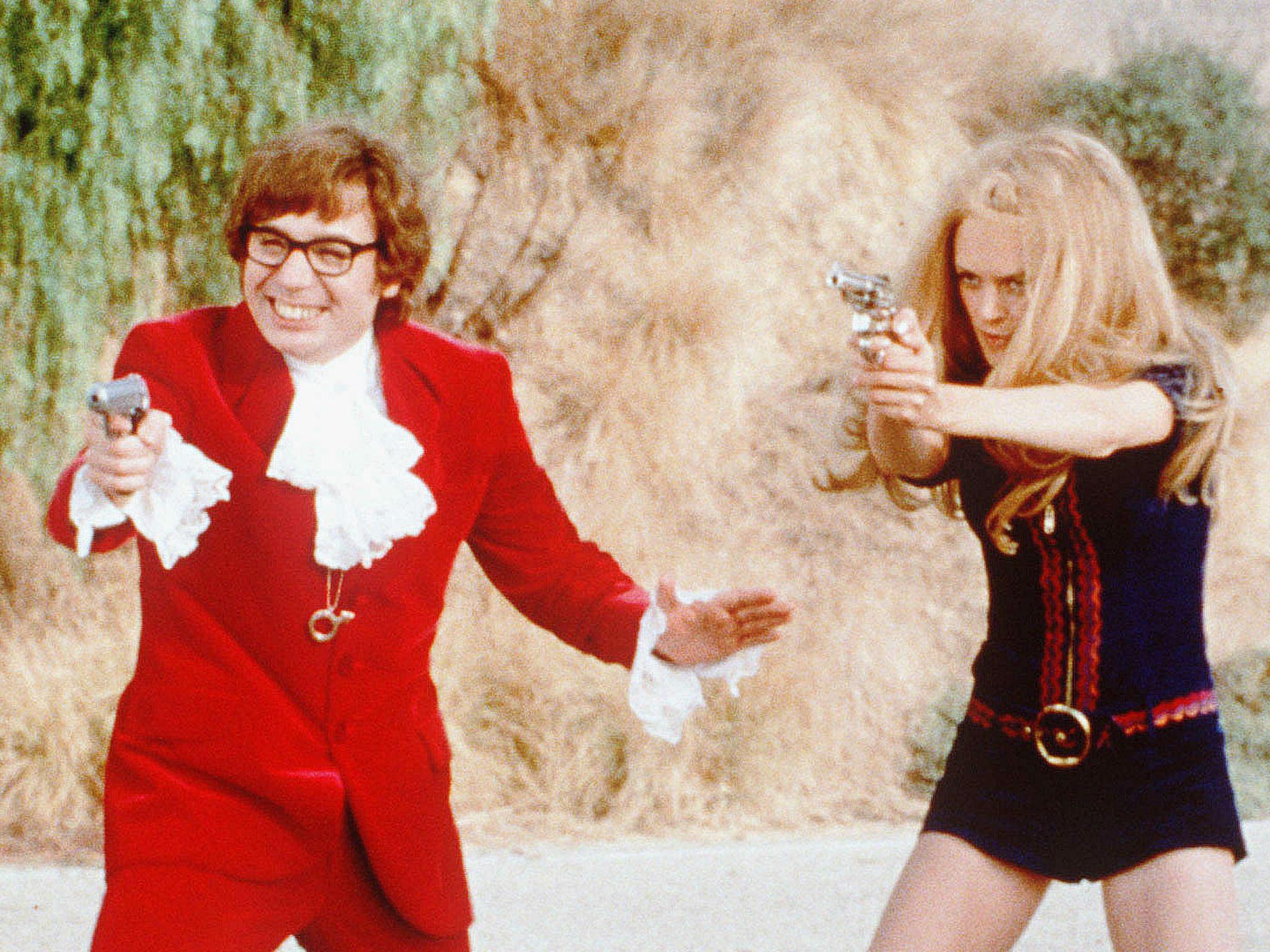 Outer space. The sound of heavy breathing. A chair occupied by an unseen figure.
"Years ago," begins a portentous voiceover, "a battle was fought and an Empire was destroyed. Now, the saga will continue."
The chair spins around.
"You were expecting someone else?"
From that first image of Dr Evil sat where we'd all assumed Darth Vader would be, Austin Powers: The Spy Who Shagged Me – which turns 20 today – was on an unlikely crash course to success.
"I'll tell you what really blew the sequel open – the moment we thought, 'we're onto something here' – was when Mike Myers came up with the idea of that teaser trailer that looked like Star Wars," Jay Roach, the film's director, tells The Independent.
Most films would have balked at the idea of arriving in the same summer that George Lucas's space saga was scheduled to return after 13 years. Not Austin Powers 2. In fact, Myers's decision to riff on the fact that audiences were clearly more excited about seeing Episode I – The Phantom Menace is precisely what put the film on people's radars. "If you see one movie this summer, see Star Wars," the narration went. "If you see a second, see Austin Powers." The result was a viral sensation that created the kind of hype film studios only dream of.
"The people at Lucasfilm were really flattered by the tribute," Roach recalls.
Austin Powers: The Spy Who Shagged Me teaser trailer
The film was the sequel to International Man of Mystery, which on its release in 1997 didn't exactly set the world alight. It amassed a modest $53m and debuted at No 2 in the North American box office behind Kurt Russell thriller Breakdown. Over the following year, word of mouth spread like wildfire as the film's quotable dialogue ("Yeah, baby, yeah!"; "Danger's my middle name") entered the public consciousness. As a result, the film found a bigger audience at home than it ever did in the cinema. Simply put: without the advent of DVD, The Spy Who Shagged Me wouldn't have existed.
"None of us had any expectations," remembers Seth Green, who plays Dr Evil's son, Scott Evil, in all three films. "The first movie was a very independent film that had trouble getting financed. It was out very briefly in theatres and didn't perform that well. But thanks to home video, people saw it and the film started to develop a life of its own.
When sitting down to discuss a potential follow-up, Myers and co-writer Michael McCullers decided that if they were to revisit the groovy world Austin inhabits, they had to amp things up. Roach had the same thought.
"We decided to pull out all the stops and be as crazy and silly as a sequel should be," says Roach, whose credits also include Meet the Parents (2000) and The Campaign (2012). "We knew we had to top it somehow so we decided to go larger on the spectacle, the widescreen look and, of course, the James Bond references."
They clearly succeeded. In 2014, Daniel Craig said that the Austin Powers franchise was the reason his 007 films were more serious in tone than in the Pierce Brosnan era. "We had to destroy the myth because Mike Myers f***ed us."
Access unlimited streaming of movies and TV shows with Amazon Prime Video
Sign up now for a 30-day free trial
Sign up
Access unlimited streaming of movies and TV shows with Amazon Prime Video
Sign up now for a 30-day free trial
Sign up
It was a new lease of confidence, not to mention a doubled budget of $33m, that enabled the trio to flesh out the first film's memorable sequences on a much larger scale. A brief moment from International Man of Mystery – Austin and agent Vanessa Kensington (Elizabeth Hurley) walking around naked as everyday items block their genitalia – was revisited for the sequel's grand opening. This time, instead of a hotel room, a clothes-free Austin finds himself strutting around in public. At one point, we see him barge in on a banquet, and in one long take, the camera tracks him walking the length of the table as its contents – including a fruit platter and large portion of beef brisket – cover his bits. It's a hilarious and brilliantly executed shot, but for Roach, it was a tough day at the office.
45 films you never realised were banned
Show all 46
"That was the night my wife [Bangles singer Susanna Hoffs] had a scheduled C-section of our second child," he says, laughing. "We knew I was going to be up against it and I kept watching the monitor going, 'That one's close, that one's close.' The 13th take, though, was fantastic, but Mike was looking at me, unsure. I was like, 'Mike, I've got to go. My wife is literally about to have a C-section. If you want to shoot some more, it's all set up for you. I don't mind.' So I took off in a car and my son was born a little while later."
But which take made it into the film?
"Mike kept shooting a few more, but it was my take that we ended up using. Lucky number 13."
The majority of the original cast returned for the sequel, some in a far smaller capacity. Hurley returned for a single scene, as did Will Ferrell, who played the invincible henchman Mustafa. With Hurley out, Heather Graham came in as Felicity Shagwell. Based on Jill St John's Bond girl Tiffany Case from Diamonds Are Forever (1971), her character remains a franchise highlight. Take the scene in which she dances with Myers to Burt Bacharach and Elvis Costello's street performance of "I'll Never Fall in Love Again" – it's surprisingly tender.
Costello and Bacharach, the latter of whom had a role in the first film, were just two of the famous faces wanted for the sequel. International Man of Mystery had several terrific cameos (Christian Slater, Tom Arnold and Carrie Fisher) and The Spy Who Shagged Me went on to enlist the services of Tim Robbins, Woody Harrelson, Rebecca Romijn, Kristen Johnson and Rob Lowe, who played a young version of Dr Evil's aptly named second-in-command, Number Two. Madonna and Lenny Kravitz even agreed to release the songs "Beautiful Stranger" and "American Woman" as part of the film's soundtrack.
"That's one of the great things about making a sequel; people want to jump in," Roach says. "Those who showed up to play with us were a tribute to Mike."
No cameo is more memorable, though, than Jerry Springer's. The presenter's scene – a send-up of his talk show – came in the form of an actual episode of The Jerry Springer Show with the topic: "My father is evil and wants to take over the world." Naturally, Myers' bald-headed baddie had a starring role. But within minutes of Dr Evil's arrival, the episode descends into chaos and ends with Springer brawling with the guest.
"I wondered if Jerry would go for it because we're clearly making fun of his circus act," Roach says. "He not only went for it, but he was fully enthusiastic and completely convincing when he started punching Mike. Having a break in style like that is really fun because it defies expectations."
The scene was designed as a counterpart to one from the first film in which Dr Evil attends family therapy with Scott. For Green, it was the perfect way to assimilate back into the world of these characters, as well as to reintroduce fans to their unconventional father-and-son double act.
"Reacting outrageously on that show was a great showcase for Scott Evil, who is the most confused, hurt and traumatised kid," the actor tells me. "He just wants a loving relationship with his awful dad. I really had a lot of fun with getting to play that solemn, angry teen in front of a booing audience."
This scene is Green's highlight, if only because it features one of his favourite lines in the film.
"Mike had just watched a documentary about the trial of gangster John Gotti and there was a bit in it where he started screaming as an insult, 'You were born in your mother's ass.' Mike decided to turn it into something Dr Evil said when he starts attacking Jerry Springer. It's so funny because up to that point, he's so refined and then he suddenly starts flailing his arms and screaming that insult. It's just so silly."
Their duo would become a trio in The Spy Who Shagged Me thanks to Verne Troyer's Mini-Me. Introduced in the sequel as Dr Evil's clone – "except one eighth [his] size" – the character is positioned as Scott's nemesis from the moment they meet. The whole film sees a silent Mini-Me either pranking Scott or trying to press the button that'll send him plummeting into a fiery pit below Dr Evil's lair. Roach reflects on his time working with Troyer, who died in April 2018.
"The Mini-Me stuff was such a blast to film. Verne was so fantastic at playing him. He had great ideas all the time and, even in complicated situations like handling a tiny hairless cat, he could take the character and deliver all that fantastic animosity to Scott Evil. I miss Verne so much."
Mini-Me wasn't the only new character thrown into the mix; there was also Fat Bastard. In recent years, the character – an overweight assassin who spends an entire scene trying to "eat" Mini-Me – has fallen out of favour with some fans who argue that the film directly links his appearance with the negative traits he possesses. However, in 1999, the character was given the thumbs up. What makes this more interesting is the fact the first film – a far tamer, if raunchier, affair – struggled to generate positive feedback from test audiences ahead of its release.
"The first movie never tested well," Roach says. "It never got above a 55, which is so low. There was scepticism. People had expectations of Mike Myers, because of SNL and Wayne's World – not everybody was going along with this idea of the bad teeth, hairy body and taking the piss out of Bond. But by the time we tested the second one, it was the opposite problem. They were so quick to embrace it that we actually had trouble figuring out what they liked! It seemed they were laughing at everything."
The Spy Who Shagged Me tested around the 90 mark immediately, leaving Myers and company with the task of rifling through the footage to discern what should make the final cut. One of the most challenging things to get correct was the film's time-travel element. Roach admits it became such a headache that they enlisted the services of Basil Exposition (Michael York) – a character usually designed to dump information onto the audience – for a scene that sees him break the fourth wall to instruct the viewer to "enjoy" themselves rather than boggle their brains trying to figure out if the time travel made sense.
"When you're going back in time and making some adjustment in the history that could break the space-time continuum, you better have it airtight," Roach says. "So instead of that, we got Michael York to explain it to the audience so they didn't have to worry about it anymore. That was from testing the idea over and over and thinking we better have a 'Get Out of Jail Free' card with this time-travel business."
Myers once told Rolling Stone that hearing the Dusty Springfield song "The Look of Love" is what led to the creation of Austin Powers specifically. He described the song as "the national anthem of libido". However, it was while he was in the process of bringing the character to life that he decided to create Powers in tribute to the British comedy – Peter Sellers, Monty Python – that Myers watched growing up with his father, Eric, who died of Alzheimer's in 1991.
His father's memory loomed large over the set of the sequel. Graham told Rolling Stone how the actor would share anecdotes about his father as a way of dealing with the pain he so clearly felt from his loss. "They were heartbreaking and if anyone else had told them, you would be devastated. I don't know how he made that subject matter funny."
Unsurprisingly, Myers would often have crew and fellow cast members in hysterics – sometimes while cameras were rolling.
The 65 best movie insults of all time
Show all 49
"There was really only one time that he broke me," Green recalls. "One day, he did this monologue as Dr Evil that got cut from the movie where he was talking about being a child. After a while, he looked me right in the eye and just started to babble nonsense. It destroyed me. He told me later on that he did it on purpose."
Green devised his own way of ensuring he didn't laugh during takes.
"It made it easier for me not to laugh if I played Scott like he was in a Lifetime movie – a serious film about a kid who never knew his dad and then finds out he's a mass murderer. Even though the movie is a comedy, Scott Evil exists in a drama and I always came at it from that place. I always thought it was much funnier."
Like with most comedies released in the 1990s, some moments – ill-judged racial stereotyping, plus the use of brownface by Ferrell – rankle; even Austin's most ardent fans would agree that the original trilogy had some jokes that wouldn't be there should the character return for a fourth outing. For a film about a libidinous spy on the hunt for his missing mojo, though, Austin Powers 2 is nowhere near as smutty as people remember it. It's a cosy, charming, breathlessly paced adventure whose heart is firmly in the right place. You could, in fact, make a genuine case for calling The Spy Who Shagged Me the greatest comedy sequel of all time.
Not all critics agreed. Antonia Quirke, writing for The Independent, called it "a slight film because it pastiches what was already verging on parody". She added that the sequel had "nothing comparable in wit" to the jokes featured in the first. However, one surprising champion of the film came in the form of The Guardian's Peter Bradshaw, who called it "the most gloriously funny, clever, vulgar and exquisitely non-PC film of 1999" with a "really extraordinary gag-density".
It was intermittent glowing reviews like Bradshaw's that were the final cog in ensuring the sequel would achieve a feat nobody could have imagined when Myers first came up with that Star Wars-themed teaser: a worldwide haul of $312m. "The film made more money on its opening weekend than the entire first film's run," Roach says, still blown away.
The last laugh came when it sent The Phantom Menace toppling from the top of the US box office. Its opening weekend sales were more than double that of Episode I's – not bad for a film whose budget was more than $80m cheaper. A third film – Austin Powers in Goldmember – followed in 2002, but a fourth seems to be, much like its spectacled hero, stuck in time.
"We've been trying to think up an idea that could earn a fourth film for a long time, but it's always up to Mike. He and I always thought there was more to do with Dr Evil. To be honest, I don't know how we'd do it without Verne. We always had ideas of revealing a whole life that he had that would have taken his character much further. If Mike cracks it and figures it out, we would definitely do some kind of tribute to him. I'm there if he ever wants to do it."
Join our commenting forum
Join thought-provoking conversations, follow other Independent readers and see their replies