Ava DuVernay interview: the 'Selma' director on Martin Luther King, Hollywood's diversity problem and the Oscars
"We need to challenge the industry to acknowledge that films should not be told from one point of view and not only one point of view should be celebrated."
Gillian Orr
Friday 30 January 2015 18:58 Comments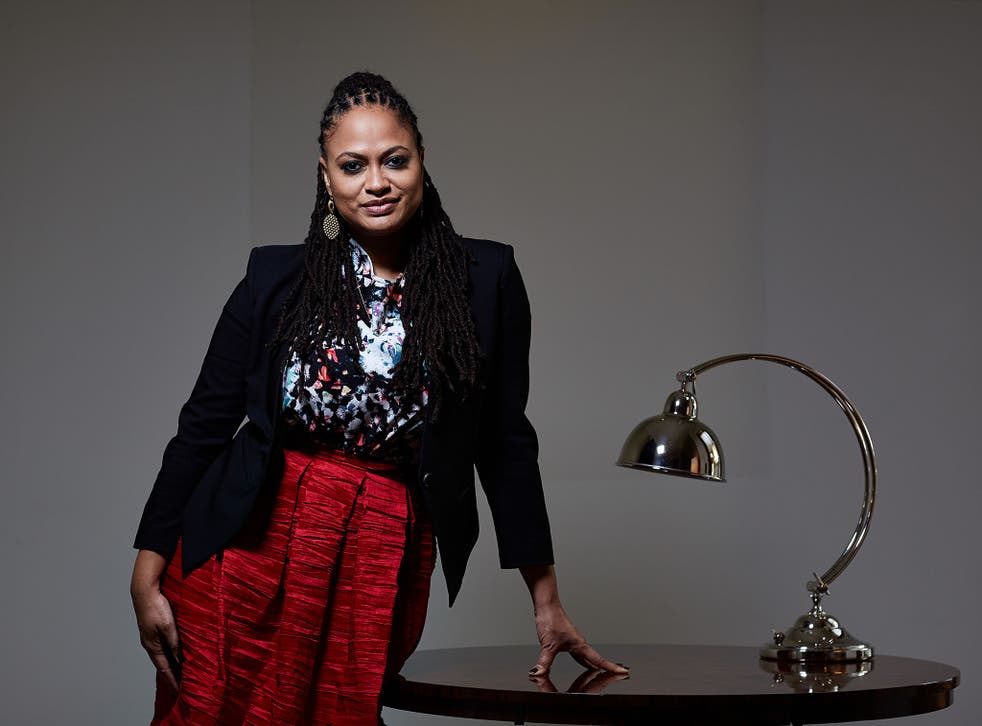 How to bring a legend to life? That was the challenge for filmmaker Ava DuVernay when she was given the opportunity to direct – what is remarkably – the first major motion picture about Martin Luther King.
The 42-year-old director understood the responsibility she carried in taking on Selma. She recalls her great-grandmother having a picture of King on the wall of her living room – at equal height as Jesus.
"For me, as an African American, the legacy of King looms large," she tells me over tea at a London hotel. "But it's the story of a human being. Not a holiday; not a speech; not a statue; not a stamp; but a real person who lived and breathed among us just 50 years ago."
Selma is an account of the campaign led by King to draw the nation's attention to the struggle for equal voting rights by marching from Selma to ­Montgomery, Alabama, in March 1965. Violent clashes between the white authorities and peaceful protesters ensued; innocent people died.
When DuVernay began filming early last year, she could not have predicted that in August Michael Brown, an unarmed black man, would be shot and killed by police in Ferguson, Missouri. Or that New Yorker Eric Garner, again black, again unarmed, would die as the result of a police chokehold in July. So, Selma arrives at a time when America is characterised by racial tension once more. This is a historical drama that is wholly contemporary.
"It's an honour to have a piece of art that meets this cultural moment in this way and kind of aligns so beautifully to illuminate truths, questions and ideas about how to move forward," says DuVernay.
The violence in Selma is unique; I can't recall seeing a film that made brutality so hard to watch without being especially graphic. What was she trying to achieve?
"As a filmmaker, I have to ask myself, 'What does violence mean? Why do we portray it?' For me, it was really about having reverence for the life lost. It's not the hit and the violent act itself, but, what does the face do? What happens to the heart when it's humiliated? What happens to a woman's psyche when she's pulled down by two men in public? What happens to a mother when she sees her son shot in front of her? I wanted to delve into the emotion behind violence."
She managed this by showing the barbarity in slow motion, forcing you to bear witness to the person being broken, allowing you to take it all in.
Access unlimited streaming of movies and TV shows with Amazon Prime Video Sign up now for a 30-day free trial
Sign up
In fact, DeVernay's whole approach to the "great man" historical biopic feels fresh and forward thinking. Though the film may focus on a man and the male-dominated Southern Christian Leadership Conference, the stories of the women are not pushed to the margins – and that's down to DuVernay.
When she came on board the project in 2013 at the insistence of her friend and collaborator David Oyelowo, who was down to play King, she was handed a script – written by a man – that had been floating around for five years. The extent of female voices in the film? One phone call from King's wife, Coretta.
"Well that won't do," DuVernay told herself, and she set about rewriting it, including some of the remarkable women who dedicated themselves to the civil rights movement: Amelia Boynton, Diane Nash, Richie Jean Jackson and, not least, Coretta, who taught King about the principles of non-violence.
I share my dismay on hearing that they were ­almost excluded, but DuVernay merely shrugs her shoulders, as if to say, "Come on, don't be so naive." Hollywood has little time for the stories of women, and less time still for female film-makers: women comprise 13.7 per cent of the directors belonging to the Directors Guild of America and helm less than 5 per cent of studio features.
"There are scores who are able to do it," ­DuVernay points out. "But the opportunities are where we are at a deficit, so for me it's not about waiting for opportunities to be given, it's about creating them for myself. In the independent film world you find women thriving because they aren't waiting for permission."
Sure enough, DuVernay made her name in the indie sector. Growing up in Compton, California, she never thought it was possible for a black woman to be a director. But a love of film encouraged her to work in the industry after graduating from UCLA, and eventually she set up her own film publicity company. It wasn't until her early thirties that she gave directing a shot and ploughed $50,000 of her own money into her 2010 debut feature I Will Follow. She used the profits to fund her second, Middle of Nowhere, which won her the Best Director Prize at the 2012 Sundance Film Festival, making her the first African American woman to win the award.
She was, however, notably absent from this year's Academy Award best directing nominations. When the shortlists were announced last month, there was an outcry that not one person of colour was nominated in the directing or acting categories, leading to the #OscarsSoWhite hashtag trending on Twitter. Nor were any women put forward for their writing or directing efforts. With Academy voters being 94 per cent white and 76 per cent male, it's perhaps not surprising. Selma may have secured nods for Best Picture and Best Song but did ­DuVernay feel snubbed? Let's not forget that Selma is a film that carries a 99 per cent rating on review aggregator Rotten Tomatoes.
"I knew I wasn't going to be nominated. But I was hoping for a nomination for David because he did extraordinary work," she says, diplomatically. "I think what's nice is the conversation about diversity, inclusion, and representation [that arose]. We need to challenge the industry, to challenge the studios. We need to acknowledge that films should not be told from one point of view and not only one point of view should be celebrated." But DuVernay is not bitter. She's looking forward to the Oscars, which she says will be a "lovely celebration of the film" and she plans to be there "in a pretty dress, having a good time".
Besides, she's already on to her next project, a film about Hurricane Katrina. She is yet to start writing it but she is excited to "tackle another huge story." As with Selma, she hopes to "find the intimacy and the nuance in the situation".
It will be her third collaboration with Oyelowo, who she describes as "family". "Usually when you think about a muse you think of some old man director and some hot young blonde. He's my hot young blonde," she laughs, proving once again that she'll never settle for the status quo.
Selma is released nationwide in the UK on Friday
Register for free to continue reading
Registration is a free and easy way to support our truly independent journalism
By registering, you will also enjoy limited access to Premium articles, exclusive newsletters, commenting, and virtual events with our leading journalists
Already have an account? sign in
Join our new commenting forum
Join thought-provoking conversations, follow other Independent readers and see their replies