Backstage: Who dares tell Meryl Streep how to act? Step up George Clooney
Luke Blackall
Thursday 12 December 2013 17:48 Comments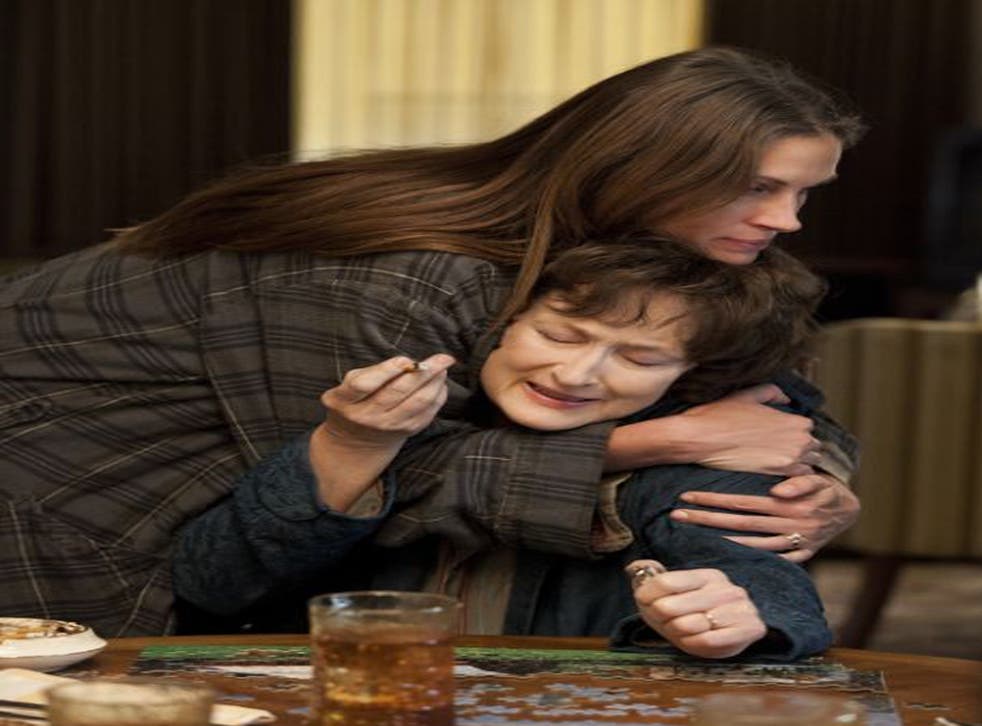 Film producers face a delicate balancing act between adding their input and not treading on the creative toes of the director, the writer and the actors. It seems Harvey Weinstein has a new tactic: send in George Clooney.
Weinstein tells me that the Hollywood heartthrob was his secret weapon with his latest film, August: Osage County, to work with the star-heavy cast (Meryl Streep, Julia Roberts and Ewan McGregor are among the big names).
"I knew that there would be inevitable disagreements, and at one point I thought that I would produce the thing myself, but smartness is better than valour so I got another unknown, untested entity named George Clooney to produce the film so he could handle the inevitable arguments and disagreements," he joked at a screening of the film at the British Academy of Film and Television Arts (Bafta) in London last week.
"George is probably the best producer I've ever worked with, because not only does he go to Oklahoma where we shot it, but he's in the middle of it with a strong opinion."
The film is a dramatic, twisting, blacker-than-black comedy, which will offer fun for all the dysfunctional family. At the heart of both the on-screen family, based on that of the play by Tracy Letts, and the cast, are Roberts and Streep. And they are a pair that Weinstein says he wasn't keen to cross.
"Why take your life in your hands? I'd rather ride 300 miles an hour in Monte Carlo in a rain storm than suggest to Meryl Streep how to act. But George will do it, George mixed it up with both of them. He had certain scenes where he said 'nope, let's underplay that' – George and John [Wells, the film's director] teamed up a bunch of times and said 'hey, I think underplay this'."
Weinstein added that one of Streep's biggest acting talents was disappearing, and recounted a tale of meeting her in a wholesale supermarket near the set in Oklahoma. "She was shopping, just to get the lay of the land, see the people from Oklahoma, she'd go to a mall and she'd just be invisible. Meryl can make herself invisible," he says. "I've seen her do that a lot, Meryl – when she wants to – she can just be under the radar, it's just incredible to see.
"And Julia, who I thought would easily get spotted, can wear a pair of glasses, put her hair up and put a little beanie on and she disappears too. They both have that chameleon ability. They're observers, really."
Stand up for an extraordinary theatre experience
Boredom with traditional theatre is what inspired Diqui James to create Fuerzabruta, the all-standing, high-energy show which combines rave, nudity and extraordinary visual effects. After selling out earlier this year, it is making a 10-week return to the Roundhouse in London.
Access unlimited streaming of movies and TV shows with Amazon Prime Video Sign up now for a 30-day free trial
Sign up
But James says not to expect a familiar theatrical experience. "When I was young I used to love to go to rock concerts and to see football … these big, massive events," he tells me over the phone from Buenos Aires. "When I started to learn acting, I started to get bored, the feeling of 'I need something else' was the main inspiration."
The other driving force was the power of cinema. "I hate that feeling that 'theatre is serious, cinema is to have fun'. I want to have fun! I like to move the camera, that's why we don't use seats, you can be really close to somebody and then really far away ... And I like that feeling that you cannot see the whole picture. That you are only seeing part of the thing and you have to move to see another part of the thing. And you don't know what you are missing, and sometimes you think it is much more interesting what you are missing, it makes everything more real, more like how life is."
Fuerzabruta is at the Roundhouse from 23 December until 2 March. For tickets: 0844 482 8008 or roundhouse.org.uk
Rose won't judge books by covers
Rose Tremain CBE has been named as the chair of the judges at the Costa Prize, overseeing a panel including actress Natascha McElhone, Texas singer Sharleen Spiteri and Pointless presenter Richard Osman. Judging by past comments, the novelist, is well aware of the awkwardness of prizes for those in her trade. "People say to me: 'Do you write books for prizes?' It couldn't be further from the truth," she told the Telegraph after The Road Home won the Orange Prize for Fiction in 2008. "It is unreal, this media thing you go through – especially for writers, who are on the whole very private people." She has also shown herself to be unafraid to question the winners of the Costa. After Stef Penney topped the first book category in the 2006 Costa with The Tenderness of Wolves, Tremain told the Evening Standard that she "eventually gave up on Penney's slushy, meandering narrative."
Rolling Stones fail to move Iceland herring
Fishy tales emerge from Iceland about the Rolling Stones. To combat a dangerous build-up of herring in Kolgrafafjordur, West Iceland, sound engineers played "Satisfaction" and "Brown Sugar" in an attempt to drive them from the fjord. The fish, reports icelandreview.com, were seemingly unmoved by the underwater music session. "They were perhaps not as afraid of the Stones as of other sounds," said Sigmar Gudbjornsson, of aquatic research company Star-Oddi, adding that no other band's music had yet been played to the fish. Perhaps they just enjoyed it?
Register for free to continue reading
Registration is a free and easy way to support our truly independent journalism
By registering, you will also enjoy limited access to Premium articles, exclusive newsletters, commenting, and virtual events with our leading journalists
Already have an account? sign in
Join our new commenting forum
Join thought-provoking conversations, follow other Independent readers and see their replies